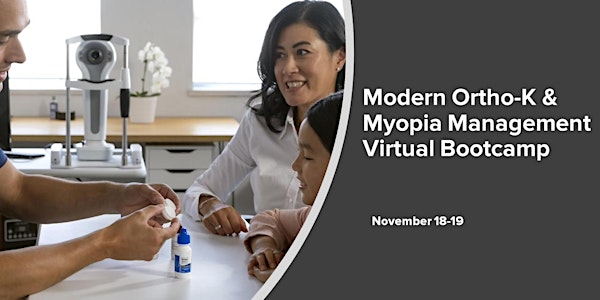 Modern Ortho-K & Myopia Management Virtual Bootcamp
This exciting 1.5 day event is designed to help you build a myopia management clinic with the latest research and practice management tips!
About this event
Ready to take the plunge into fitting orthokeratology or looking for an update on the latest research? Dive into our virtual lecture series on modern ortho k fitting and design for myopia management. Let World-renowned educators and researchers from the Pacific University College of Optometry share the latest data from key studies to sharpen your understanding of where we stand with myopia management in 2022. Then, take advantage of the wisdom shared by the founders of Abbey Eyecare to successfully implement myopia management protocols in your clinic to maximize patient outcomes and ROI.
Speakers include
Patrick Caroline, FAAO
Dr. Jeff Goodhew, O.D.
Dr. Tina Goodhew, O.D.
Randy Kojima, FAAO
Webinar Details:
Friday, November 18th Lectures 6:00PM -9:00PM EST
Saturday, November 19th Lectures 9:00AM - 4:30PM EST
Registration Includes: Paid registrants are eligible to receive one complimentary warranted pair of BE FREE or MoonLens Orthokeratology lenses ( value of $370). Only eligible for Canadian Practitioners.
Location: NOW EXCLUSIVELY VIRTUAL! The option to watch live or later ensures you don't miss the chance at this opportunity.