Modern Science Meets Ancient Wisdom - The Gut Microbiome, Food, & Ayurveda

Saturday, 2 June 2018 from 10:00 AM to 12:30 PM (EDT)
Event Details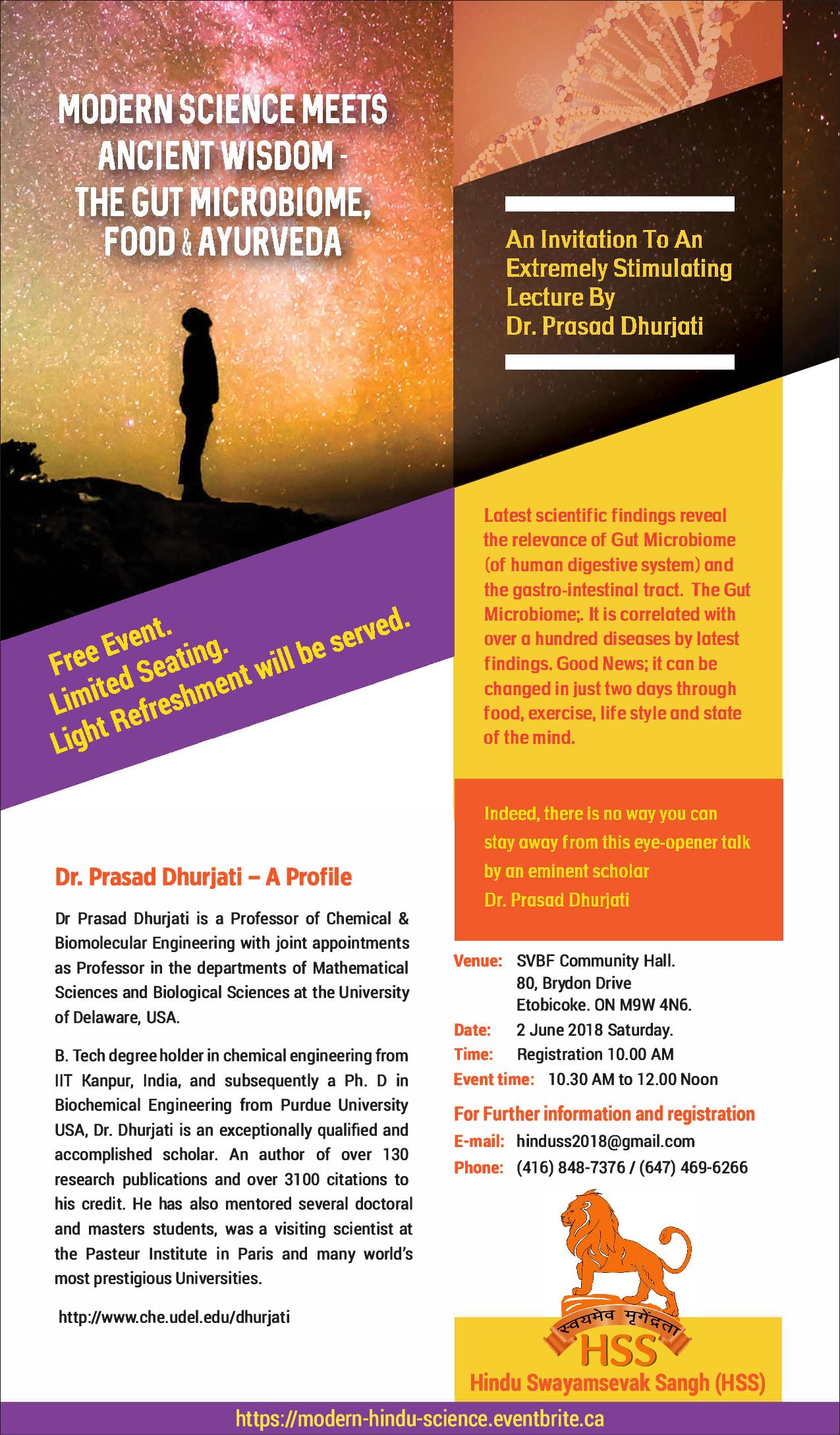 Title of Talk: Fusion of Modern Science and Ancient Vedic Wisdom: The Gut Microbiome and Health
Brief Abstract of Talk:  There is a revolution in modern science because of our new understanding of the gut microbiome and the gastro-intestinal tract.  The gut microbiome consists of over a thousand microorganisms that are part of our digestive system. They play a major role in providing nutrition for our body and maintaining a strong immune system.  The gut microbiome has been correlated with over a hundred diseases by modern science.  Analysis of the gut microbiome can lead to predictive and personalized medical diagnoses and nutritional recommendations to prevent diseases.  The gut microbiome contains over a hundred times more genetic information that what we inherited from our parents.  Unlike genes inherited from our parents that cannot be changed,  the gut microbiome can be changed in two days via food, exercise, life style and the state of the mind.  Our ancient system of Ayurveda also focused on prevention and the role of food and nutrition to maintain good health.  The talk will emphasize how modern science and ancient wisdom are converging via the gut microbiome.
Brief Profile of Speaker: Dr. Prasad Dhurjatiis a Professor of Chemical & Biomolecular Engineering with joint appointments as Professor in the Departments of Mathematical Sciences and Biological Sciences at the University of Delaware, USA.  His research specialization is in Biotechnology, Artificial Intelligence, and Systems Medicine. His current research is on the Gut Microbiome (or our digestive system).  He believes that the gut microbiome brings about a fusion of modern science and ancient wisdom from the Vedas. The gut microbiome gives us a better understanding of how nutrition, medicine, genes, and gut microbes work together towards better health and prevention of diseases. 
 He finished his High School in Nagpur, India in 1972, obtained his B. Tech degree in chemical engineering from IIT Kanpur in 1977 and a Ph. D in biochemical engineering from Purdue University, USA in 1982. He has been part of the faculty of the University of Delaware since 1982. He is the author of over 130 research publications in leading journals with a total of over 3100 citations and a Hirsch index of 31 and an i10 index of 56.  In 1986, he was awarded the National Science Foundation Presidential Young Investigator Award by President Ronald Reagan ($500,000 award). He has mentored over 20 Doctoral and Masters students, 20 postdoctoral associates and over 100 undergraduate research theses.  In 2004, he was elected a Fellow of the American Institute of Medical and Biological Engineering.  In 1988-89, he was a visiting scientist at the Pasteur Institute in Paris and he has also been a visiting professor at the University of Lyon in France, VNIT in Nagpur, India and University of Toronto, Canada. He served as the elected President of the Faculty Senate of the University of Delaware for the academic year 2016-2017. His students have been very successful in industry (Merck, Bayer, Pfizer, Dow, Abbot, DuPont, Gore, etc.) and in academia (Johns Hopkins, University of Glasgow, etc.). A detailed CV with a listing of his research publications is available at http://www.che.udel.edu/dhurjati
Have questions about Modern Science Meets Ancient Wisdom - The Gut Microbiome, Food, & Ayurveda?
Contact HSS Canada
When & Where

SVBF Community Hall
80 Brydon Drive
Toronto, ON M9W 4N6
Canada

Saturday, 2 June 2018 from 10:00 AM to 12:30 PM (EDT)
Add to my calendar
Organizer
Hindu Swayamsevak Sangh (HSS) Canada is a voluntary, non-profit, social and cultural organization. Sangh, as the organization is popularly known, aims to organize the Hindu community in order to protect, preserve, practiceand promoteHindu ideals and values. HSS conducts structured programs of regular athletic and academic activities to develop strong character and leadership skills in its members (known as Swayamsevak for men and Sevika for women), emphasizing values such as self-discipline, self-confidence and a spirit of selfless service (seva) for humanity. We encourage maintaining Hindu cultural identity in harmony with the larger community.