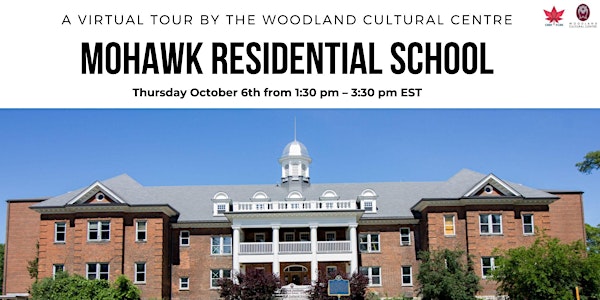 Mohawk Institute Residential School Virtual Tour
Learn about the history of Residential Schools in Canada
About this event
The recent 'discoveries' of the children of residential schools is news to many of us, but for many others that reality has shaped generations. We hope this tour of the Woodland Cultural Centre will provide more context, depth and awareness to these lived experiences. This virtual tour video was created with local production company Thru the Reddoor, and it follows a guide, as they give a tour of the former Mohawk Institute Indian Residential School.
During the video, the guide will provide the history of the institution over its 140-year history. Viewers will get to see the different rooms in the school, from the girls' and boys' dormitories, the cafeteria, laundry room, and other rooms throughout the building, as well as hear interviews from five Survivors of the Mohawk Institute.
Following the tour, a talking circle led by Elder Bob Watts from First Peoples Group will support participants through their process of building awareness and knowledge sharing, and have further conversations around the strengths, history and challenges of Indigenous people in Canada. The hope is that the circle provides a meaningful opportunity for members of the community to gain and share knowledge, understanding, capacity and ideas as it applies to the bringing together of Indigenous and non-Indigenous peoples together.
The Woodland Cultural Centre was established in October 1972 under the direction of the Association of Iroquois and Allied Indians upon the closure of the Mohawk Institute Residential School. Woodland Cultural Centre serves to preserve and promote Indigenous history, art, language and culture.
The Canadian Race Relations Foundation was created by the Government of Canada as a Crown Corporation in 1996, as part of the Japanese Canadian Redress Agreement, to reaffirm the principles of justice and equality for all in Canada.
Simultaneous Translation will be available
-------------------------------------------
La récente " découverte " d'enfants décédés dans les pensionnats autochtones est pour beaucoup d'entre nous de l'actualité, mais pour beaucoup d'autres personnes, il s'agit d'une réalité qui dure depuis plusieurs générations. Nous espérons que cette visite du Woodland Cultural Centre vous permettra de mieux comprendre le contexte, l'ampleur et l'importance de ce traumatisme. Cette visite virtuelle en vidéo a été conçue en collaboration avec la société de production Thru the Reddoor. Un guide virtuel vous accompagnera tout au long de la visite de l'ancien pensionnat indien du Mohawk Institute.
Dans cette vidéo, le guide vous racontera l'histoire des 140 ans d'existence de l'établissement. Les spectateurs auront l'occasion de voir les différentes pièces de l'école, les dortoirs des filles et des garçons, la cafétéria, la buanderie et d'autres pièces du bâtiment, et ils pourront écouter des entrevues effectuées avec cinq survivants du Mohawk Institute.
Après la visite, un cercle de parole dirigé par l'aîné Bob Watts du First Peoples Group aidera à la prise de conscience des participants et au développement de leurs connaissances afin de poursuivre la discussion sur les forces et l'histoire des peuples autochtones au Canada de même que sur les enjeux qu'ils rencontrent aujourd'hui. Nous espérons que ce cercle permettra aux membres de la communauté d'acquérir de nouvelles connaissances ainsi qu'une plus grande compréhension de ce traumatisme, qu'ils pourront ensuite partager afin d'aider au rapprochement entre les peuples autochtones et non autochtones.
Le Woodland Cultural Centre a été créé en octobre 1972 sous la direction de l'Association of Iroquois and Allied Indians, après la fermeture du Mohawk Institute Residential School. Le Woodland Cultural Centre sert à préserver l'histoire et à promouvoir l'art, la langue et la culture autochtones.
La Fondation canadienne des relations raciales est une société d'état créée en 1976 par le gouvernement du Canada dans le cadre de l'Accord de redressement à l'égard des Canadiens japonais, afin de réaffirmer les principes de justice et d'égalité pour tous au Canada.
Une traduction simultanée sera disponible.