Description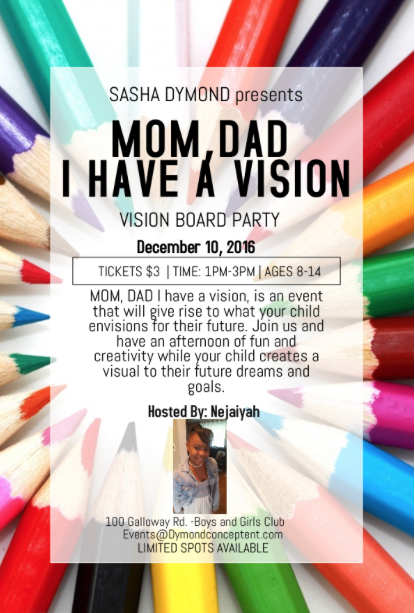 MOM, DAD I HAVE A VISION- VISION BOARD PARTY is an event for children and their parents to share an afternoon of fun and creativity while your children show you the vision they have for their future dreams and goals.

This event is founded by 9 yr old entreprenuer Nejaiyah Erhirhie, who resides in Toronto and has been working hard to create an idea of a space for kids to share their dreams with their parents and create a visual for their aspirations.

Come and join Nejaiyah on December 10th at The Boys and Girls Club Scarborough located at 100 Galloway Rd.
Tickets are $3 per person and ALL proceeds will be going towards creating monthly vision board parties in the new year. AGES 8-14 YRS OLD
If you would like to donate or be a sponsor for this event, pelase email events@dymondconceptent.com.
Donations needed are magazines, markers and glue sticks.
Donations can be dropped at the following locations:

JB Barber Design
361 Pitfield Rd in Scarborough
The Kut Above
4286 Kingston Rd in Scarborough
Rose's Kitchen- Authentic Halal Jamaican Cuisine
1960 Lawrence Ave. E
IF YOU WOULD LIKE TO HELP AND AND CANNOT MAKE THIS EVENT, WE ARE ACCEPTING DONATIONS AND PROCEEDS WILL GO TOWARDS MATERIALS FOR THIS EVENT.
YOU MUST SIGN UP PRIOR TO ARRIVAL TO RESERVE YOUR CHILDS SPOT!! Thank you and hope to see all of you there!
NEJAIYAH'S GOAL IS TO REACH 100 KIDS!!
LET'S HELP HER GET THERE!