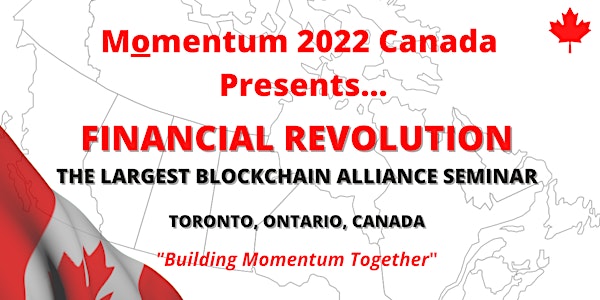 Event Information
Location
1755 Plummer St
Zoom
Zoom, ON Zoom
Canada
The New Financial Revolution has started. Learn about the largest Blockchain Alliance and how you can position yourself for success.
About this event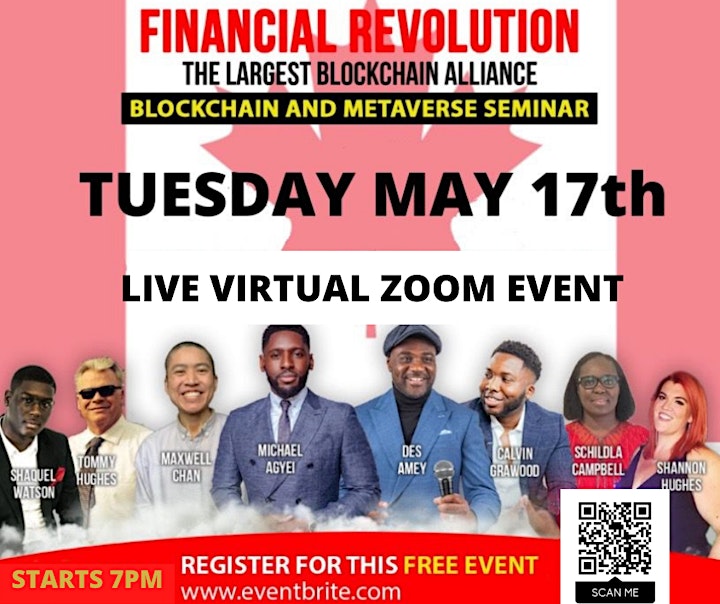 Would you agree that the world has changed significantly since 2020 and is rapidly moving towards a new digital reality? Are you equipped with what you need to know to take advantage of this new reality?
THE FINANCIAL REVOLUTION WORLD TOUR COMES TO CANADA!
After sold out international events spanning Europe and Africa, The Financial Revolution World Tour is on its way to North America! Be a part of the next big financial revolution that is happening right now! Learn how you can transform your wealth through the new digital economy that has been accelerated by the events of 2020.
For a limited time only, all admission to this highly anticipated event will be FREE. Space is limited so reserve your seat now.
LAST EVENT
VIRTUAL (ZOOM)
Date: Tuesday May 17, 2022, @ 7pm EST
Location: Zoom
Link to Join Zoom Meeting
https://us02web.zoom.us/j/84341224801?pwd=QT4zitQsLAtcy6-INbMsHzg3_OuUiU.1 (Copy link into Browser)
Meeting ID: 843 4122 4801
Passcode: Passive
Registration: RSVP Eventbrite (ZOOM CAPACITY IS LIMITED. RESERVE YOUR SEAT NOW!)
So if you have family and friends who would be interested in attending the LIVE Virtual Event feel free to share with them.
This FREE educational seminar is in partnership with Momentum 2022 Canada, where we are building momentum together. This event will be one that you do not want to miss!
What you will learn is too good not to share. So tell a friend and bring a friend or two! They will thank you for it. Because together we RISE.
Brought to you by Amey Finance Academy (AFA) and Inside Job Academy (IJA)
Combined AFA and Inside Job Academy now has thousands of people from around the world who are being mentored into financial freedom, fulfillment and independence.
So come and hear from award winning internationally acclaimed speakers during this educational seminar on how you can transform your wealth through the next digital frontier that is set to be the next trillion-dollar industry. Now is the time. Learn how 1000s of lives have already been transformed through this tour and how your life can be next!
Meet Our Speakers
Des Amey is a former high school teacher who believes in the power of education. He is also the founder of an international finance academy, called Amey Finance Academy at One Canada Square (the Canary Wharf Tower) in London. They are a group of Wealth Creation Educators, teaching clients how to achieve their financial goals. They specialize in helping people to create multiple sources of income and to build generational wealth. Des Amey founded the company in 2018. Today, Des Amey is a Wealth Creation Strategist, Keynote Speaker, Senior Finance & Mortgage Broker, Finance Coach, Property Expert and Author of the number 1 Amazon Best seller – Starting Your Property Side Hustle.
Michael Agyei is a former health engineer that believes in helping others. He is the CEO and Founder of Inside Job Academy. Michael is a global expert in high performance, both on a personal and professional level. As a Success Mentor and International Motivational Speaker, Michael devotes his life to helping others achieve their most elusive goals and live enriched fulfilled lives by thinking into results, one thought at a time. Michael believes that we must live from the inside out. Because when you shift on the inside, life shifts on the outside. He is here to help others to believe bigger, sooner.
As Michael always says,
"If you do not come from a wealthy family, then a wealthy family must come from you!"
If changing the financial destiny and future of your family and future generations is important to you, then this event is for YOU!
*THE FINANCIAL REVOLUTION WORLD TOUR COMES TO CANADA*
Plan today for a brighter tomorrow. Get the blueprint to build your legacy so you can create a new vision for your future and for your family. So, attend this event with an open mind and you will discover a whole new digital world that is changing the future of the internet.
Please arrive 5 minutes before the scheduled Zoom start time.
Are you READY to win the future? See you there!
We look forward to welcoming and serving you.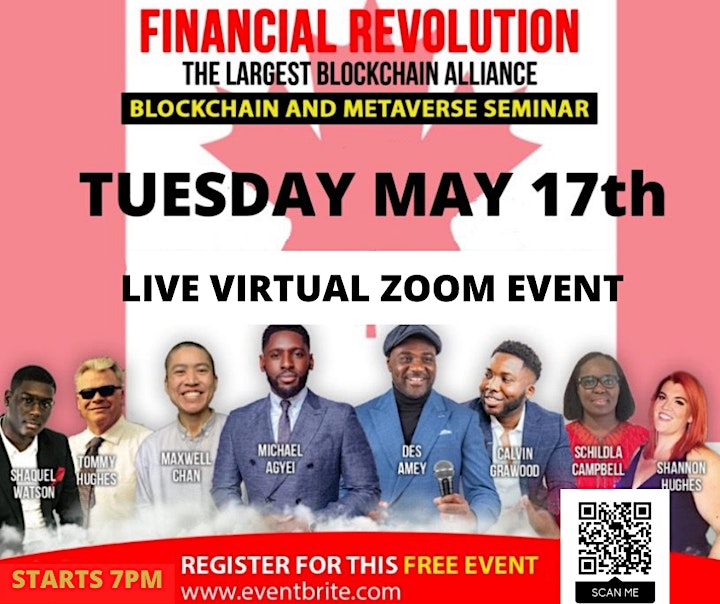 Date and time
Location
1755 Plummer St
Zoom
Zoom, ON Zoom
Canada