Description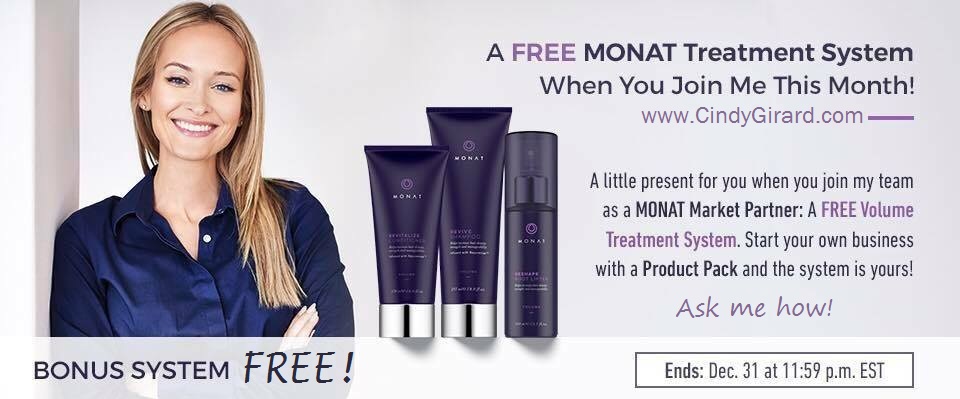 Do you have more month at the end of your money?
Have you been looking for a way to add extra income, replace lost income,
or get a little extra every month that can go to savings?
What ever your needs, goals and dreams are, there is an exciting new opportunity for you to consider. We are looking for dynamic, motivated people who are open to learning, willing to work, and have goals and dreams!
If you have 3 to 5 hours each week to develop yourself and build that extra income, we need to hear from you!
Whether you work full time, part time, are a stay at home parent, anyone over 18 yrs of age can learn how to build a network marketing business when you team up with local mentors who want to help guide you to your success.

Monat is a new, social selling company that is taking the industry by storm. With our award winning business model, marketing plan and compensation plan, we are first to market a clinically proven, natural based, anti-aging hair care line that guarantees you will have longer, fuller, stronger younger-looking hair in 90 days! We are changing lives every day by helping people experience more of what they need and looking great and feeling great while doing it! If you are curious to see what all the commotion is about then let's connect and explore the possibilities with Monat!
"MONAT Socials" are casual, FREE social meet ups. A get-together held at at local restaurant, coffee house or pub. No pressure or product sales at these events - just a way to learn more.
Explore the potential of MONAT and discover the possibilities within this $30 Billion Dollar Industry.
**Guests attending a Monat Social Meet up will recieve FREE Product Samples
Find events in other regions: http://www.cindygirard.com/social-meet-up.html