Sales Have Ended
Registrations are closed
The ticket sales for this location have now ended. If you are still interested in attending this same event, it will be offered at different locations throughout the fall. For more information and details visit the website www.nbgrowthsummit2019.com! #NBGrowth La vente des billets pour cet endroit est maintenant terminée. Si vous souhaitez toujours assister à ce même événement, il vous sera offert à différents endroits au cours de l'automne. Plus d'informations et de détails seront communiqués dès qu'ils seront confirmés - revenez nous voir plus tard! #CroissanceNB
Sales Have Ended
Registrations are closed
The ticket sales for this location have now ended. If you are still interested in attending this same event, it will be offered at different locations throughout the fall. For more information and details visit the website www.nbgrowthsummit2019.com! #NBGrowth La vente des billets pour cet endroit est maintenant terminée. Si vous souhaitez toujours assister à ce même événement, il vous sera offert à différents endroits au cours de l'automne. Plus d'informations et de détails seront communiqués dès qu'ils seront confirmés - revenez nous voir plus tard! #CroissanceNB
About this Event
December 3rd 7:30 AM - 6:00 PM
Moncton Coliseum
377 Killam Drive
Moncton, NB, E1C 3T1
L'infomation française suit.
This province-wide series of events is designed to spark growth for local businesses.
This event is geared towards New Brunswick business owners, leaders, managers, and/or decision makers in any sector, who are interested in growing, scaling, maximizing efficiency in operations, tapping into new talent, increasing export and sales activities.
This event is an opportunity to gain insights on four key themes and challenges that businesses are faced with today in New Brunswick: SALES, INNOVATION, PRODUCTIVITY and TALENT.
Attendees will gain valuable knowledge that they can use to re-energize their business operations.
Agenda
Connect with peers and business development professionals, listen to experts and learn how you can spark growth into your business.
Two renowned keynote speakers
16 knowledge forum sessions with industry experts – choose which forums to attend throughout the event (four sessions happening simultaneously in four forums)
Opportunity for meetings with support organizations from the local provincial and federal levels to help you take the next steps towards business growth
Time for networking and creating new connections
Local food and beverages
Doors open at 7:30 AM and first session starts at 8:30 AM.
We will take care of you: meals will be provided, free parking, and free Wi-Fi are available.
This is a device friendly event. Please bring your smart phone or tablet. Details on our free event app will be shared with all registrants.
Please visit www.NBGrowthSummit2019.com for more information.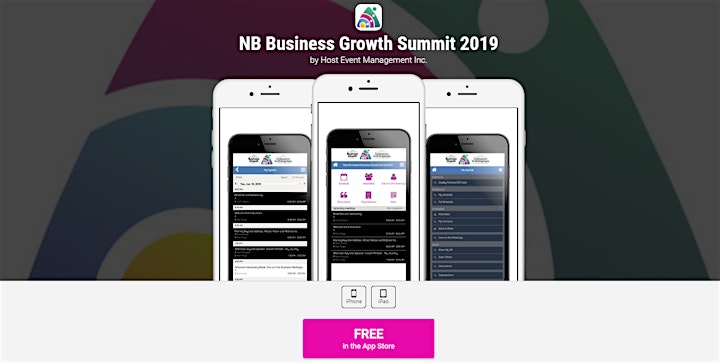 Français
3 décembre, 7h30-18h00
Colisée de Moncton
377, rue Killam
Moncton, NB, E1C 3T1
Une activité incontournable pour les entreprises, quel que soit leur secteur, qui sont en mode de croissance dans la région.
Cette série d'activités présentées à l'échelle de la province vise à stimuler la croissance des entreprises locales.
Le Sommet s'adresse aux propriétaires, aux leaders, aux dirigeants et aux décideurs d'entreprises néo brunswickoises, quel que soit leur secteur, qui souhaitent agrandir leur entreprise, maximiser l'efficience de leurs activités, faire appel à de nouveaux talents ou accroître leurs exportations et leurs ventes.
Cette activité permettra aux participants de mieux connaître les défis clés, regroupés sous quatre thèmes, auxquels les entreprises sont confrontées aujourd'hui au Nouveau Brunswick. Ces thèmes sont LES VENTES, L'INNOVATION, LA PRODUCTIVITÉ et LES TALENTS.
Les participants acquerront des connaissances utiles qu'ils peuvent utiliser pour redynamiser leur entreprise.
Les portes s'ouvriront à 7h30 et la première séance commencera à 8h30.
Nous allons prendre soin de vous : les repas seront inclus, le stationnement et le Wi-Fi sont tous gratuits.
C'est un événement qui encourage l'utilisation des applications mobiles. Veuillez apporter votre cellulaire ou tablette. Les détails sur l'application mobile gratuite de l'événement gratuite seront partagés avec tous les participants.
Si vous souhaitez assister à ce même événement, il vous sera offert à différents endroits au cours de l'automne 2019. Plus d'informations et de détails sont disponibles sur ce site : www.nbgrowthsummit2019.com.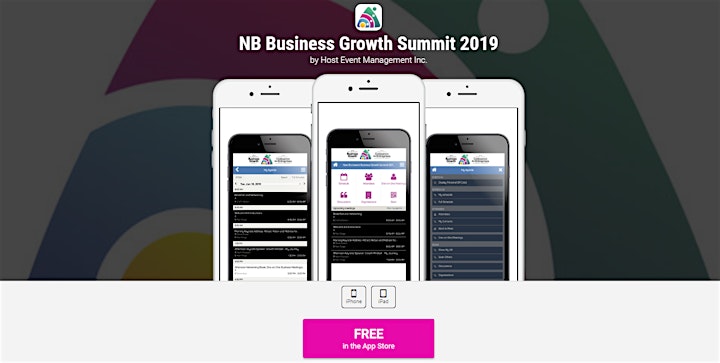 L'Horaire
Établissez des liens avec des pairs et des professionnels du développement des affaires, écoutez des experts et apprenez comment stimuler la croissance de votre entreprise.
Deux discours principaux donnés par des conférenciers de renom
Seize séances avec des experts de l'industrie regroupées en quatre forums sur les connaissances – les participants choisissent les forums auxquels ils veulent participer (chaque forum comporte quatre séances présentées simultanément)
Occasions de rencontrer des organismes de soutien locaux, provinciaux et fédéraux qui vous aideront à franchir les prochaines étapes vers la croissance de votre entreprise
Occasions de faire du réseautage et d'établir de nouveaux liens
Boissons et aliments locaux
This event is being organized by the Atlantic Canada Opportunities Agency, Opportunities NB, the Business Development Bank of Canada and the Department of Post-Secondary Education, Training and Labour.
-------------------------------------------------------------------
Événement organisé par l'Agence de promotion économique du Canada atlantique, Opportunités NB, la Banque de développement du Canada et le ministère de l'Éducation postsecondaire, de la Formation et du Travail.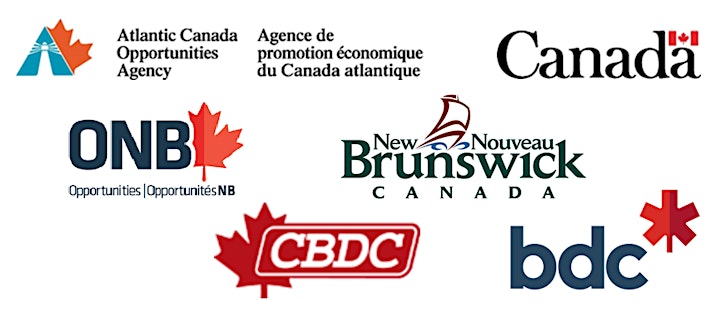 Other Affiliated Supporters:
Government of New Brunswick through:
The department of Agriculture, Aquaculture and Fisheries
The Government of Canada through:
Canada Business
The National Research Council Canada
Global Affairs Canada
Agriculture and Agri-Food Canada
Natural Sciences and Engineering Research Council of Canada
Department of Fisheries and Oceans
Export Development Canada
Statistics Canada
Autres Partenaires de Soutien:
Le gouvernement du Nouveau-Brunswick par l'entremise:
du ministère de l'Agriculture, de l'Aquaculture et des Pêches
Le gouvernement du Canada par l'entremise:
d'Entreprises Canada
du Conseil national de recherches du Canada
d'Affaires mondiales Canada
d'Agriculture et Agroalimentaire Canada
du Conseil de recherches en sciences naturelles et en génie du Canada
du ministère des Pêches et Océans
d'Exportation et développement
de Statistique Canada