Money & Sustainability with Bernard Lietaer and Jacqui Dunne

Saturday, April 6, 2013 from 7:00 PM to 9:00 PM (EDT)
Event Details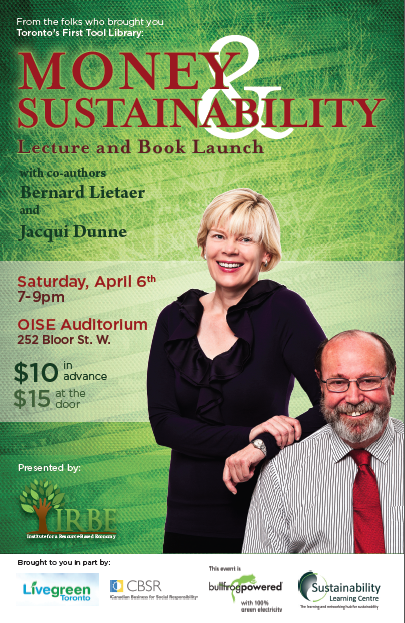 Money & Sustainability with Bernard Lietaer and Jacqui Dunne
The Institute for a Resource-Based Economy is proud to present a lecture and book launch with Bernard Lietaer, one of the world's most knowledgeable currency expert and author of dozens of books on the subject of complimentary currencies. 
This event will launch Mr. Lietaer's newest release, Rethinking Money: How New Currencies Turn Scarcity Into Prosperity,  a follow up to 2012's ground-breaking Club of Rome publication Money and Sustainability: The Missing Link. Joining him will be Jacqui Dunne, award-winning journalist and entrepreneur developing technologies and initiatives that restore the earth's equilibrium globally.
About the Book:
An outdated monetary system is unwittingly destroying societies and the environment around the world and it's time to rethink it, says international monetary expert Bernard Lietaer and award-winning journalist Jacqui Dunne, visionary authors of RETHINKING MONEY: How New Currencies Turn Scarcity into Prosperity. Using scientific proof they explain why we need an ecosystem of monetary currencies to address the root causes of the financial instabilities that have manifested throughout modern history.  "It is possible to realize that there are thousands of other ways to escape the existing financial morass. We can actually attain sufficiency and reach the inherent human goals of cooperation, community and even contentment," say the authors. 
Through real-world examples the authors explain how thousands of communities across the globe are reassessing and re-engineering money with astonishing social and environmental results. These strategies do not replace the conventional monetary system, but work in parallel with it, providing new options and resources that promote sustainable abundance and cooperation. In fact, since 1980 the number of cooperative currencies has increased from a mere handful to more than 4,000 mature systems today. 
In RETHINKING MONEY, Lietaer and Dunne show us a new way to think about money by examining:
• THE GENETICS OF MONEY: By unraveling money's DNA in highly accessible and entertaining laymen's terms, the authors lay bare how money impacts us and how changes in our monetary system would affect behavior patterns and outcomes. 
• MONETARY PIONEERS: The trailblazers in cooperative currencies in the US and abroad, and their stories of inspiration and transformation in banking, entrepreneurship, government and NGOs, show a better way to think about money. 
• MONEY RE-IMAGINED: A portrait of how a truly cooperative society would function with competitive and cooperative currencies working in tandem inspires innovation. 
The results could be revolutionary. Sustainability goals can be achieved, poverty can be dramatically reduced and cities and towns can be revitalized. As new currencies are designed and circulated, innovative methods of earning a living emerge that may not have existed before. Consequently, "by rethinking money it is possible to enjoy even more than a period of prosperity but a new era of genuine sustainable abundance." 
"This stunning book, should be required reading for every person who wants a world that works and a sustainable future for all of life." 
Lynne Twist, Author of The Soul of Money
When & Where
252 Bloor Street West
Toronto, M5S 1V6
Canada

Saturday, April 6, 2013 from 7:00 PM to 9:00 PM (EDT)
Add to my calendar
Organizer
The Institute for a Resource-Based Economy is a non-profit corporation that implements shared-resource projects such as Toronto's first Tool Library and provides educational courses and workshops connecting economic and environmental issues.
Learn more at http://www.irbe.org