Location
Freestanding Room
4324 Boulevard Saint-Laurent
Montréal, QC H2W 1Z3
Canada
Refund policy
Contact the organizer to request a refund.
Eventbrite's fee is nonrefundable.
Sales Have Ended
Ticket sales have ended
Sorry, ticket sales for this show have ended. We'd love to see you at a future show! Please come to the next one.
Comedian Monica Hamburg Presents panel comedy shows at The Freestanding Room (4324 Blvd St Laurent )
About this event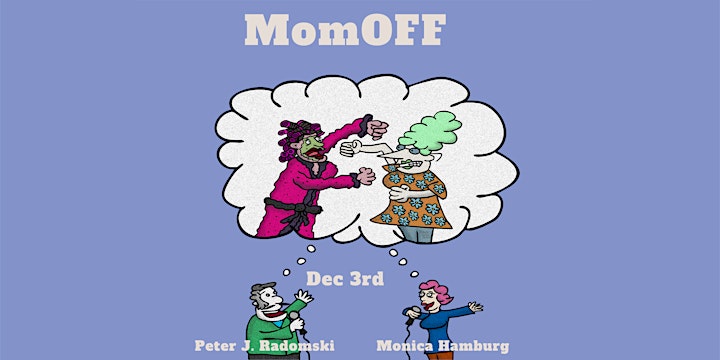 Comedian Monica Hamburg Presents fun panel comedy shows at The Freestanding Room (4324 Boulevard Saint-Laurent, 3rd floor). (Hosted by... Monica Hamburg)
Friday, December 3rd, 2021 at 8pm
-MomOFF - co-production with Peter J. Radomski-
Whose mom is the most infuriating? One guest will "win" - or at least be fully validated by an award.
Guests demonstrate how frustrating their mothers are – as Monica and Peter lead them through a series of questions like, "If your mother was a superhero, what would be her destructive secret weapon?" - and share their own examples of why they might have received the award, were they not hosting.
Guests: Mariam Khan, Natasha Perry-Fagant & Nazeer Khan
(Tickets $10)
(Note:
- Show is in English
- Vaccination Passports & ID required)
--
(Previously, in 2021):
Friday, October 22nd at 8pm
-Pornomedy-
Pornomedy is: The most fun you can have with porn. In public.
A bawdy show about the bizarreness of free porn sites - the weird names users give the clips, tags that would never help your search, and baffling comments! (Guests: Elspeth Wright, Peter J. Radomski & Serag Meletian) (Tickets $10)
This show was a hit at 2019's: Montreal Fringe After Dark, Montreal Comiccon and Festival De La Bete Noire.
Friday, September 17th at 8pm
-Craigslost -
Baffling Craigslist ads that'll make you go WTF, LMAO or AIOTRP (Am I on the Right Planet)?) (Guests: Peter J. Radomski, Mariam Khan & Hart Less)
---
MonicaHamburg.com
Questions? Feel free to contact me via the form at MonicaHamburg.com