Description
Please join Monika's Art Boutique-Studio & Gallery for our Grand Reopening at 3063 Lonsdale Avenue on Friday, February 23, 2018! A message from Monika:
Over the years, I have worked with many different people from all kinds of walks of life. From working with toddlers to new immigrants, to artists from around the world to local or international brands, one thing I know for sure is that when you apply yourself to greatness; that is what you will create. When you practice painting, you'll become better. When you practise business, you get better. When you practise public speaking, you get better at it. I've always worked hard to apply that principle of greatness into my art, our studio, our events, classes and retreats and for that now, I can see that the universe is giving me another great opportunity to continue to create imagination, inspiration and magic in my community and abroad.

I invite you to join us for our Grand Opening and celebrate not only the great possibilities that will come from this new studio and gallery, but also to celebrate all the greatness that lies inside all of you. This studio is dedicated to all the people who have helped us get to this stage in our business and to all of your dreams too.
Stay creative and let's celebrate!
This month, I will also be donating 10% of sales to a dear friend and mentor of our family who has been recently diagnosed with cancer. He has no insurance and has to take time off for surgery. 10% of all sales that evening will go directly to their family. So far, we have raised $212.70 via our Christmas Fair and our Vision Board Workshop.
Sincerely,
Monika Blichar
---
Monika is also offering a signed print of "Peacock Lady" 8x11" with white border valued at $100 for $40 to help raise funds for the legal, moving and lease fees associated to the new studio and gallery. All prints will be signed and dedicated to each buyer and will also include an EBOOK copy of "You're Going to Make It-A Creatity Workbook to Help You Make Your Best Art" valued at $17.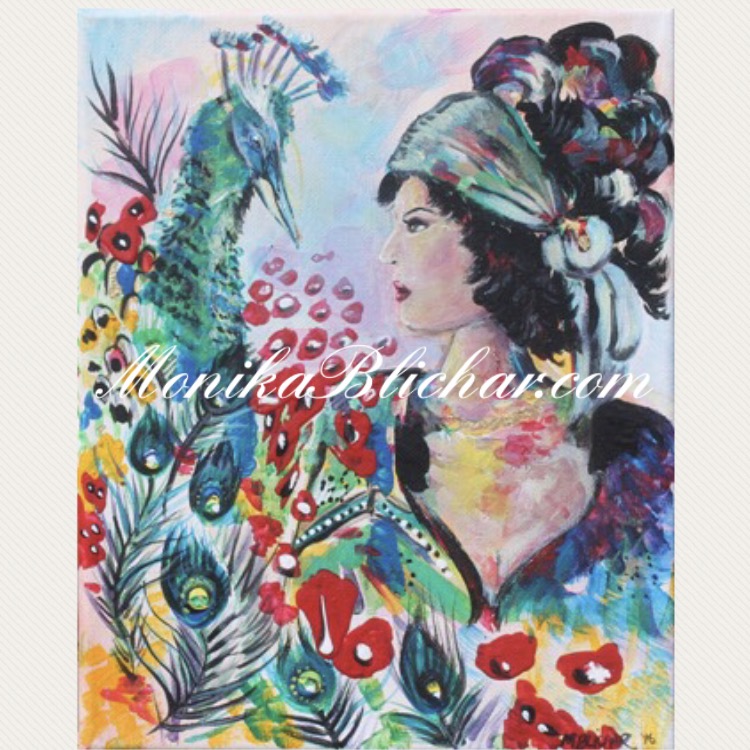 "Peacock symbolism: Vision, Royalty, Spirituality, Awakening, Guidance, Protection, & Watchfulness. In Greco-Roman mythology the Peacock tail has the "eyes" of the stars. In Hinduism, the Peacock is associated with Lakshmi who represents patience, kindness and luck.
The peacock is a possessor of some of the most admired human characteristics, and is a symbol of integrity and the beauty we can achieve when we endeavor to show our true colors. In history, myth, legend and lore, the peacock symbolism carries portents of: Nobility, Holiness, Guidance, Protection and Watchfulness."