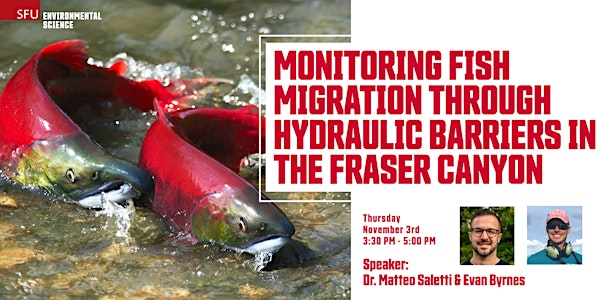 Monitoring fish migration through hydraulic barriers in the Fraser Canyon
SFU School of Environmental Science is excited to announce one of their largest in-person seminar events since the pandemic!
When and where
Location
Halpern Centre Room 114 Burnaby, BC V5A 1S6 Canada
About this event
In this talk, Dr. Matteo Saletti and Dr. Evan Byrnes will explain and discuss the monitoring program undergoing in Fraser Canyon that looks at the impact of landslides and hydraulic barriers on fish migration. Researchers will show which variables and indicators are being measured and where and how these data will allow them to assess when, where, and to which extent hydraulic barriers can represent a major obstacle for fish migration and therefore for the survival of key aquatic species in the Pacific Northwest.
About the Speaker:
Dr. Matteo Saletti did his studies in Europe (BD, MD in Italy and PhD at ETH in Switzerland) with a focus in Hydraulic Engineering and Geomorphology. He moved to Vancouver in 2017 where he held several postdoctoral positions at UBC and now he is a Research Associate at SFU in the School of Environmental Science.
Dr. Evan Byrnes is a Postdoctoral Fellow at SFU in Vancouver, BC examining salmon migration. His research interests broadly focus on mechanisms of animal behaviour and ecology, with a particular interest in fishes. He completed his graduate work in Australia, where he focused on elasmobranch personality and cognition (MSc, Macquarie University in Sydney) and metabolic ecology of elasmobranchs (PhD, Murdoch University in Perth). Outside of work, Evan can often be found connecting with nature via gardening, freediving, rock climbing, hiking, or snowboarding.