Description
Come out for a night of painting a rustic pallet inspired Stocking Holder, drinks, food and fun!



Choose 1 of 3 designs:
$60, inclusive up to 4 stocking knobs
$65, inclusive for 5 Stocing knobs.
Hardware included.
You choose your own colours at the workshop.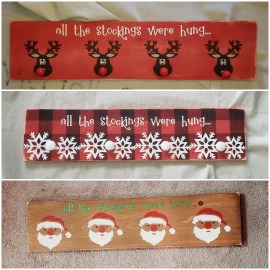 A $15 Non-Refundable Registration Fee Deposit is required to confirm your attendance, which will be deducted from your balance owing. Space is limited and will fill up fast

A $15 non-refundable registration fee is required to confirm attendance. Due to the custom nature of the workshops, registration fees are non-refundable. Registration cancellations made at least 72 hours in advance of a workshop will be granted a credit for a future workshop. The credit is valid for up to six months from original scheduled workshop. We reserve the right to cancel workshops if attendance is below 6 attendees. We reserve the right to rescheduled a workshop due to weather or other unforeseen circumstances.