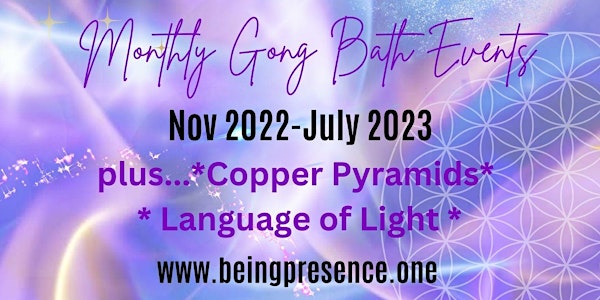 Multiple dates
Monthly- Gong Bath * Pyramids * Language of Light ( Calgary/Cochrane , AB )
Join us as we bathe within the cosmic symphony of planetary gongs, Language of Light Transmissions, and copper pyramids!
By Being Presence- Jolene Tse
Date and time
Sat, Sep 17, 2022 7:00 PM - Sun, Jun 11, 2023 8:30 PM MDT
Location
Private Residence. Cochrane AB Cochrane East Cochrane, AB T3R1C1 Canada
About this event
Monthly GONG BATH Events
plus... Copper Pyramids & Language of Light
www.beingpresence.one
Facilitator: Jolene Tse
Join us as we bathe within the cosmic symphony of planetary gongs, Language of Light Transmissions, crystals and copper pyramids! Flowing within simple and powerful breathwork, creating and activating higher heart connection. An offering within an expansive space, nourishing the soul and awakening the Galactic Core within. Come as you are and experience a soundsational journey within and beyond….where no words truly describe. Each session unique and divine within support and evolution of yOur journey and that as a collective. These events are experienced within copper pyramids. There is one large pyramid for 3 people and 2 small pyramids each for 2 people.
Date:Time- Saturday's Nov 2022 - July 2023
7:00-8:30pm (Doors open 6:45pm)
November 26, 2022
January 21, 2023
February 04, 2023
March 04, 2023
April 22, 2023
May 13, 2023
June 17, 2023
June 17, 2023
July 8, 2023
Loc: Private Retreat studio, Cochrane , AB. Details given once your space is reserved.
Monetary Investment: $55.00/pp/event via Eventbrite
Facilitator: Jolene Tse
What to bring:  Yoga Mat, Blanket, Pillow, Water Bottle, and anything else to create a comfortable space for yourself.
Details:
The gong is one of mans most powerful and oldest transformational and therapeutic instruments.  This incredible multidimensional tool is ideal for stress reduction, breaking up emotional blockages and stimulating the glandular system. When skillfully played, ripples and powerful waves of frequency are generated as the sounds of the gong bathe your entire body and being, offering recalibration of the parasympathetic nervous system while stimulating and resonating all cells simultaneously.  Doors and windows open to one's soul and the infinite universe within.
Science has proven that 20min of bathing in the frequencies of the gongs changes the physical structure of the blood....feel the changes, experience the transformation!
The pyramids are considered one of the strongest talismans on the Earth.  Symbolizing spiritual power, eternal life and cosmic energy.  The base representing the physical body, the sides..ones journey in life and the apex (point)... the union with ones higher power.  Feel the depth of mystery and symbolism of the pyramid....as the frequencies of nature and tools of sound, lighten and brighten....transforming and transmuting creating space for new and anchoring in your truth and divine soul expression in being!
Planetary Gongs in offering:
Sedna: approx musical note of C (Root); Superconductivity; Blending of polarities;
Treating spinal issues; Addresses issues of betrayal, Helps to adjust to paradigm shifts; Changing cycles of time; Access to Akashic records; Summons the feminine aspect to rise from within. New Earth Om.
Jupiter: approx musical not of F# (higher heart): Expansion; Optimism; Joy; Generosity; Evokes the benevolent father.
Addresses hip disorders and Liver issues. Realizations of spiritual aspirations; Embracing the Inner teacher, pushing boundaries.
Saturn: approx musical note of D (Sacral) Structuring, Goal Orientation; Acceptance of Responsibility.
Establishes healthy boundaries; Addresses hearing loss on all levels; skin and bone problems; understanding the wisdom and lessons of time. Self discipline and Centeredness.
Neptune: approx musical note G# (Zeal point) Dissolves boundaries; Mystical; Watery.
Develops intuition; Mystical & psychic ability; used with autoimmune disease; addresses imbalances; foot issues; lymphatic and fluid issues. Spiritually merge with ONE.
Venus: approx musical note A Cooling; Relaxing; Calming.
Aids in creation; Facilitates Fertility and birthing; Anti-inflammatory agent; Throat Chakra Issues; gynecological issues, Urinary problems; Kidney afflictions. Invoking spirit of feminine energy.
Uranus: approx musical note G# ( Zeal Point) Edgy; Penetrating; Liberating
Breaks through old patterns; connects with the inner genius; invites kundalini energy; Supports spontaneous insights and intuition.