Sales Have Ended
Registrations are closed
Sorry we missed you! Check out our other events to stay connected.
Sales Have Ended
Registrations are closed
Sorry we missed you! Check out our other events to stay connected.
Join us for our April monthly member meeting featuring speakers from Attabotics.
About this Event
AGENDA
10:00am - Member Meeting
10:15am - Attabotics Presentation
10:45am - Breakout Rooms & Networking
11:05am - Close
About Attabotics:
Attabotics is the world's first 3D robotics supply chain system for modern commerce. Inspired by the framework of ant colonies, Attabotics replaces the rows and aisles of traditional fulfillment centers with a patented storage structure and robotics shuttles that utilize both horizontal and vertical space, reducing a company's warehouse needs by 85%. By empowering retailers to place fulfillment centers near high-density urban areas, Attabotics helps create jobs and decrease carbon emissions by closing the last-mile delivery gap. Attabotics has been adopted by major brands including luxury department store Nordstrom, and other retailers across apparel, food & beverage, and home goods. Attabotics is based in Calgary, Alberta, Canada, with fulfillment centers across the United States and Canada.
Brad Simpson, VP of Corporate Development at Attabotics, and Mark Dickinson, Vice President of Software Solutions at Attabotics, will offer their perspectives on technology and business, and explain how a robotics company from Calgary tapped into big clients by thinking differently.
About the Speakers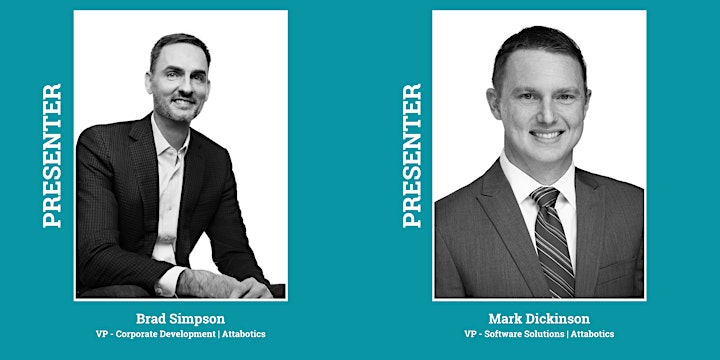 Joining the Attabotics team in 2018, after leading an early-stage strategic investment in Attabotics, Brad brings 25+ years of logistics, supply chain, senior management, venture capital, and entrepreneurial experience with him.
Mark joined Attabotics with 15+ years of experience in supply chain and logistics covering everything from facility engineering, systems design, and software development. Mark has been a speaker and numerous international industry events on topics including software evolution in an industrial market, use of AI/ML in existing operations, and how best to evolve a manual operation to an automated system. Mark joined Attabotics from a leading international OEM in the Materials Handling Industry.
This event is supported by Alberta IoT's generous annual sponsors - Alberta Innovates, Aruba Networks, MNP, Rogers Communications, Avaya, Canadian Blockchain Consortium, Lenovo, Microsoft, PCL, Socium Law, Titan Logix Corp and Tridon Communications.