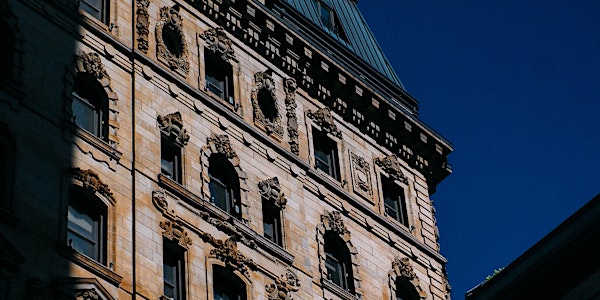 Montreal by Dakksh Nagpal: Opening Exhibition
In February 2023, Alliance Française Toronto will launch Dakksh Nagpal's first exhibition
When and where
Location
Alliance Francaise Toronto - Downtown campus 24 Spadina Road Toronto, ON M5R 2S7 Canada
About this event
His series of photographs, titled "Montréal" is a visual exploration of the city through the lens of color. The photographs capture the vibrant and diverse hues that can be found in the city's architecture, streets, and people. He used an Olympus micro four thirds camera in pairing with a 35mm lens, which allowed him to create a unique perspective and a shallow depth of field.
His approach to photography is to use color as a tool to create emotions, feelings, and atmosphere. He believes that color has the power to tell stories and to evoke memories. In "Montréal" he aimed to create an immersive experience that would transport the viewer to the streets of the city and make them feel like they are a part of it.
The photographs in the series are a combination of street photography, people, and architecture. The final selection of photographs represents a visual diary of his time in Montréal and each photograph tells a different story.
Sa série de photographies intitulée " Montréal " est une exploration visuelle de la ville à travers l'objectif de la couleur. Les photographies capturent les teintes vibrantes et diverses que l'on retrouve dans l'architecture, les rues et les habitants de la ville. Il a utilisé un appareil photo Olympus en combinaison avec un objectif 35 mm ce qui lui a permis de créer une perspective unique et une faible profondeur de champ de la ville.
Son approche de la photographie consiste à utiliser la couleur comme un outil pour créer des émotions, des sentiments et une atmosphère. Il pense que la couleur a le pouvoir de raconter des histoires et d'évoquer des souvenirs. Dans "Montréal", il a cherché à créer une expérience immersive qui transporterait le spectateur dans les rues de la ville et lui donnerait l'impression d'en faire partie.
Les photographies de la série sont une combinaison de photographies de rue, de personnes et d'architecture. La sélection finale de photographies représente un journal visuel de son séjour à Montréal et chaque photo raconte une histoire différente.