Montreal College's Learn Digital Marketing- Info session July 2018
Description
We are back again due to popular demand!
How do you succeed in Digital Marketing?

My name is David Simmons. Here's what I did to realise my career goal.
To begin with, I did not have any programming experience when I came here. I think they taught us in the most helpful way. While we learned a theory concept, we then applied it right away. They gave us lot of time to work, I did the Digital Marketing Course.

They gave us plenty of time to cover all the topics and get familiar with it. One good thing was that althought we got to learn so many different concepts, we learned most of what we needed to. To me that was the most important aspect of learning at MCIT. Everything we did was applied immediately, which made me Job ready in the market. I was able to land a job quickly once I was done the program.


I am Adam Bonkaney ,one of my favorite parts of the school would have to be the instructors . They are known experts in their filed who are passionate to teach. They teach up-to-date material, and an overall outstanding quality of training plus the equipment and facilities that make Montreal College a first-rate training environment.


Did you know that the average salary of a Digital Marketing Manager is CAD$63,644 and job growth in Digital marketing will surpass all other job categories by 2020?
Join us on 12th July, 2018 for an interactive discussion to know more about our Digital Marketing Diploma program and its relevance in the industry. Our instructors and program coordinators will be happy to answer all your questions after the presentation. 80% of success is showing up!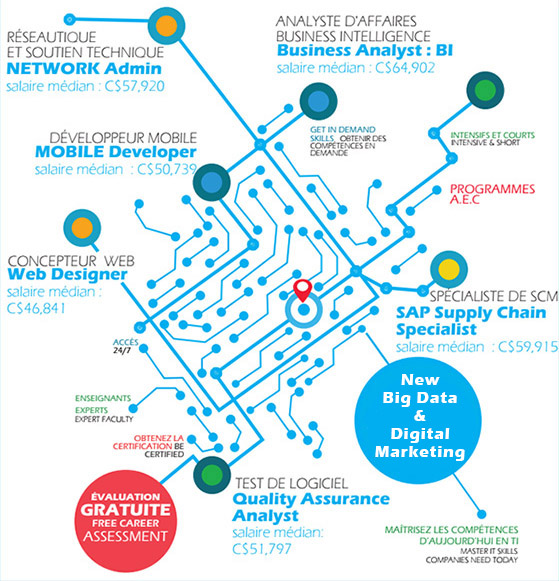 Have a chance to get career advice and meet with our subject matter experts. If you are looking for a place to start, then check out our programs and courses to see what we have to offer. Learn more
Event Program:
Greetings and networking

Introduction to Digital Marketing


Program details

Jobs and opportunities

Enrollment & Finance options

Question time

Career advice


FAQs
Is this the event for me?
Anyone looking to have a career in Digital Marketing, Analytics and Adwords requires knowledge and skills from an extremely diverse set of fields. With this workshop, our intent is to show you how working in Digital marketing looks like and give you all the information you need in order to pursue your career and training in the industry.
How do I get there?
MCIT can be reached easily by public transportation. The institute is located few steps away from:
By Metro: stop to McGill metro station, exit from the Promenades Cathédrale, and Cross Rue Sainte-Catherine;
By Bus: Bus 61/168/420 at Boul. Robert-Bourassa; Bus 15 at Rue Sainte-Catherine
How can I contact the organizer with any questions?
If you have any question you can contact the organizer anytime:
By phone: from Monday to Friday from 9.00am to 4.30pm at (514) 312-2383;
By email: info@montrealcollege.ca
In person: you can request an appointment with a member of our team. They'll be happy to meet you and answer all your questions. Or you can come and visit at MCIT 1255 Boulevard Robert-Bourassa Suite 502 from Monday to Friday from 9.00am to 4.30pm.