Description
EXCLUSIVE EVENT - SPACE IS VERY LIMITED!
MOON CLINIC (NOIR)™
A space designed to empower entrepreneurs, wellness and fitness businesses in distinctive venues.
MOON ACTIVATION
'In ancient times the New Moon was considered the optimal time to initiate new intentions albeit projects, events, adventures and/or desires'.
Sound Off™
Toronto's 1st Yoga Sound Off™ Experience in collaboration with Massaffect™. Immerse yourself in the beauty and motion of yoga with a pair of noise isolating wireless Sound Off™ LED headphones which lets you hear the instructor at the perfect level.
HOW WILL THIS BENEFIT MY PRACTICE?
Sound Off™ technology is a one-of-kind experience! It creates an intimate atmosphere that allows you to escape into your own yoga practice by keeping the distractions to an absolute minimum.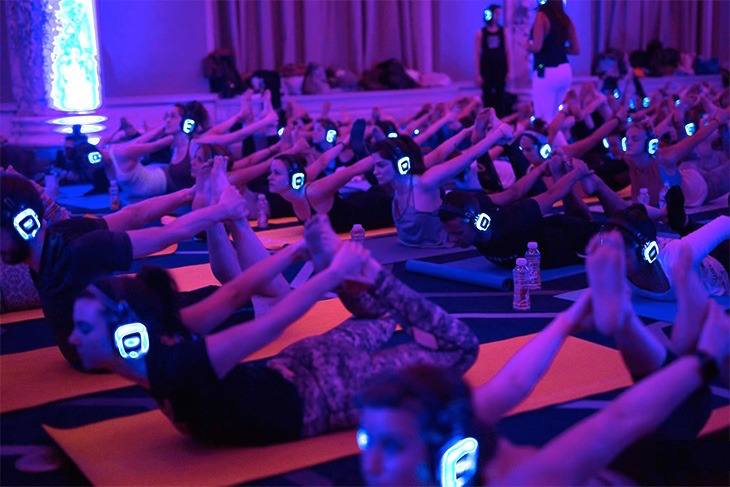 FITNESS ACTIVATION
Class includes Sound Off™ LED headphones.
7:00 PM

STRETCH YOGA ACTIVATION - Slowly release old tensions to manifest new healing.
CONCERNS
Like any yogi/yogini, our initial concern while practicing was the movement of the headphones during class. Great news! They don't move even in downward dog.
VENUE

SECRET DOWNTOWN TORONTO LOCATION.
Each hand picked site is transformed into unique yoga spaces. These surprising ambient settings are chosen to deepen your Moon Clinic™ experiences!
Private emails will ONLY be sent to ticket holders prior to the event revealing the address, parking, and transit options.
BYOM
Bring your own yoga mat, blanket, belt, blocks and whatever other props you might normally use for any fitness class. My Moon Clinic will not provide these items.
DRESS CODE
All NOIR everything.
ARRIVAL
Please arrive 15-30 minutes prior to class.
REFUND POLICY
No refunds.
TICKETS
Invitations can be shared to friends.
Space is limited so secure your ticket early.
Tickets are transferrable.
WAIVER & LIABILITY
Registrants, Attendees and Readers of the Moon Clinic Noir™ (hereby referred to as "Participants") of the Moon Clinic Noir™ must comprehend that serious risks may be associated with physical activity of any kind including any variety of yoga, meditation, dance, pilates, crossfit, any type of physical exercise, breath work practice and participation in yoga/fitness related activities, including Concert, Yoga Rave, Kirtan and Yoga Dance attendance and participation. Participants must acknowledge such potential risks may be minor or serious and participants must attend all sessions and/or activities accepting and assuming the inherent risks associated with their participation in any activities of the Moon Clinic Noir™. The Moon Clinic Noir™ or its founders, employees, affiliates, associates, members, and/or volunteers, are NOT responsible for any injury, including death, to any person participating in the Moon Clinic Noir™. In consideration of my acceptance and my participation in the Moon Clinic Noir™, I hereby release and covenant not to sue the Moon Clinic Noir™, or its founders, for any and all present and future claims resulting from ordinary negligence and inherent risk during the Moon Clinic Noir™ including but not limited to, any loss, injury, damage, or liability sustained by me. Please be aware that by entering this area, you consent to your voice, name, and/or likeness being used, without compensation, in films, pitures, and tapes for exploitation in any and all media, whethere now known or heareafter devised, for eternity, and you release Moon Clinic Noir™ by Massaffect, its successors, assigns and licensee from any liability whatsoever of any nature. Do not enter this area if you do not wish to be subject to the foregoing.
I have read the above release and waiver of liability and fully understand its contents. By purchasing this ticket, at the location, or via any other outlet, I voluntarily agree to the terms and conditions stated above.
#Toronto #Yoga #Thingstodo #Exercise #Bootcamp #Wellness #FutureYoga #SelfEmpowering #Business #Technology #Noir
We hope you can make it!

Cheers,
Massaffect™