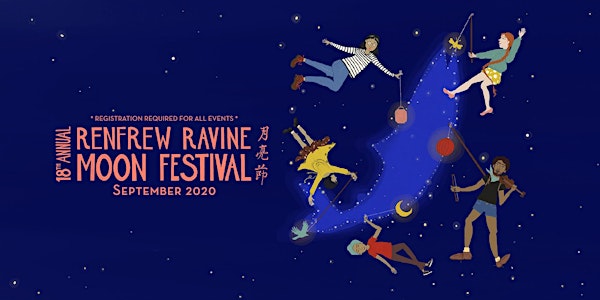 Moon Music in the Dye Garden
Learn how to use natural dyes to make lantern paper, while enjoying a scene of ethereal music in the Colour Me Local Dye Garden!
By Still Moon Arts Society
Date and time
Wed, Sep 9, 2020 7:00 PM - 8:00 PM PDT
Location
Colour Me Local Dye Garden 3958 Renfrew Street #3998 Vancouver, BC V5R Canada
About this event
Moon Music in the Colour Me Local Dye Garden is back this year, bringing you an evening of live music amidst a flourishing garden of native flowers and dye plants. Participants will have the opportunity to explore dye plants in the garden and learn how to use natural dyes to make lantern paper.
About the Moon Festival
This event is held as part of Still Moon Arts Society's 18th Annual Renfrew Ravine Moon Festival, celebrating the full moon, the harvest abundance, and diverse cultural traditions. The festival highlights the artistic talents of the Renfrew-Collingwood neighbourhood and communities beyond, as well as the natural beauty of Still Creek and the Renfrew Ravine, one of the few remaining places in Vancouver with an open stream in a natural forest.
We invite you to explore this year's themes of Constellations and Transformation, which are inspired by the ways communities have come together and stayed connected while remaining physically distant during these changing times.
This year's festival is taking place throughout the month of September, featuring a mixture of in-person and virtual events that have been adapted for guests to safely enjoy. We are excited to bring back signature elements of our festival along with some new additions. Visit moonfest.stillmoonarts.ca for our full event calendar and for all the details about this year's festival.
COVID-19 Safety
We are very fortunate to be able to host events during the COVID-19 pandemic. In order to ensure everyone's safety at our events, we ask attendees to follow and respect these guidelines:
Maintain a 2 metre distance from those outside of your social bubble at all times
Wear a non-medical mask or face covering if you are able to
Remain at home if you are feeling sick, or if you or someone who you have been in contact with has experienced COVID-19 symptoms in the previous 2 weeks
Remain at home if you have recently travelled outside of Canada
Wash your hands before and after going outside
Cover your cough or sneeze
Hand sanitizer will be provided for use at all events with hands-on activities
Additionally, if you invite friends or family to the event, please make sure they are registered, as we have a limited number of spots available.
If you have any questions about this event or this year's Moon Festival, please refer to our FAQ page. If you have further questions, please contact us at info@stillmoonarts.ca.
About the organizer
Still Moon Arts Society inspires vibrant and connected communities by creating art and nurturing a passion for nature in the Renfrew-Collingwood neighbourhood of Vancouver, B.C.