Description
Moon Sisters Camp 2017
August 21-24, 2017
BOOK YOUR SPOT NOW!
We only have a week to go to secure your spot and pack up ladies!
.....................
SiStars! A woman's gathering this summer starting on the new moon, the solar eclipse August 21, 2017 on our beloved Salt Spring Island!
Join us on a reclamation of our mother earth, our mother nature, our nature. A women's camp. Let's step out into the woods and dance on destiny. Come, bring together the pieces of you and tie in the pieces that are missing. You are invited.
#bettertogether #risesistersrise #womenscamp #saltspringsisters
WHEN
Camp set-up on Monday August 21st at 4pm
Camp closing Thursday August 24th at 9am
TICKETS
Women's tickets- $120 /// 3 nights of camping, some meals provided, many workshop offerings to choose from!
Day pass-$50 /// available for women who can't make the entire retreat. One day and one night, some food and many workshop offerings for you.
Children's tickets- $40 /// Contribution is for some childcare, especially during some offerings that you would benefit from with full attention for yourself.
Only 15 tickets available in total. Book by August 20th, first come first serve.
OFFERINGS

Camp will include these offerings from the women in our community ♥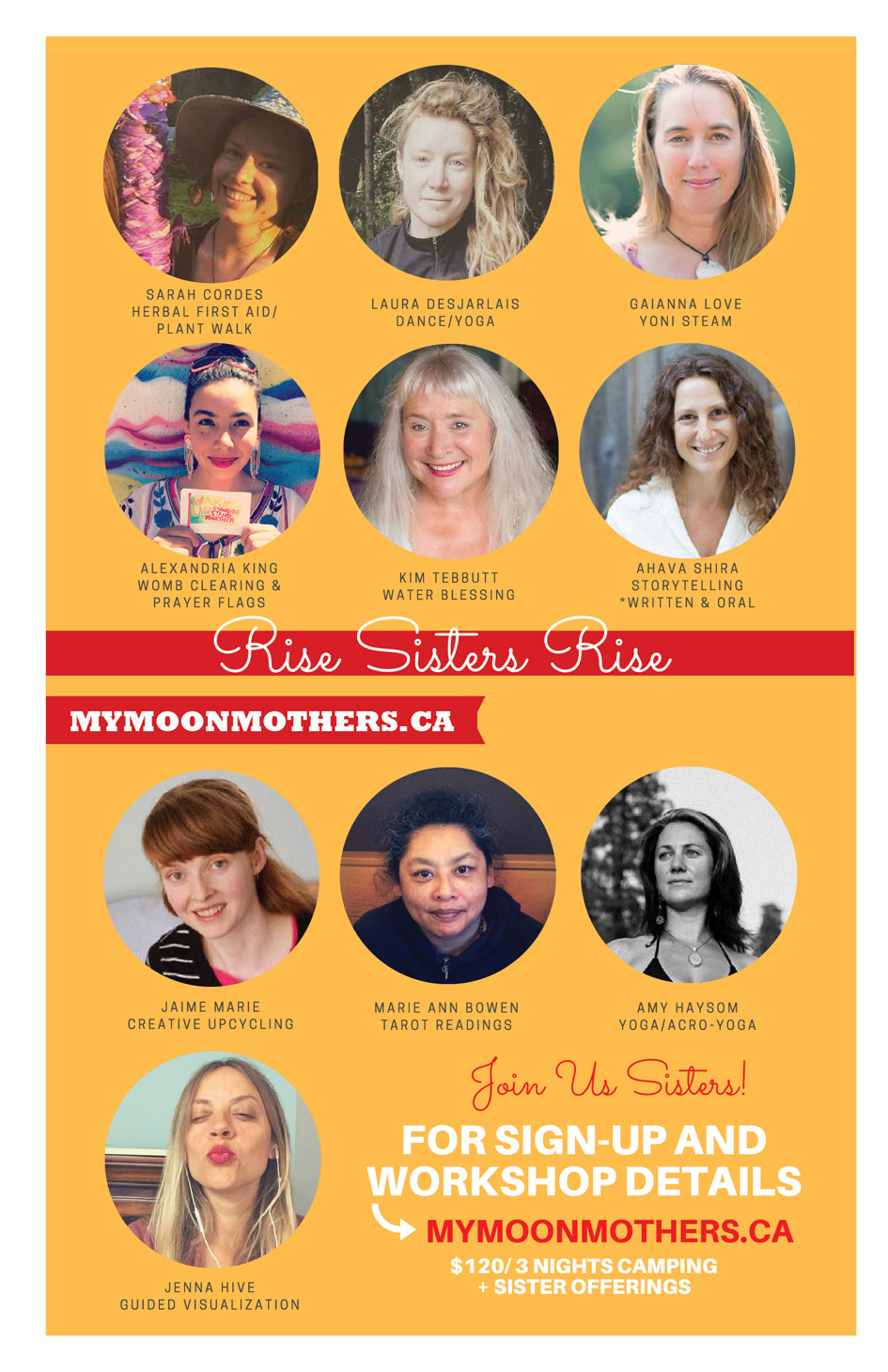 Alexandria King, Womb clearing/ Prayer flags
Gaianna Love, Yoni steam
Sarah Cordes, Herbal first aid/ Plant walk
Kim Tebbutt, Water blessing
Jaime Marie, Making upcycled t-shirt bags
Ahava Shira, Storytelling *written and oral
Amy Haysom, Yoga/Acro-yoga
Laura Desjarlais, Dance/ Yoga
Marie Ann Bowen, Tarot Readings
Jenna Hive, Guided visualization
Payment///
E-transfer also available. You can send payment by e-transfer to Jade Watson at jd.wats26@gmail.com
Concessions can be made
Contact Alexandria at Alexandria@mymoonmothers.ca if you have any questions or Jade at jd.wats26@gmail.com if you have any questions regarding e-transfer payment.
Food/Water
Feel free to come with potluck for sharing- village style! We expect good things but you should bring food to cover remaining meals including stove and dishes. Some food will be provided to be prepared together. Always remembering to care for camp space. Pack in – Pack out.
There is water available at the campsite for washing dishes. Bring drinking water.
Year 1- Just getting off the ground, and into the earth///
We aim to have better offerings for children of mothers in coming events but as this is our first year, come break in the new.
*Beautiful photo for group by Brigid Devoe ♥