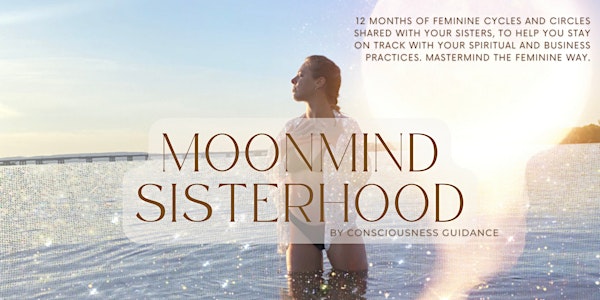 Moonmind | Mastermind the Feminine Way | Moon Phases and Rituals
Join your Sistars for this Sharing Circle where we will be practicing gratitude, surrender and manifestation Rituals on the Full & New Moon
Refund Policy
Contact the organizer to request a refund.
Eventbrite's fee is nonrefundable.
About this event
Time: 7hPM - 8h30PM
Price: 30$ for drop ins (600$ for yearly subscription - 24 moonmind evenings)
I am so thrilled to invite you personally to this new offering of mine | Moonmind
12 months of feminine cycles and circles, shared with your sisters, to help you stay on track with your spiritual and business practices. Mastermind, the feminine way.
_____________________
The moon is your reminder and your ally when it comes to consistency and discipline. No matter if you show up or not, she will. She gracefully dances through each phase of her cycle, no matter what. It is the perfect informal schedule and feminine calendar. She shares with you her discipline and consistency, so that you can harness her energy and make the most out of it. If you ever feel like weeks and months pass by and you barely have time to do anything else but work, cook, sleep and repeat… These sisterhood evenings will help you "make" the time you deserve to slow down and take a deeper look at your entire self.
_____________________
We make time, 2 evenings per month, to pause, reconnect and check in with ourselves. This sacred moment of yours is there to remind you the importance to fall back into your spiritual practices and to look at where you are at in all aspects of your life. It is a Rendezvous with yourself and your sisters. When we feel good within, it spreads outwards and ripples in all spheres of our lives. As within, so without. When we postpone or cancel ceremonies, rituals and "me" time, we send our higher-self the message that we are not worthy of it. We always have time, but we have to choose wisely how we will use it.
_____________________
This circle approach (Inspired from the Mastermind) is perfect for exchanging ideas, gifts, talents and passions. Helping one another reach our goals and milestones. Community and co-creation is so important. And as women, who are intuitively inclined to "give", it is important to be able to receive and have a healthy energy exchange with others to generate more flow in our lives. Have you ever thought or saud "I wish I had friends that would show up for me the way I show up for others"? If it's the case, let me reassure you. There are other incredible, gifted, giving, generous, smart and empowered women out there who are looking to connect with people just like you
I am so thrilled to invite you personally to this new offering of mine
The idea came one evening, when I felt a bit overwhelmed by life, work and responsibilities… and I chose to take "me time" to simply "be" in my favorite spot
Grounded and relaxed…boom! The idea came through
Going back to the simple things
Going back to celebrating the moon phases and cycles
The moon keeps moving and traveling, with or without us, but her energy still affects us regardless of what we choose to do
Whenever I felt I was drifting away from my path, I would come back to the moon phases
I would sync with her
Celebrate her
Tune in to her energy and harness it to better navigate this reality
I am offering you to join me during these phases, every month, twice a month
To show up for yourself and create a feminine container and structure that helps you use your energy and creativity in a way that feels right and safe.
What's on the menu:
🌙 Moon Phase Energy and Highlights
🌙 Exercise for this specific moon phase (ritual)
🌙 Moonmind Circle (sisterhood exchanges)
🌙 Closing circle
My name is Camille and my mission is to help you improve your life by guiding you through your remembrance. Guiding you inwards to address your trauma, pain points and previous lives. Making sure to highlight your purpose as a being of light in the Era of the Great Awakening. Working on an interdimensional level to heal and expand your physical, karmic, emotional, social, spiritual and mental experience. Your soul chose to be here in this lifetime and if you found this profile today it is because you are about to dive into a life changing experience that will help you expand and meet your higher self once again."
_____________________
Who is this offering for?
_____________________
𓂀 For beings of the light who need support and a container to help them stay on track with their spiritual and personal development practices.
𓂀 You wish to share your journey with soul Sistars that understand you on a profound and intimate level.
𓂀 You feel like time is going by so fast, you never have time to do the things you have on your to-do list or on your goals list (vision board, New Years Resolutions)
𓂀 You are looking to improve your life, spiritually, financially and emotionally.
𓂀 You are looking to find or create a career that aligns with your soul
𓂀 Your highest self is ready to commit to your your dreams and goals
𓂀 Your higher self is ready to invest time, energy and money in your own life
𓂀 You are ready to create the life you envision without censorship and limitations
__________________________
Why sign up for this membership?
__________________________
𓂀 Overcome procrastination and stagnation
𓂀 Commit to your spiritual practices and rituals
𓂀 Set goals or outline an exciting future to look forward to (Discipline)
𓂀 Make time for you, to simply "be" and pause from the fast paced world we live in
______________________________
How will this Moonmind help you?
______________________________
𓂀 We share our goals, challenges and needs between us and brainstorm on solutions. Some sistars have gone through what you are currently going through and we can help one another out, no matter at what stage of your; business, personal and spiritual development stage you are at.
𓂀 Fast forward years of personal development, self discovery and introspection over this journey together.
𓂀 The Moon Phases each hold a different type of energy that can help you with multiple things in your life; surrendering, letting go of what no longer serves you, planting seeds for new ideas, goals and dreams.
𓂀 Combining the Feminine and Masculine; container and structure to hold your divine feminine and allow it to create in a safe and well structured space.
------------
LOCATION:
------------
Online
--------
DATES:
--------
September 10
September 25
October 9
October 25
November 8
November 23
December 7
December 23
January 6
January 21
February 5
February 20
------
TIME:
------
7hPM -8h30PM
For more information, visit us at:
www.maolibox.com
To stay tuned for future events, if you'd like to exhibit next time, send us a message at:
info@maolibox.com