Moonpatrol VR presents: 4th Annual Groundup Networking Reception - PDAC
Moonpatrol VR presents: the 4th Annual Groundup Networking Reception - PDAC Edition
About this event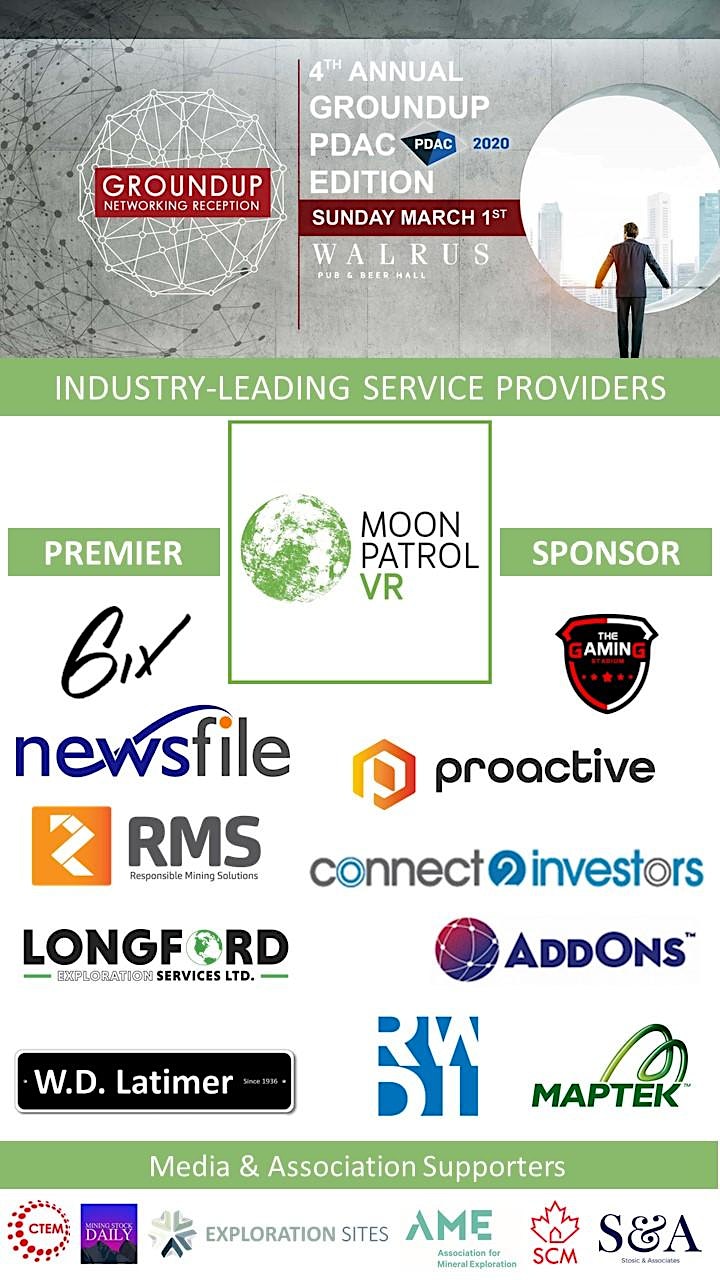 It's that time! Over 25,000 attendees from 132 countries are beginning the migration to the 6ix (excuse the post-promo of our 2020 Vancouver Premier Sponsor) or some may know it as The North after the Toronto Raptors won their Championship.
The largest annual Mining conference is nearly upon us and over the last 4 years The Groundup Networking Reception has become somewhat of Legendary status. The reception is hosted by some of our industries leading service providers. The 4th annual event welcomes Moonpatrol VR as its Premier Sponsor. If you don't know what their company provides then you must be literally sleeping under the rocks we dig up. Check their website out: https://www.moonpatrolvr.com
Last year we hit over 1,200 registered attendees and this year should be no different, in fact it could be one of the biggest networking receptions of the week. Its the kind of legendary event you just don't know what we are going to do to elevate it next. This year we have a surprise that is surely going to be an interactive experience you wouldn't have thought would be a part of a Mining-focused event nor would you even think about all the minerals and metals it takes to include this 'interactive experience' but we are aiming to give you some free education while you sip on beverages and toss back slices of gourmet pizza and bite-sized appies.
We will provide each attendee with drink ticket/s while supplies last. For additional drinks you will have to go introduce yourselves to any of our Sponsors. Have a chat with them, find out what they do for our industry.
Premier Sponsor: Moonpatrol VR
Founding & Event Sponsors:
6ix
Newsfile
Longford Exploration Services
W.D. Latimer
Proactive Investors
AddOns
Connect2Investors
The Gaming Stadium
RWDI
Maptek
RMS
Media & Association Supporters:
Save Canadian Mining
Exploration Sites
Mining Stock Daily
Centre of Training Excellence in Mining
Spotlight Mining
Stosic & Associates
Let's kick off the 'Roaring 20's' in fashion! So bring lots of business cards and prepare yourself to meet the who's who in the business.
- Sean Kingsley & Dallas Araneda
Co-founders.