About this Event
🌙 Explore the transformative power of your blood rites of passage (menarche, menstruation, childbirth and menopause).
🌙 Become conscious of your herstory, the womb-stories and cultural conditioning that were handed down to you as part of your female ancestral heritage (your Red Thread).
🌙 Discover how the lunar cycle and the Earth's seasons mirror our menstrual cycle and life seasons, and how we can live more sustainably according to their rhythms.
🌙 Learn the spiritual practice of menstruation and the art of cyclical living.
* * *
This is a day of tuning in to the body's sacred intelligence, as well as embracing the invitations of EACH phase of the natural Cycle of Transformation (not just fun or 'easy' ones!).
Join us! There is a place for you in this Circle of Belonging, with fellow womb-journeying kin...
Details:
This workshop is for all those who identify as women (age 14+), as well as those who don't identity as women but who journey this lifetime with a womb.
On the day we will create a life-changing 'treasure map' of the cycles, to help understand our experiences, and why some are deemed 'culturally acceptable' and why some bring up fear and judgment.
We will explore our menarche (first period) and all that this 'entry into womanhood' taught us. With consciousness, we have the power to rewrite our story and celebrate our embodied experience.
We will undertake a shamanic drum journey within ourselves to receive a healing ritual.
And, most significant of all, we will be richly nourished by sitting in circle together, and the privilege of hearing each other's stories and insights. From this place of Belonging, we are Transformed.
* * *
We honour that this is tender terrain, that our womb-journey has often been veiled by silence within our families and communities. Therefore, you are always invited to participate, or not, in whatever way feels most authentic to you. Every activity in this workshop is voluntary.
You are invited to dive into this content as deeply or 'shallowly' as you wish - dipping your toe in 10% totally counts!
Please bring:
→ lunch (delicious morning and afternoon tea provided)
→ a cushion to sit on
→ a wrap for warmth
→ waterbottle
→ journal and pen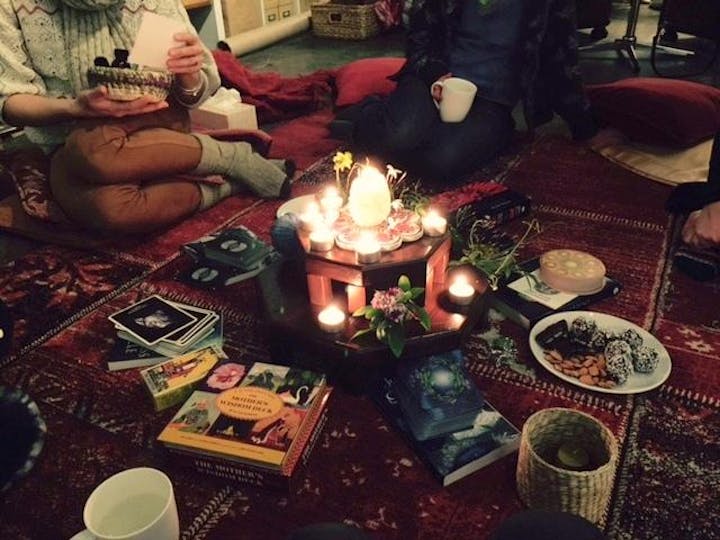 Facilitator: Grace Funk
Hi, I'm Grace!
I'm a teacher, mentor, astrologer and online content creator living in Manitoba, Canada, and I'm obsessed with cycles and patterns and how they relate to our embodied experience as women!
I am accredited to offer this Moonsong workshop through The School of Shamanic Womancraft, and remain forever grateful to my teacher, Jane Hardwicke Collings, for 'turning on the lightbulb' about the wisdom of the cycles!
I believe that we are all in a constant, creative cycle of transformation called Life.
Each cycle of transformation – whether we're talking our daily schedule, our menstrual cycle, the shift of the seasons, or the experiences of a whole lifetime – follows this same 'map.' Birth, growth and blossoming are always balanced by harvest, decay and death. It's a very reliable process!
The trouble is, Western culture only appreciates the first half of the cycle, the 'yang' half. You know, the fun, growing, productive, summery, positive, 'up' side of things.
And dislikes with a fair degree of intensity the other 'yin' half. You know, the letting go, surrendering, wintery, 'negative', 'down' side of things. (AKA, death and decay!)
This is tricky for two reasons: firstly, if our culture doesn't value the 'yin' side of life, then we don't get taught how to BE THERE, let alone to LOOK FOR THE GIFTS there!
It can be extremely painful to find yourself in yin terrain with no idea what's going on and little support, such as when your body changes during menopause, or you have a baby and your whole identity has to shift, or you get a chronic illness, or a dear friend dies.
Secondly, if you happened to be born with a womb, you just happen to represent the yin principle in the collective consciousness, and therefore you are subject to undermining daily messaging that you that you and your body should be different (more yang, of course)!
We internalise these messages, and can end up feeling extremely confused, unconfident, ungrounded and alone.
My experiences over the last fifteen years of menstruating, birthing my children, talking with clients, watching the moon and sitting in circle with hundreds of women, listening to their stories of pain and transformation, has made me ABOSLUTELY PASSIONATE about rendering the yin principle sacred – AS IT ONCE USED TO BE!
This is the work of 'priestessing' our lives: making holy that which has been made taboo and tapping back into our creative POWER as women.
One of the sources of this power is of the yin gift of cyclicity: cycles and spirals, as opposed to linearity and straight lines.
My job is to help you orient to where you are in this amazing cyclical reality called LIFE, so that you can embrace the opportunities of the present moment, follow your joy and live your powerful truth!
Let's work together!
xxx Grace