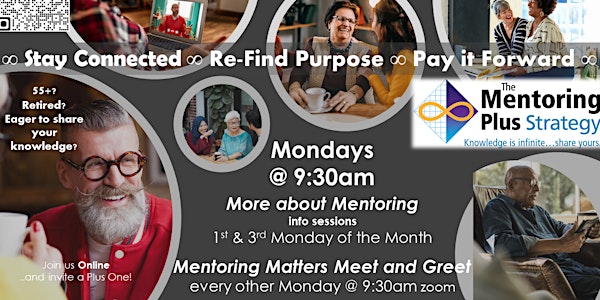 More about Mentoring
Mentoring Plus Strategy is creating opportunities for intergenerational knowledge exchanges. Join Us! Knowledge is infinite - Share Yours!
About this event
Learning a Living is the future of work, and retirees have a wealth of knowledge to share with those who are still finding their way. Mentoring Plus has exciting opportunities to engage in conversation, share stories and experiences, discuss how the world of work is changing, and contribute to what our society needs next.
Mentoring is your opportunity to stay connected, re-find purpose, and share your knowledge with younger generations.
Info Sessions are a chance to learn a little bit about what Mentoring Plus is doing in Kentville and Kings County and find out how you can get more involved!
Pour yourself a warm beverage, and follow the zoom link that will come to your inbox. See you Monday at 9:30am
Want to do some light reading before the session? check out mentoringplus.ca to learn a bit more about our programming.