Join non-binary folks across the country as we talk about what solidarity with non-binary people looks like, aside from just "bathrooms"
About this event
International non-binary people's day is on July 14th! Celebrate by learning from and alongside non-binary people across the country.
About the Panel
As the realities of trans people and communities are being discussed within mainstream spaces, we continue to see a lack of critical, engaging and reflective discourse about the experiences of non-binary people. When non-binary discourse does take place, it's usually around gender neutral pronouns and bathrooms. In reality, non-binary experiences and the needs of non-binary people are extremely vast and complex, and we are so much more than just people who want gender neutral bathrooms.
We encourage folks to celebrate International Non-Binary People's Day by attending the panel, hearing stories from actual non-binary people, and learning about how you can better work and live in solidarity with non-binary people.
Accessibility
We are currently seeking funds to cover the costs associated with live captioning, ASL & LSQ interpretation for this panel. If you are willing to support us in this, please contact Jacq Brasseur at jacq@jacqbrasseur.com.
We are also seeking funds to cover the cost of simultaneous French language interpretation. If you are willing to support us in this, please contact Jacq Brasseur at jacq@jacqbrasseur.com.
If you have additional access needs, please contact us as soon as possible to let us know.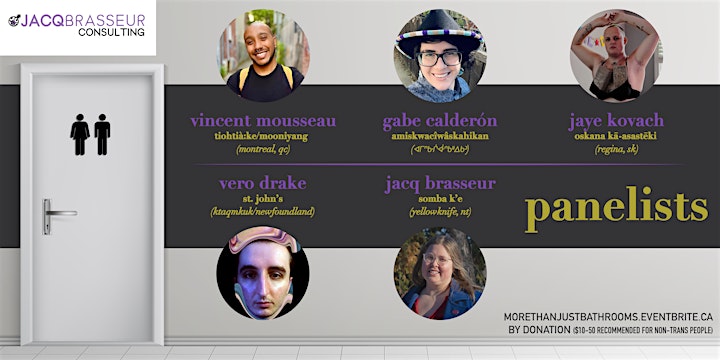 About the Panelists
Gabe Calderón
Gabe Calderón (they/them & kiin/wiin) is nij-manidowag/îhkwew (2 spirit/transgender/queer) Omamiwinini (Algonquin), L'nu (Mi'kmaq) and mixed white (French and Scottish). They originate from Omawinini Anishinabeg aki (Ottawa) and currently thrive in Treaty 6- Amiskwacîwâskahikan (Edmonton) as the 2019-2020 Mr International Two-Spirit. Gabe was the Treasurer for the Edmonton 2 Spirit Society from 2019-2021, and with a Bachelors in Social Work, a diploma in Addictions and a diploma in Herbology, they work as an educator and frontline worker from an anti-oppressive lense with over 12 years of workshop experience. Gabe is a published author and poet, receiving several awards from Lambda Literary Awards, Prairie Fire & Historica Canada in conjunction with the Governor General's Awards for Indigenous Arts and Stories and is the 2nd place champion of the Canadian Festival of Spoken Word. Gabe single-handedly launched their organization- Mòkinàn Consulting, which strives to decolonize organizations from a two-spirit lense.
mokinanconsulting.com // Instagram: @nishingabe // TikTok: @nishingabe
Jaye Kovach
Jaye Kovach (she/her; they/them) is a queer, disabled, butch trans woman, and a multimedia and performance artist living on Treaty 4 Territory (Regina, Saskatchewan). She graduated from the University of Regina in 2013 with a BFA in Visual Art. Since then, their practice has expanded to include a growing tattoo business that, using trauma informed approaches, centers creating a safe space and comfortable tattooing experience for marginalized bodies. (To see more of Jaye's tattoo work, follow @ihaveasickness on instagram.)
In 2019, Jaye was featured in the spotlight section of Canadian Art's FEMME issue. Her performance work has been presented at Queer City Cinema/Performatorium, a queer media and performance art festival based in Regina, Saskatchewan, that attracts international artists and film makers. They also perform as part of Homo Monstrous and Forced Femme, bands that blur the line between music and performance art.
ihaveasickness.com // Instagram: @ihaveasickness
Vincent Mousseau
Vincent Mousseau (they) is a Black, queer and trans social worker, educator, and community organizer. They are a masters student at the School of Social Work at Université de Montréal, where their research focuses on the identity development of Black LGBTQ+ people in Québec. They also have a Bachelor of Social Work from McGill University. As both an activist and an educator, their areas of expertise include anti-oppressive framework, community outreach strategies for queer and trans people of colour, intersectional analysis, Black Lives Matter activism, and contemporary anti-assimilationist queer activism.
Vero Drake
Vero Drake (they/she) is a white settler disabled queer+trans multidisciplinary artist-activist from the coastal community of Lawn on the Burin Peninsula. Now based in St. John's, their work explores madness, existential ecologies, and trans+corporeal cartographies. Her work has been exhibited and performed at artist-run centres, galleries, and festivals throughout Ktaqmkuk (colonially known as Newfoundland). They have been engaged in feminist, 2SLGBTQIA+, and artistic community organizing for nearly a decade. She has recent publications in transVersing (2018), Verses Magazine (2019), and HELD (2020). They have been writing and designing since the age of 13, her multimedia poetry collection estrogenesis (2019) is available now.
payhip.com/imverodrake // Instagram: @imverodrake // Twitter: @imverodrake // Facebook: Vero Drake
Jacq Brasseur
Jacq Brasseur (they/them) is a bigender, bisexual white settler who was born and raised in Somba K'e, Denendeh (Yellowknife, NT). With almost a decade of experience working in queer and trans communities, they co-founded the Rainbow Coalition of Yellowknife which opened the first 2SLGBTQ+ youth centre in any of the three territories. Thanks to their love of non-profit governance and bylaw writing, Jacq works as an independent consultant who specializes in supporting small non-profits through a queer, equity informed perspective. Folks may also know Jacq as a former spoken word artist, a graphic designer, a passionate Neopian, a Gilmore Girls fanatic and an unofficial brand ambassador for Boston Pizza.
jacqbrasseur.com // Instagram: @jacqbrasseur // Twitter: @jacqbrasseur // Facebook: Jacq Brasseur - Consultant & Organizer
By registering for this event, you agree to the following:
Any inappropriate, hateful, discriminatory or oppressive language or behaviour during this panel will not be tolerated. Any participants determined to be anti-trans, trans exclusionary, binarist, transmisogynistic, racist, colonialist or otherwise oppressive may be removed without receiving any refunds. We reserve the right to refuse refunds for any purpose. We further reserve the right to publicly share the names of any participants deemed to be anti-trans with other trans activists and organizers.
Organizer of More Than Just Bathrooms: An International Non-Binary Day Panel