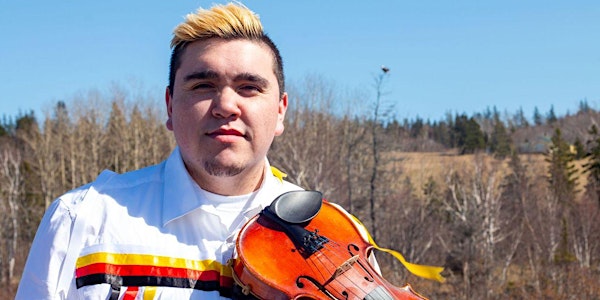 Morgan Toney with Keith Mullins
Canadian Mi'kmaq fiddler & singer Morgan Toney, with musical partner Keith Mullins re-ignite the concert series at Patchwork this September
When and where
Location
Patchwork House Concerts 30 First Ave Bedford, NS B4A 1Z9 Canada
Refund Policy
Refunds up to 7 days before event
Eventbrite's fee is nonrefundable.
About this event
Canadian Mi'kmaq fiddler and singer Morgan Toney is one of the most in-demand young fiddlers and singers in Atlantic Canada. Nominated for three 2022 East Coast Canadian Music Awards and winning two, Toney's been able to invigorate both the Atlantic music communities and Mi'kmaq communities by bringing together the fiery fiddling of Cape Breton Island with the old songs of the Mi'kmaq, some dating back up to 500 years. He calls this fusion Mi'kmaltic (Mi'kmaq + Celtic) and it's his way of celebrating his language and heritage.
On First Flight, reissued March 25, 2022 by Indigenous record label Ishkode Records, Toney sings songs so old that modern Mi'kmaq speakers struggle to understand the lyrics, but he also sings songs meant to reflect the turmoil of our current times, shining a hard light on the racism and violence forced on First Nations populations in Canada today. With family members who were sent to residential schools and had to relearn their language later at home, Toney's interest in the language is very personal. "Some people don't understand us," Toney says. "They don't understand what we've been through, and we need to tell the story." But never one to focus on the negative, Toney's goal is to push for positive action and change through music. "We wanted to say something in the way that we know how, through music."
Though Toney's fiddling has been celebrated across Canada, including special appearances with Ashley MacIsaac and Jimmy Rankin, his first instrument was the drum. Born in We'koqma'q First Nation on Cape Breton Island, Toney moved to Wagmatcook as a teenager where his musical and spiritual interests developed. At a school that featured smudging ceremonies, prayers in Mi'kmaq, and the Mi'kmaq honour song, Toney was surrounded by the culture.
A chance encounter in Baddeck introduced Toney to Cape Breton artist and producer Keith Mullins. The two bonded quickly over music and have been inseparable ever since, operating as musical partners and pushing each other to craft bigger arrangements and to try bigger ideas. There are two worlds of Mi'kmaq music," Toney explains, "song and fiddle. They had never come together before. People knew of each, but never had I seen a collaboration between Celtic and Mi'kmaq culture before. It was either play Mi'kmaq songs with a drum or record a Cape Breton fiddle album. I knew I could sing, but me and Keith really had to think how we could give something out to the world that was different and made sense at the same time. We did that, we blended the two together and it's been crazy. It's like an explosion. It's so fresh, but also familiar, and people can connect with it on a personal level." Now Toney's shows are full of both Mi'kmaq and Cape Bretoners reveling in a shared culture, and he's created a new sound that bridges two worlds, drawing a sense of pure love from both.
Toney's debut album First Flight showcases this unique combination, both in the way he transforms traditional songs like the Ko'jua and the Mi'kmaq Honour Song, but also for the new songs he's creating. "Msit No'kmaq" was written partially in Mi'kmaq and features a fiddle break from the great Cape Breton fiddler Ashley MacIsaac. "Kwana Li" is a traditional Mi'kmaq song that Toney added new English lyrics to and "For the Elders" is a newly composed waltz from Toney. One of the most powerful songs on the album, "The Colour Red," which Toney wrote with Mullins, directly addresses the scourge of missing and murdered Indigenous women throughout Canada. At a time in Eastern Canada where the Mi'kmaq are subjected to demonstrations and violent attacks, Toney's unflinching in his desire to stand up against racism. "We all have to be on the same page and we have to work together," Toney says. "Those times of racism and discrimination, there's no place in the world for that. Not just Mi'kmaq but anyone. "