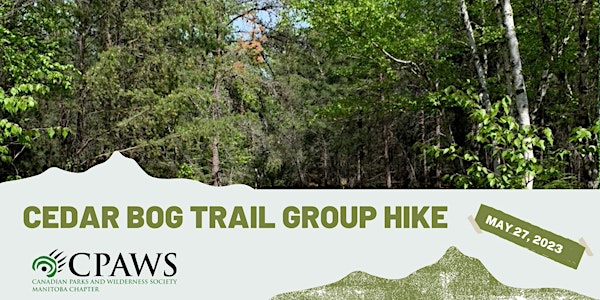 Morning Group Hike at Cedar Bog Trail in Birds Hill Provincial Park - 11 am
Join CPAWS Manitoba for a group hike to get out into nature and explore Manitoba's parks! This hike starts at 11am.
By Canadian Parks and Wilderness Society - Manitoba Chapter
Date and time
Sat, May 27, 2023 11:00 AM - 1:30 PM CDT
Location
Cedar Bog Trail, Birds Hill Provincial Park Cedar Bog Trail Winnipeg, MB R0E 0K0 Canada
About this event
2 hours 30 minutes

Mobile eTicket
Join us for a group hike on the Cedar Bog Trail in Birds Hill Provincial Park, which winds through grasslands, areas of aspen and oak trees, and a magnificent stand of eastern white cedar. This hike also provides a great opportunity to see Manitoba's Provincial flower, the Prairie Crocus, in bloom.
We are hosting two group hikes on Saturday. This one begins at 11am. Register for the 1:30 pm hike here.
Our 11:00am bilingual event is being offered in partnership with Sports en Français, an organization that contributes to the development of Manitoba's Francophone community through sport and physical activity in French.
While French language skills are not required to participate, we welcome Francophones and Francophiles to join! For English speakers, it's a great opportunity for you and your family to practice your French language skills.
The trail starts at a relatively high elevation, passes through an aspen forest, and descends about 25 m to a cool and damp cedar bog. A new boardwalk was installed through the bog in 2021. This 3.5-km loop trail will acquaint you with Manitoba's Aspen/Oak Parkland Natural Region. It will take us approximately an hour to complete.
How to Get There
Type 'Cedar Bog Trail' into a smartphone map or GPS.
Or follow these directions:
Drive to the West Gate of Birds Hill Park along Highway 59.
Take the North Drive. You will see signs for the Cedar Bog Trail.
Amenities
There's an outhouse and a water pump at the trailhead.
There are lovely beaches in Birds Hill: a great way to turn your hike into a full day excursion in warmer weather.
A couple snack shops on the beaches operate seasonally.
Several gas stations are along Highway 59.
We recommend the lovely Pine Ridge Hollow restaurant and shop for those seeking a higher-end conclusion to their day.
What to Bring on Your Hike/Activity
A park pass is required for all vehicles entering provincial parks. An annual pass (which can be used in two vehicles) is $44.50. Daily permits are $9.50.
Bring at least two bottles of water: you can leave one in your vehicle on a short hike; you'll want both on a long hike.
Snacks are a great way to keep your energy up along the trail. Many trails don't have restaurants or stores nearby so you may also want to pack a picnic lunch.
Hand sanitizer (Most trails have outhouses, not modern toilets.)
Any medication you may need (like antihistamines, your asthma inhaler, or an EpiPen)
A safety whistle, pocket flashlight, and a basic first-aid kit (not required, but a good idea any time you're in the wilderness)
Outdoor Fun: What to Expect on Your Group Hike/Activity
Sometimes we just want to have some fun and enjoy a friendly chat with a stranger.
Our group hikes and activities are an easy way to get outside and explore Manitoba's beautiful parks with other people.
CPAWS staff will share their love of nature on a relaxing hike along our favourite trails.
There won't be any lectures along the way: when we stop for water and snack breaks we'll keep the conversation casual and light.
If you've got questions we'll do our best to answer them. However, we are not formally trained park interpreters. We encourage people seeking learning opportunities to check out our outdoor learning programming or try an interpretive event offered by Manitoba Parks.
Weather & Cancellation Policy
We try not to let the weather stop us from getting outside. With the right gear you can have a great time in most weather conditions.
That being said, safety must always be our top priority. We can't be outside in a thunderstorm and may need to cancel if roads are hazardous.
Weather forecasts are notoriously unreliable. While we will do our best to monitor and make good judgment calls, there will be times when we decide to cancel and the skies clear and other days when a storm or high winds pop up unexpectedly.
We'll send out an e-mail alert the day before an event letting registrants know if there's a good chance we need to cancel. We will check the forecast again a few hours before the event to determine if we can try to go ahead
How can we help?
If you have any questions or require any additional accommodations to participate, please email us at outreach@cpawsmb.org.
About CPAWS Manitoba:
CPAWS Manitoba has been instrumental in establishing 22 new parks and protected areas in our province. That's an area larger than Lake Winnipeg at nearly 26,000 square kilometres. Our goal is to protect half of Manitoba's lands and waters.
About the CPAWS Manitoba Nature Club
CPAWS Manitoba's Nature Club is designed to help Manitobans get outside, make new friends and learn about the wonders of nature.
We've developed a wide range of programming and activities to help Manitobans of all ages and abilities enjoy the health and wellness benefits of nature.
Find out more at our website - www.cpawsmb.org - and be sure to subscribe to our events newsletter and follow us on Facebook, Instagram, and Twitter so you don't miss out on upcoming events.
Safety Protocols
CPAWS Manitoba takes the safety of all program participants seriously.
All CPAWS Manitoba staff members have cleared a criminal record and vulnerable sector background check with the Winnipeg Police Department. We adhere to all public health recommendations and guidelines.
CPAWS policy requires that at least one person leading programming that may involve children must be certified in first aid. This applies to staff or to volunteers.
This program is possible thanks to the generous support of The Winnipeg Foundation.