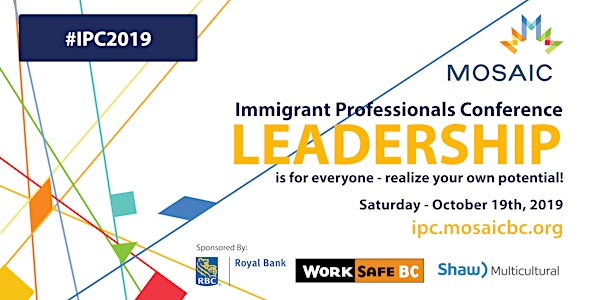 MOSAIC Immigrant Professionals Conference 2019
When and where
Location
Hilton Vancouver Metrotown 6083 McKay Ave Burnaby, BC V5H 2W7 Canada
Description
*Join our waitlist! Available tickets will be released closer to the date of the event
LEADERSHIP is for everyone - realize your own potential!
Further your professional development with this unique conference opportunity to better understand your own leadership abilities and how to demonstrate them!
Full details here: ipc.mosaicbc.org
The 2019 Immigrant Professionals Conference offers:
Activities to help you understand your own leadership style

Interactive workshops that focus on essential skills required to be an effective leader and communicator

A panel of employers speaking about the importance of leadership in the workplace and to answer questions

Opportunities to network with other professionals, employers, and MOSAIC career advisors

Information about services and resources to help with your own career development


Presenters & Speakers:

Councillor Trish Mandewo (Keynote Speaker) - Councillor for the City of Coquitlam, Co-founder of Women's Collaborative Hub, award-winning entrepreneur, author, speaker, and facilitator. Trish believes that power is not in the knowledge we have but in sharing with others

Lewisa Anciano (Group Plenary) - Management consultant, CPHR Professional of the Year Award-Winner, and current co-chair of the Advisory Board for the HR programs at BCIT. Presenting on "Leading Self" - Intro to the fundamentals of effective leadership for greater success

Nadine Stille (Breakout Session) - Founder of CoachMe Vancouver, a previous leader in a global software company, Diversity & Inclusion Advocate, and Community Builder and Connector. Presenting on "Unleash your amazingness to become a thriving leader" - Leave with tangible outcomes you can apply to your daily life and profession

Sweta Rajan (Breakout Session) - Speaker, coach, facilitator, passionate advocate for equity, diversity and inclusion, and co-founder of Immigrant and Internal Women in Science (IWS). Presenting on "What would George do? Curious listening in value-based leadership" - Learn to cultivate connections across cultures, and develop the capacity to relate to others through values


Matt Musselman (Breakout Session) - Program Management Office Manager at TELUS, activitist for innovation and communications, and a MOSAIC mentor since 2014. Presenting on " Mastering the Leadership Culture in Canada" - Learn how to bring your leadership style into the Canadian workplace and manage cultural differences in your team
*NOTE: *The time is subject to change and will be updated as required.
---
Sponsored By: