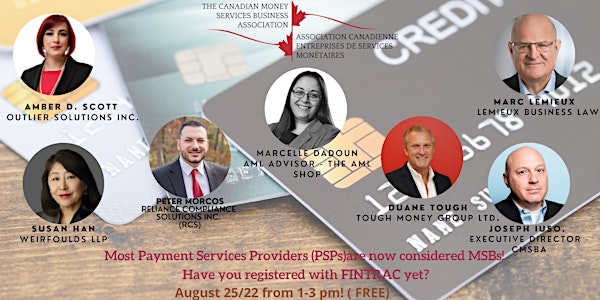 Most PSPs may now be MSBs! Have you registered with FINTRAC yet?
On April 27,2022, new regulations were introduced by the Department of Finance specifically targeted toward Payment Services Providers (PSP)
About this event
THIS IS A FREE EVENT!
On April 27, 2022, new regulations were introduced by the Department of Finance enacting requirements specifically targeted towards Payment Services Providers (PSPs) and crowdfunding platforms. FINTRAC has recently sent a follow-up notice on July 21, 2022, related to the fact that there is an expectation that ALL PSPs, with very few exceptions, register with FINTRAC. The notice can be found here: link
The intent of FINTRAC's notice is to most likely capture entities that would be covered under the changes coming as part of the new Retail Payments Activity Act. With the rescinding of PI-7760 by FINTRAC, most entities providing third-party payments services must immediately register with FINTRAC.
In this session, we have brought together industry experts to provide information related to the following;
Where did this come from and why now?
What does it mean to PSPs and the associated definition?
Consequences of not registering.
Scope of responsibility
Suggested Steps to take
What does it mean to MSB/FMSB who are servicing PSPs or being serviced by PSP?
Following the presentation, there will be a short Q&A/Panel to answer any questions you may have!
Join us on Aug 25/22 from 1-3 pm!
Presenters:
Marc Lemieux - Lead counsel at Lemieux Business Law
Amber Scott - Founder & CEO - Outlier Solutions Inc.
Peter Morcos - Founder & Practice Leader - Reliance Compliance Solutions Inc. (RCS)
Duane Tough - Founder - Tough Money Group Ltd.
Susan Han - Partner - WeirFoulds LLP
Joseph Iuso - Executive Director - CMSBA
Marcelle Dadoun - AML advisor- The AML shop