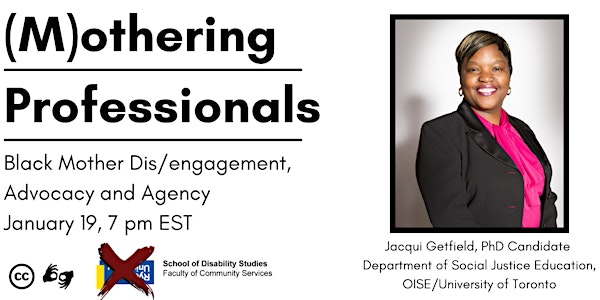 (M)othering Professionals: Black Mother Dis/engagement, Advocacy and Agency
An online public lecture with Jacqui Getfield
About this event
Abstract:
The concept and practice of Black mothering signal action and identity portraits that are unique to Black lived experiences. In this lecture, I will use idioms, personal stories, and references to music to engage with select mothering discourses and to show how Black mothering has been socially constructed along the lines of race, ability, gender, and class. Fuelled by the work of racialized scholars including Patricia Hill Collins, bell hooks, Njoki Wane, Delores Mullings and Paul Adjei, this lecture addresses anti-racism parenting, Black mothering, family, and community dynamics. Annamma, Connor and Ferri's DisCrit will be employed to tease out how "... racism and ableism are interconnected and normalizing processes." And I will lean heavily on Mobley and Bailey's Black Feminist Disability Framework to unpack the philosophical dissonance and similarities between race and disability. Tenets of Critical Race Theory and insights from DisCrit will provide the theoretical foundation to unpack Black mothering in social contexts, specifically education and health.
This lecture reveals snippets of my ongoing research that aims to understand how select Black women negotiate mothering of the disabled child within education and health spaces in Ontario. This research interrogates the relationship between professionals and Black mothers and reveals their agential practices on behalf of their children. The lecture invites conversations regarding future research and recommends that there should be a focus on developing even greater solidarity among Black mothers of children who are differently abled.
Where:
Zoom Webinar. You will be required to download the Zoom client to view the live webinar.
For instructions on how to set up Zoom, follow this link.
Access Information:
There will be ASL-English interpretation and live captioning. Please contact Avital Cherniawsky (avital.cherniawsky@ryerson.ca) for access inquiries. Deaf Interpretation or LSQ interpretation requests need to be made at least 2 weeks before the event.
Important:
If using the chat and Q & A functions through typing will be an access barrier to your participation, and you would like your microphone and/or video to be on from the beginning of the webinar, please email avital.cherniawsky@ryerson.ca .
Jacqui Getfield's Bio:
Jacqui Getfield is a PhD candidate in the Department of Social Justice Education at the OISE/University of Toronto. Jacqui is a fierce advocate on behalf of her school-aged twin sons. Currently, Jacqui volunteers as a board member of the Ontario National Alliance of Black School Educators (ONABSE). She assists parents in developing their advocacy skills and regularly consults with educators, administrators and health professionals at the school and district school board levels.
Organizer of (M)othering Professionals: Black Mother Dis/engagement, Advocacy and Agency