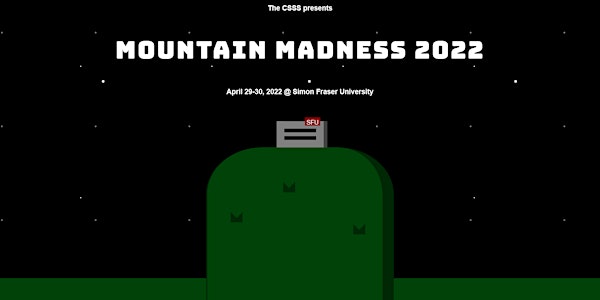 Mountain Madness Hackathon 2022
Mountain Madness is the annual hackathon organized by the SFU Computing Science Student Society.
When and where
Location
Simon Fraser University 8888 university dr Burnaby, BC V5A 1S6 Canada
About this event
What is Mountain Madness
Mountain Madness is the annual hackathon organized by the SFU Computing Science Student Society. Our hackathons are cozy, tight-knit events welcoming students of all skill levels and experience. The "Mountain" in the name pays homage to Burnaby Mountain, the original foundation of Simon Fraser University, and the scenic location for a full weekend's worth of fun. The "Madness" part refers to the crazy and unique prizes we give to the maddest [computer] scientists at the event!
Why Mountain Madness:
We focus less on a project's commercial applications, and more on learning and creativity. This is an opportunity to spend a weekend playing around with your favourite technologies to produce something fun and interesting.
This makes Mountain Madness the perfect event for everyone from fresh-faced hackers looking to learn to seasoned CS veterans trying to tinker.
Wait, what actually is a hackathon?
A hackathon is an event where teams of people come together to work on a shared project inspired by an event-provided theme. Mountain Madness will have 24-hours of development time allotted, during which teams will start from scratch and try to make the coolest thing they can before the time is up.
Where is Mountain Madness?
The event is being hosted at the SFU Burnaby campus. We have a number of rooms being used for the event, but our primary room, and where you should go for check-in, is TASC 9204. We're going to put up signs with directions everywhere to make it hard for you to get lost.
What size should my team be?
Teams should have no more than 5 members; beyond that, organizing yourselves becomes a nightmare. You can work alone if you really want to, but you'll have a worse experience. Don't worry if you don't have a team before the event, we help all the single people form teams. We will also allow non-SFU students to participate in Mountain Madness as long as at least 50% of the team is made up of SFU students. Teams do not need to be declared until project submission during the event.
Can I work on my previous projects?
No, the goal of the event is to see what awesome things you can make in a 24 hour period of time. So to start from an existing project is against the spirit of the event. Existing open-source libraries and frameworks are fine, of course. Ask an organizer if you are unsure if you can use some code.
How much does it cost?
This event is absolutely free!
Theme:
The theme will be announced during the opening presentation.
Prizes:
Four prizes will be given out to different teams.
Rules:
Submissions will be an SFU WebSurvey where 1 team member will provide the link to a public repo on GitHub or equivalent site. Projects should be able to run on Ubuntu 20.04 (We can run windows projects, but we prefer Ubuntu).
Submission MUST include a README.md with:
Build and run instructions
Names, SFU emails(computingID@sfu.ca, not firstname_lastname@sfu.ca) , and GitHub(or equivalent) usernames of all team members
Submissions:
Submissions will be done through an SFU WebSurvey which will be emailed out to participants. Submissions will include a list of group members, team name, project name and project link (GitHub, Gitlab, Bitbucket, etc. )
Schedule:
Friday, April 29th:
4:30PM - Check-in & Registration
5:00PM - Opening Ceremony
5:30PM - Hacking Begins, Assisted Team Creation
7:00PM - Dinner!
Saturday, April 30th:
8:00AM - Breakfast
12:00PM - Lunch
5:00PM - Hacking Ends
5:15PM - Project presentations begin
Questions?
Contact Justin:
csss-doe-current@sfu.ca