Description
It is no secret that wielding a camera can be your passport to the universe these days. In the ever growing and changing industries of Digital Marketing (primarily social media) and Commercial Photography/ Videography there are many basic foundational functions and principles that can excel you on any given platform. Our goal over this workshop is to get to know you and your needs better, and teach you the things we wish we knew much sooner. The three of us are extremely excited to spend time face to face with you and teach you the necessary requirements to excel in your chosen craft. We have set a very limited capacity for this workshop, to ensure you receive the highest quality of instruction and interaction. This workshop will be very hands on. After a day of learning and shooting we will spend the night socializing and getting to know each other. For those who are staying the night we will have an optional sunrise shoot on the morning of April 28th 2019.
We want to keep this as intimate as possible so there will only be 20 spots available for the workshop. We reccomend purchasing your ticket before it sells out!.
Hosts: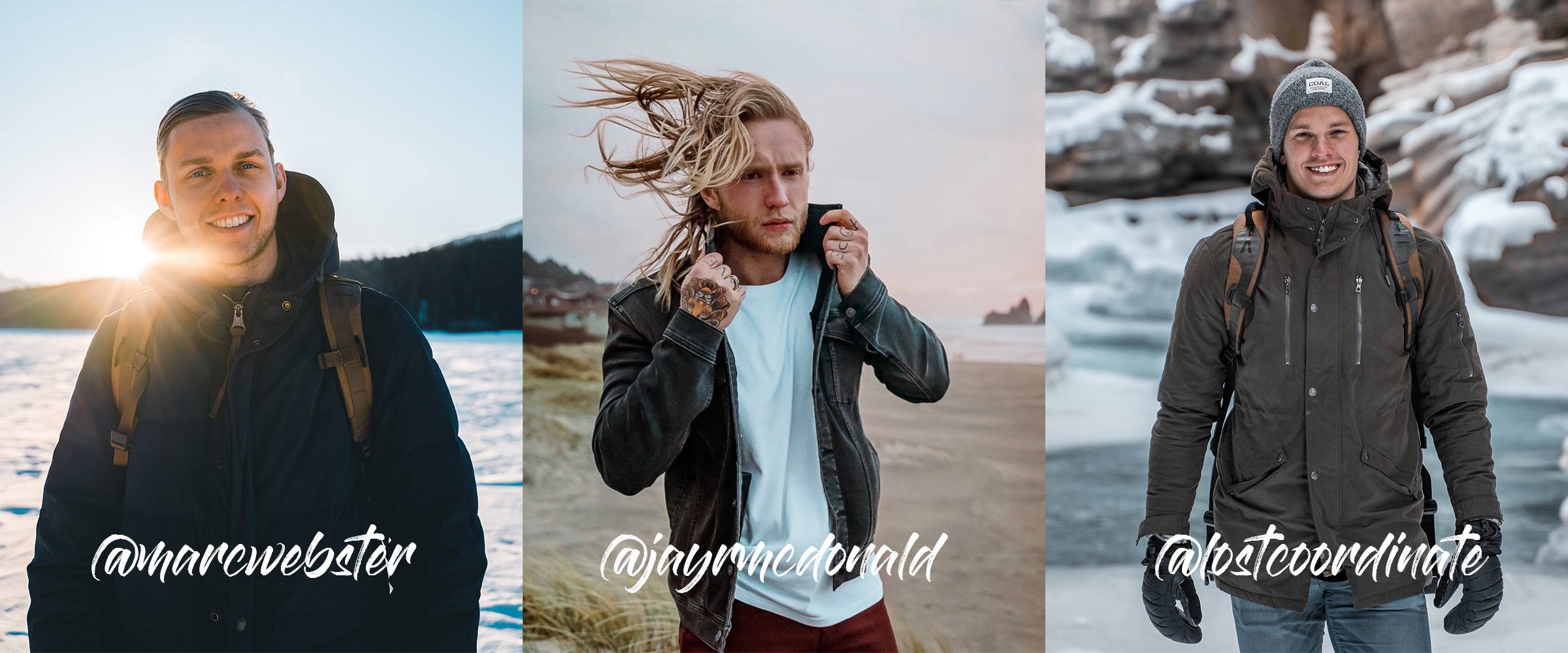 Workshop Curriculum:
Manual Photography basics (more advanced questions can be answered for those with experience)

Portrait Photography 101 - Natural Light

Landscape Photography 101

Product Photography basics

Instagram Photography vs. Commercial Photography

Lightroom and Photoshop Editing and Workflow (We will edit live and then assist you 1-on-1 with edits of your own)

Introduction to Filmmaking for Photographers (30 mins)

Communicating with Brands Optimally

Communicating with Tourism Boards Optimally

Digital Marketing & Social media strategy (inc. leveraging social media for business)

Guest Speakers (To Be Announced)

Sunset "Golden Hour" Shoot Outside in Canmore/ Kananaskis area. *These locations will be announced at the workshop.*

Optional Sunrise Shoot April 28th 2019 morning
Location:
Canmore, Alberta. Exact location to be disclosed upon purchase of workshop ticket!
Food:
Complimentary dinner

Snacks and refreshments will be provided throughout the day.
*Please let us know if you have any dietary restrictions at registration, so we can accommodate accordingly*
Accommodation:
*Transportation and accommodations are not provided*
If you require accommodation while attending the workshop, we've partnered with Basecamp Lodge and Lamphouse Hotel in Canmore, Alberta who are graciously providing 20% off your stay. The promo code is good for a Friday-Sunday stay (2 nights at either hotel). We will be staying at Basecamp Lodge but PLEASE NOTE the price for the workshop DOES NOT include your hotel stay. Hotels/ accommodation booking will be completely up to you. If you want to stay at a different hotel, private accommodation or commute, you're more than welcome to do so.
https://lamphousehotel.com
https://basecampresorts.com/lodge/

Price:
$249.00 CAD + Serivce Fees. All tickets must be purchased in full.
AFTER PURCHASING A TICKET, PLEASE EMAIL CONTACT@ROAMCREATIVE.CA WITH THE FOLLOWING:

1. FULL NAME
2. INSTAGRAM HANDLE
3. HOME ADDRESS
4. CAMERA + LENSES YOU SHOOT WITH
5. DIETARY RESTRICTIONS