About this Event
Envision your dream for 2019!
Take a journey to create from the heart, uncover what you need to let go and discover what you desire; then set your mind, body and soul to receive.
Conscious soul goal planning from the heart!
You will connect to what you want to experience and how you want to feel from the inside; then connect it all to the outside world with committed, inspired actions to live into the vision; to reach your desires and conscious goals grounded in the truth of who you are.
This workshop falls directly into the energy of the first full moon of 2019, which is an ideal time to release, intend, create and manifest.
What if ...
... you let go of anything holding you back from living your your dreams?
... you trusted that the universe has your back?
... you were living the best day of your life every single day?
What you believe you will achieve.
What's included in the workshop?
Heart-opening yoga
Breathwork
Guided meditation and visualization
Self-inquiry and journaling
Conscious conversation
All vision board materials
Journals and pens
Custom blend essential oil roller
Snacks
*Please bring your yoga mat.
** Magazines and all other materials will be provided. If there are magazines you wish to use please feel free to bring with you**
What's a Vision Board?
At its simplest, a vision board is a powerful tool that allows you to visualize your future and consistently remind you of your desires and goals. It is a collection of images, symbols, phrases and words that evoke your desired state – your vision moving forward and for the upcoming year. We are supercharging this vision with an emotion – your desired feeling for the year along with a word of the year.
The act of creating a vision board helps you connect to your desire in a tangible way. It breathes life into your desire. Later, when your vision board is hanging in your home or your office, it will serve as a reminder and connection to your mind, body, heart, and soul; training your brain and connecting your thoughts and feelings with inspired action; the real law of attraction.
Meet Penny Smith
Hi! I'm Penny - a transformational Life and Wellness coach, a yoga and meditation teacher, and a workshop and retreat leader. I lead through the lens of my core soul values and passions: personal growth, self-love, yoga, fitness, play, leadership, nature, connection, adventure, travel, spirituality, and meditation. My personal mission is to lead, inspire, and raise the vibes of others who are committed to living the most authentic version of themselves, with so much self-love & purpose from the inside out. Find me on Instagram at @WellthyLife1111 or at WellthyRetreats.com.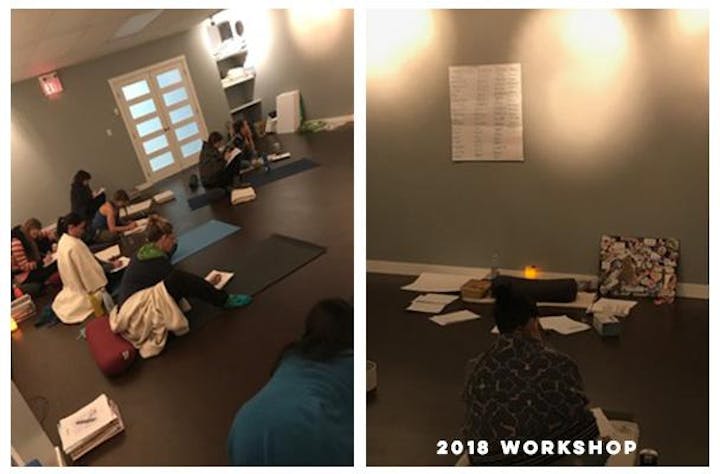 Cancellations and Refunds
If you need to cancel a 100% refund will apply up to 48 hours in advance. Up to 2pm the day before, a 50% refund is available.