Keyboards, big screens, reverse projectors and sing alongs from your favorite movies. WOW! This is Rich's only Live show of the pandemic!
About this event
- Prices listed are for entire tables.
- Please note that due to COVID-19 restrictions, capacity for this venue is reduced and no individual tickets will be sold for this event. A limited number of tables for groups of 6 and 10 will be available for purchase. There is a limit of 1 table per purchase.
- *Note: Tier 3 tables are in a side room with partial obstruction. Table 14 is a bar rail with stools and view through a window.
PLEASE READ:
This event is produced within Nova Scotia Public Health's COVID-19 health and safety guidelines, which are subject to change. For the safety of everyone in attendance, prior to arrival, you and each member of your group should complete a COVID-19 self assessment. By entering the venue, you are confirming that in the 14 days leading up to the show, you and persons in your household have not:
- travelled outside the region approved by the Nova Scotia government
- been exposed to COVID-19, and are not awaiting the results of a COVID-19 test
- exhibited any COVID-19 symptoms
Contact information will be collected by the Shore Club for contact tracing purposes. For a list of COVID-19 symptoms, up-to-date information on COVID-19 exposure notices, and isolation requirements, including travel restrictions, please visit: https://novascotia.ca/coronavirus/. Testing is not required, but always encouraged. For list of COVID-19 testing sites, including rapid test centres and Public Health Mobile Units, visit: https://www.nshealth.ca/coronavirustesting.
- There are no single seats sold for this event. Tables for groups of 6 and 10 are available for purchase.
- After purchase, you will be contacted and assigned an arrival time between 8:00 p.m. and 9:30p.m. The guests for each table must enter together. It is important that you arrive at your assigned time to keep gathering and contact at a minimum. The table purchaser is the point of contact for the group and as such is required to relay all information to each of their guests. If you do not receive an email confirming your arrival time and zone from luke@shoreclub.ca at least 48hrs prior to showtime, please check your spam folder and reach out to us directly at that address ASAP.
- This is a licensed event so everyone must be at least 19 years of age. VALID ID IS REQUIRED and must match the previously provided names in each group.
- Hand sanitizer will be provided at the entrance and on tables. Masks are required for entry and must be worn anytime you're not at your table. If you do not have a mask, one will be provided to you.
- If you or members of your group are unwell or develop any symptoms within 14 days prior to the show, please contact 811 and get tested. Do not show up at the venue.
- You must remain seated at your assigned table except when going to and from the washrooms and exiting the venue.
- There is no re-entry.
- Food and beverage service will be provided at your table.
- When the show is over, we ask that you remain seated at your table until security indicates it's your turn to leave.
Our top priority is the health and safety of all Nova Scotians. Prior to purchase, please consider the following:
Do you have any of the following symptoms which are new or have worsened?
Cough
Fever
Sore throat
Headache
Runny nose
Shortness of breath
Have you traveled outside of the Nova Scotia in the past 14 days and are not double immunized?
Have you been in direct contact with anyone who has traveled outside the region approved by the Nova Scotian government in the last 14 days?
Have you had close contact with a suspected or confirmed case of COVID-19?
If you've answered yes to any of these questions, we ask that you refrain from attending this event.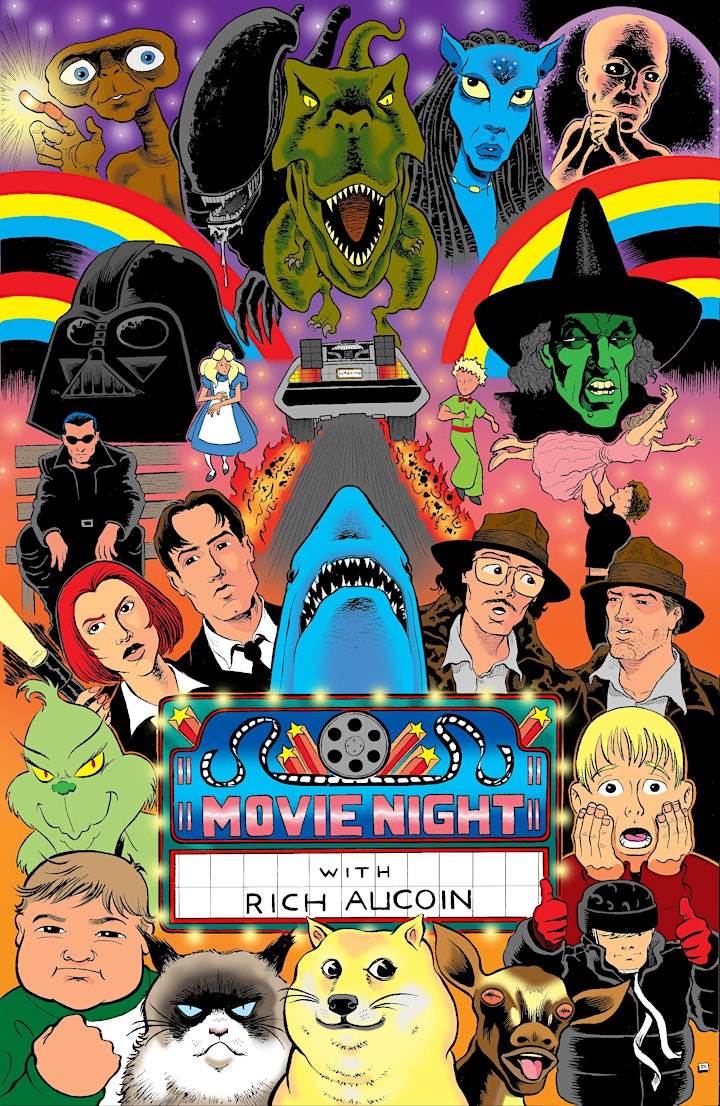 RICH AUCOIN
Back in 2007, Rich Aucoin wasn't in the middle of crowds leading singalongs under gym class parachutes and confetti, he was sitting at the side of the stage playing his first EP as an alternate score to How The Grinch Stole Christmas. This is Rich's one and only distanced live performance during the pandemic; come see Rich and band play a selection of songs synced up to the films they were written as alt scores for. Movie Night w. Rich Aucoin.
AQUAKULTRE
Lance Sampson of Halifax NS has been writing stories since he fell in love with English class. Throughout his teens he's been in and out of jail, and spend some time as an adult behind bars as well. It was in jail where Lance found his passion for writing music. Lance actually started Aquakultre as a solo act, but felt like the movement couldn't be done alone. So he teamed up Nathan, Jeremy, and Nick to help footprint the legacy. Lance is also a member of super hip-hop group SIPSET, and is releasing an album with Ghettosocks sometime in 2019, look out for "Holos" by AQUASOCKS. Independent music can be found on Soundcloud.
"I was blown away by his presence as a performer" - Duane Jones, Art Pays Me founder
Performers
Date and time
Location
Refund policy