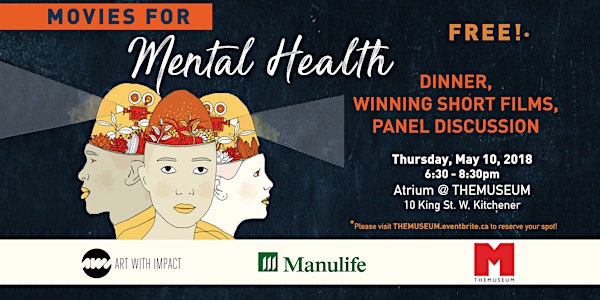 When and where
Location
THEMUSEUM 10 King Street West Kitchener, ON N2G 1A3 Canada
Description
Movies for Mental Health is intended to create a safe space for members of the community to have an open and honest conversation about mental health. This free workshop includes short films by OLIVE Film Collection that focus on a variety of issues, causes and coping mechanisms. This will be followed by interactive discussions regarding the material, as well as a panel comprised of those willing to share their own experiences and what resources are available.
Join us for a powerful, eye-opening and inspiring evening focused entirely on shining the light on these complex and prevalent issues within our community. THEMUSEUM is proud to partner with Art with Impact with the sponsorship support of Manulife. Please RSVP for this free workshop here.
Fast Facts:
75% of all mental health concerns onset during childhood or adolescence.
Only one in five young people get the mental health help they need.
Young people, aged 15 to 24 are more likely to experience mental illness and/or substance use disorders than any other age group.
About Art With Impact Canada: This charitable organization promotes mental wellness by creating safe spaces for young people to learn and connect through film, reducing stigma and connecting students to accessible mental health resources. To learn more, please visit www.artwithimpact.org or follow @artwithimpact and use #Movies4MentalHealth.
Event is 17+