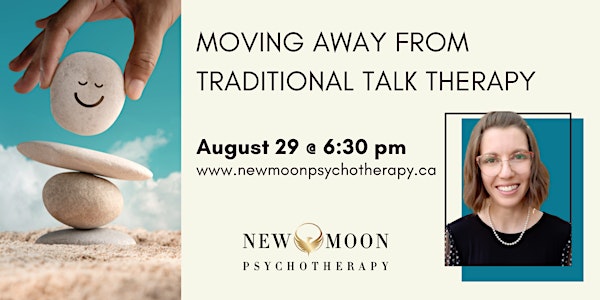 Moving Away From Traditional Talk Therapy
This webinar focuses on body-based approaches to psychotherapy and why these may be the solution you've been searching for!
About this event
Have you tried traditional talk therapy and found it wasn't as effective for you as you were hoping? Or perhaps you are considering pursuing therapy and are open to learning more about the different approaches available. In this webinar, we are going to focus on more body-based approaches to psychotherapy and why these may be a great fit for you.
Many traditional, evidence-based approaches to therapy are considered "top-down" approaches. This means that they really focus on the rational, logical part of the brain and prioritize your thoughts when working together on an issue in and out of session. These approaches have been very beneficial for a lot of people and for treating many issues. However, if you are looking for something different, you might consider a "bottom-up" approach. These approaches are gaining popularity and are newer, yet also evidence-based, approaches to working with trauma, stress, anxiety and many other issues. With these approaches, we are focusing more on the body, nervous system and instinctive or reactive part of the brain.
If taking a more body-based approach to your mental health intrigues you, this webinar will also present some opportunities for individual or group therapy sessions with the presenter.
Shanen (she/her) is a Registered Psychotherapist practicing virtually in Ontario, Canada. In her work, she strives to go beyond traditional talk therapy and is committed to helping people find safety and calm in their bodies again. Shanen specializes in trauma-informed and integrative approaches with a special interest in body-focused modalities.