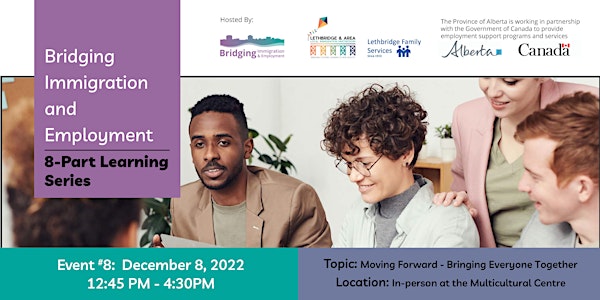 Moving Forward - Bringing Everyone Together
Bridging Immigration and Employment is excited to host our final event in this 8-part learning series.
When and where
Location
Multicultural Centre 421 6 Avenue South Lethbridge, AB T1J 0Y7 Canada
About this event
This event will take place at the Multicultural Centre in downtown Lethbridge.
The event will bring together employers, service providers and newcomer job seekers. The session will begin promptly at 12:45 PM and runs until 4:30 PM.
Moving Forward – Bringing Everyone Together
The Human Side of Unconscious Bias
A virtual presentation by Tina Varughese.
Understand what unconscious bias is and the role it plays in first impressions.
Learn to recognize and challenge unconscious bias to promote diversity, inclusion and innovation in the workplace.
Connecting Employers. Service Providers and Newcomers
Hear about the settlement journey and experiences of newcomers.
Network, connect and celebrate at this final event of the 8-part Learning Series.
Practical Steps to Building an Inclusive Workplace with Jenny Bourne, CEO of Artery Consulting
Jenny Bourne, CCIP™, M.A., B.Ed., BA was raised in the traditional territories of the Wendat, the Haudenosaunee, and the Anishinaabe peoples (colonially know as Newmarket, ON) and came to the Treaty 7 lands of the Blackfoot Confederacy and the Metis Nation of Alberta, Region III by way of Asia, Europe, the unceded Inuit lands of Nunavik, and the unceded lands of the Lkwungen People, also known as the Songhees and Esquimalt First Nations communities. She is an educator who has worked in various roles in public and for-profit education, post-secondary institutions and in not-for-profit sectors across Canada and internationally. Throughout her career Jenny has been an Equity, Diversity and Inclusion (EDI) champion who has spent decades bringing an EDI focus to all that she does in her professional and personal lives. She began her career as a faculty member at Daegu University in South Korea, and has gone on to work with diverse communities across Canada, Asia and Europe. building inclusive teams and designing curriculum and instructional frameworks where inclusion and success are key – however they are being defined.
Jenny has developed a passion for community and organisational engagement and understands the importance of collaboration when creating equitable opportunities and safe spaces for all. She also understands the social, financial and political benefits of creating diverse and inclusive communities.
Jenny is a Canadian Certified Inclusion Professional (CCIP™), and has completed a Masters of Arts in Cultural Studies, a Bachelor of Arts in Communication Studies and a Bachelor of Education. Jenny is passionate about putting her knowledge into practice through her EDI work.
Our keynote speaker, Tina Varughese
Tina Varughese, B.A., B.Comm., (CSP), is a "hilarious, dynamic, thought-provoking, humorous, energetic and engaging" speaker. She offers workshops and keynotes on a number of topics including: "Diversity, Inclusion, Unconscious Bias, Inter-Generational Workforce, Cross-Cultural Communication and Sales, Leadership Staff Recruitment and Work-Life Balance". Tina was recently voted one of Canada's Top 10 Notable Speakers by Ignite Magazine.
For fifteen years Tina worked with immigrants in her roles with the Province of Alberta's immigration office, as well as running her own successful relocation and settlement firm. She is a contributing writer for the Human Resource Institute of Alberta's Network magazine, Calgary Real Estate News, Home to Home magazine, and has been profiled in Alberta Venture Magazine. She is the President of the Canadian Association of Professional Speakers (Calgary) Chapter.
Tina's work has been featured in the Toronto Star, TSN, CBC Eyeopener, Adrenaline Magazine, and Alberta Venture. Clients include Pfizer Canada, Kraft-Heinz, Hockey Canada, Hyundai Canada, Canadian College of Health Leaders and Canada Life. She has also been named part of the McMaster University Canada Project Council.
Tina is an Indo-Canadian daughter of first-generation East-Indian parents, which allows her to find "the best of both worlds" and shed light, knowledge, and most importantly, universal humour into the intercultural workplace.
Please complete the pre-event survey if you have not attended our learning series before:
Pre-Event Survey for Newcomer Jobseekers
Pre-Event Survey for Employers