Event Information
Refund Policy
Contact the organizer to request a refund.
Eventbrite's fee is nonrefundable.
Movie viewing & Discussion with artists // Visionnement de films et discussion avec les artistes
About this Event
In partnership with the Festival du cinéma de la ville de Québec, the Morrin Centre presents Moving Pictures, a series of five events showcasing independent films by Anglophone Quebec filmmakers. From short films for teenagers to a documentary about Montreal's underground art scene, everyone can find something to appreciate and enjoy in this project.
During this event, discover Montreal's underground art scene through the 2019 documentary Sisters: Dream & Variations (16+).
Tyr and Jasa grew up in an artistic household where art was a way of life. Quirky and insightful sisters from Montreal, Tyr is a musician and singer while Jasa is an interdisciplinary artist. Inspired by their great-grandmother's recordings of Icelandic folk songs, they have developed artistic practices that draw on their colourful imaginations and Icelandic roots. Their exploration leads them to journey to Iceland for the first time and collaborate on a project that brings together their artistic disciplines and cultural heritage.
In her debut feature film Sisters: Dream & Variations, editor and filmmaker Catherine Legault immerses us in an oniric world made up of animation, performances and cinema vérité. More than a portrait, the film is an inspiring look at the artistic approach, its various forms and how it can simultaneously express and explore who we are.
Upon registration, viewers will be emailed a link to the film. Once the link has been clicked, the film will be available for 48 hours. Viewers will also receive a link for the artist discussion held at 7 p.m. on February 18 via Zoom, where viewers will meet the film director Catherine Legault and the documentary's protagonists Tyr and Jasa.
This project is made possible with support from the Government of Canada.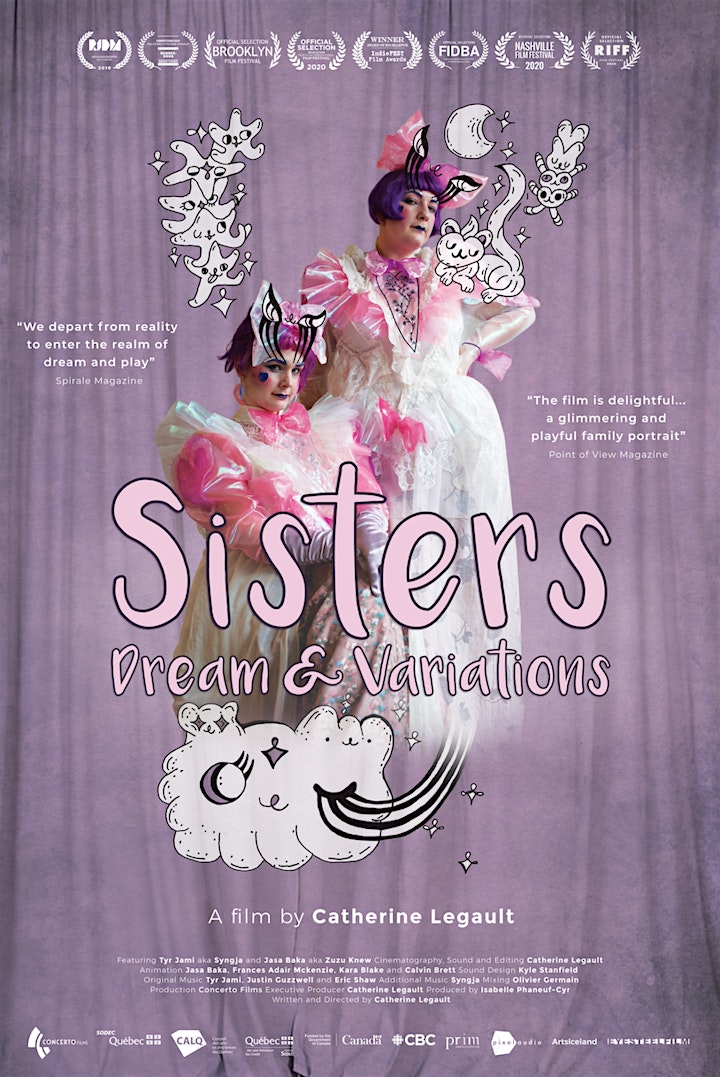 En partenariat avec le Festival de cinéma de la ville de Québec, le Morrin Centre présente Images en mouvement, une série de cinq événements mettant en valeur des films et courts métrages indépendants de réalisateur.trice.s anglo-québécois.e.s. Des courts métrages pour adolescent.e.s au documentaire sur l'art underground à Montréal, chacun y trouvera de quoi se régaler les yeux et les oreilles.
Durant cet événement, découvrez la scène artistique underground de Montréal dans le documentaire Sisters: Dream & Variations (16 ans et plus), sorti en 2019.
Tyr et Jasa ont grandi dans une maison d'artistes où l'art était un mode de vie. Soeurs excentriques et perspicaces, elles sont respectivement musicienne-chanteuse et artiste multidisciplinaire. Inspirées par les enregistrements des chansons traditionnelles islandaises de leur arrière-grand-mère, elles ont développé des pratiques artistiques tirées de leur imagination colorée et de leurs racines islandaises. Leur exploration les mène à voyager jusqu'en Islande pour la première fois et à participer à un projet qui unit leurs disciplines artistiques et leur héritage culturel.
Dans son premier long métrage : Sisters: Dream & Variations, l'éditrice et cinéaste Catherine Legault nous immerge dans un monde onirique fait d'animation, de prestations et de « cinéma-vérité ». Plus qu'un portrait, ce film est une exploration inspirante de l'approche artistique, de ses formes variées et de sa capacité à simultanément exprimer et explorer qui nous sommes.
Après votre inscription, vous recevrez un lien vers le film par courriel. Vous aurez 48 heures à partir de la première utilisation du lien pour écouter (ou réécouter) le film. Vous recevrez aussi un lien Zoom pour participer à la discussion qui se tiendra le 18 février à 19 h, durant laquelle les participant.e.s pourront rencontrer la cinéaste Catherine Legault et les protagonistes du documentaire, Tyr et Jasa.
Ce projet a été rendu possible grâce au soutien du gouvernement du Canada.
Date and Time
Location
Refund Policy
Contact the organizer to request a refund.
Eventbrite's fee is nonrefundable.