Event Information
Refund Policy
Contact the organizer to request a refund.
Eventbrite's fee is nonrefundable.
About this Event
This concert will be livestreamed on Friday, November 6, 2020, 8 pm EDT and will be available online until December 2, 2020.
MOZART & PROKOFIEV
SINFONIA TORONTO / NURHAN ARMAN Conductor
ANYA ALEXEYEV Pianist
Folk themes from Austria and Russia, and Mozart's last piano concerto
Program
BEETHOVEN Six Ländlerische Dances
MOZART Piano Concerto No. 27
PROKOFIEV Chamber Symphony in F Major opus 92a "The Kabardinian"
Virtual concert: $19.13 includes service fee and HST
Anya Alexeev's performance sponsored by Dr. Edward Thompson.
Livestream generously sponsored by Sinclair Consulting Services.
Program notes
Six Ländlerische Dances by Ludwig van Beethoven (1770-1827)
Ländlers are graceful folk dances in 3/4 time that were popular in Austria, Bavaria, German Switzerland, and Slovenia in the late 18th century. Accompanied by instruments and sometimes voices and even yodeling, Ländlers feature hopping and stamping steps by pairs of partners. As dance halls became popular in the 19th century, men replaced their hobnail boots with plain shoes and Ländlers became faster and more elegant. The Ländler is credited as an important progenitor of the new, scandalous 19th-Century dance in 3/4 time, the waltz.
Many classical composers wrote Ländlers or Ländler-style sections in their music, including Haydn, Mozart, Beethoven, and Schubert and, later, Bruckner, Mahler and even Alban Berg. Johann Strauss Jr. included a Ländler as a zither solo in the introduction of his famous waltz Tales from the Vienna Woods.
Piano Concerto No. 27 in B-flat Major, K. 595 by Wolfgang Amadeus Mozart (1756-1791)
Mozart would have preferred to dedicate all his time to composing. In 1778 he wrote to his father, "I would rather neglect the piano than composition, for with me the piano is a sideline, though, thank God, a very good one." For most of his life, Mozart depended on his popularity as a performer for the income that never seemed quite enough to support his household. So he would leave his writing desk and follow as his piano was lowered out a window onto a cart and delivered to the next palace or grand estate, often with the manuscript orchestra parts for a new concerto in hand to rehearse and perform for that night's patron.
But by the last year of his life Mozart was no longer in much demand as a performer, and he had almost ceased writing music to play himself in concert. His personal catalog lists twelve new piano concertos in less than two years from February 1784 to December 1786, but none in 1787, just one in 1788 and this one in 1791.
This concerto is the last piece Mozart played in public, on March 4, 1791. There is no record of how it was received at that time, but its expressiveness and limpid clarity have kept it a beloved part of the repertoire. B-flat Major is a key Mozart used for two earlier piano concertos; all three are lyrical and conversational rather than dramatic, enchanting through an apparent simplicity which is in fact the beautiful purity of the greatest art.
The first movement Allegro moves from a graceful introduction into the pianist's sotto voce entrance with calmly flowing passagework. The development section includes almost twenty harmonic modulations as the piano part reconsiders the movement's first theme - a prescient prediction by the mature Mozart of Romantic-era adventures to come.
Sinfonia 'Kabardinian' String Quartet No. 2 in F major Op. 92a by Sergei Prokofiev - orchestra version by Nurhan Arman
In 1941, the Nazis broke their non-aggression pact with the Soviet Union, and as a result, many Soviet artists were evacuated from major cities, Prokofiev among them. He found himself in Nalchik, in the Kabardino-Balkar Republic, just north of the border with Georgia. So the connection is a more distant one, relocation as a result of war rather than a response to it, and this carries over to the music itself.
While there, a government official told Prokofiev to write a quartet on local (Kabardino-Balkar) folk themes. Prokofiev in his autobiography writes that "The Minister said to us, 'You have a gold mine of untapped folk music in this region. If you take advantage of your stay here to work up this material, you will be laying the foundation of a Kabardinian music.' He went to his files and brought out songs collected by earlier visitors to Nalchik, including several made many years before by the composer Sergei Taneyev [1856-1915, one of Prokofiev's teachers at the Moscow Conservatory] when he had made a study of the music of the Kabardinians and mountain Tartars…
In making use of this borrowed content, the composer was able to maintain his own sound while still writing with unique themes.
The first movement is marked by a spirited step, powerful rhythms and a full-bodied quartet sound, like a deep breath of fresh country air. The themes are readily identifiable in the first movement, as the violin leads the group in a dance-like procession quite free of the kind of dark tumult we've heard in many of the works in this series recently. The melodies are quite standout and easy to latch onto.
The second movement soft and delicate in an almost French way, except with an exotic, foreign spirit, one of the charm of wide open remote untamed spaces. The central passage is almost East Asian in sound, a simple melody over pizzicato accompaniment. The music here is still largely untroubled, but with a bit more tension in the outer, more ethereal sections.
The finale is "based on a lively mountain dance," and perhaps reminds listeners of Bartók, the master of folk melodies. It has the same spirited, rhythmic nature of the first movement, but even more driving and fiery. It's so refreshing to have something like this that's not overcast by shadows of gloom and tragedy. This final movement has some compelling minor key passages, but they're merely enthralling exciting, not tragic or dismal. We've had plenty of that, and there's more to come, but for now, we can take a few deep breaths of fresh country air with the composer, who clearly enjoyed putting these exotic themes to use, and may have been quite pleased to find new inspiration and some time outside the city. It certainly seems like he made the best of the situation.material from the previous movements.
Biographies
Pianist Anya Alexeyev has performed extensively around the world. She received her education at the Moscow Tchaikovsky Conservatory, where she studied with Dmitri Bashkirov. She then went on to compleMaestro te a Performer's Diploma at the Royal College of Music in London, England. A winner of many awards, Alexeyev plays solo recitals, concertos, chamber music, and contemporary music. Anya Alexeyev is currently a member of faculty at the Wilfrid Laurier University in Canada.
Sinfonia Toronto now in its 22nd season, has toured twice in Europe, in the US, South America and China, receiving glowing reviews. It has released four CD's, including a JUNO Award winner, and performs in many Ontario cities. Its extensive repertoire includes all the major string orchestra works of the 18th through 21st centuries, and it has premiered many new works. Under the baton of Nurhan Arman the orchestra's performances present outstanding international guest artists and prominent Canadian musicians.
Maestro Nurhan Arman has conducted throughout Europe, Asia, South America, Canada and the US, returning regularly to many orchestras in Europe. Among the orchestras Maestro Arman has conducted are the Moscow Philharmonic, Deutsches Kammerorchester Frankfurt, Filarmonica Italiana, St. Petersburg State Hermitage Orchestra, Orchestre Regional d'Ile de France, Hungarian Symphony, Arpeggione Kammerorchester, Milano Classica and Belgrade Philharmonic.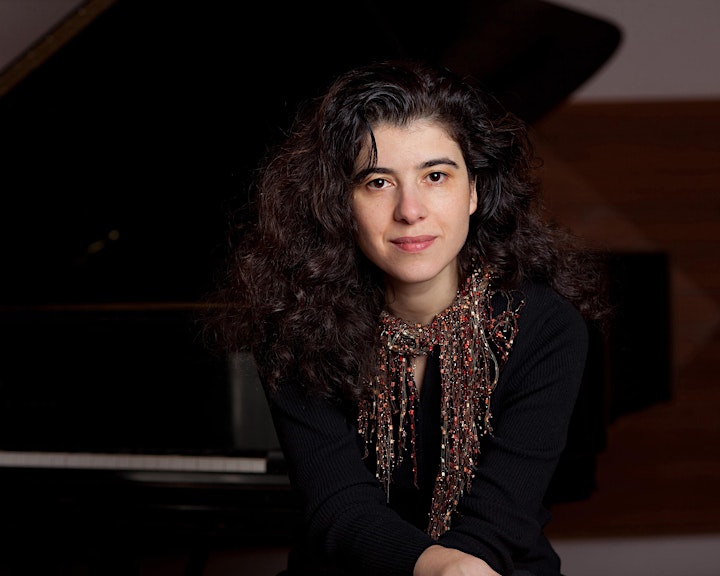 Date and Time
Location
Refund Policy
Contact the organizer to request a refund.
Eventbrite's fee is nonrefundable.