MPRS presents DAVID JALBERT - Prokofiev the Poet
Description
The Master Piano Recital Series continues its 2016/17 series with a great Canadian virtuoso!

A pianist with a warm, elegant style and wide-ranging repertoire, pianist David Jalbert has been named among the 15 best Canadian pianists of all time by the CBC. As gifted in the studio as on stage, in addition to performing across North America and Europe, he has recorded numerous critically acclaimed albums picking up three Juno nominations along the way. A national and international prize-winner, Mr. Jalbert holds a full professorship at the University of Ottawa, and together with violinist Jasper Wood and cellist Denise Djokic forms the Triple Forte chamber trio. His MPRS program, devoted to Prokofiev, includes the composer's piano arrangement of his own great ballet Romeo and Juliet.
After purchasing your ticket, you'll receive an email confirmation with links to printable PDF and electronic versions of your Eventbrite ticket. You can either print the ticket or present the electronic version on your mobile phone for entry to concerts.
---
Program
Sergei Prokofiev (1891-1953) - Piano Sonata No. 1, Op. 1
Sergei Prokofiev (1891-1953) - Piano Sonata No. 8, Op. 84
Sergei Prokofiev (1891-1953) - 10 Pieces from Romeo and Juliet, Op. 75
---
Ticket Seating Options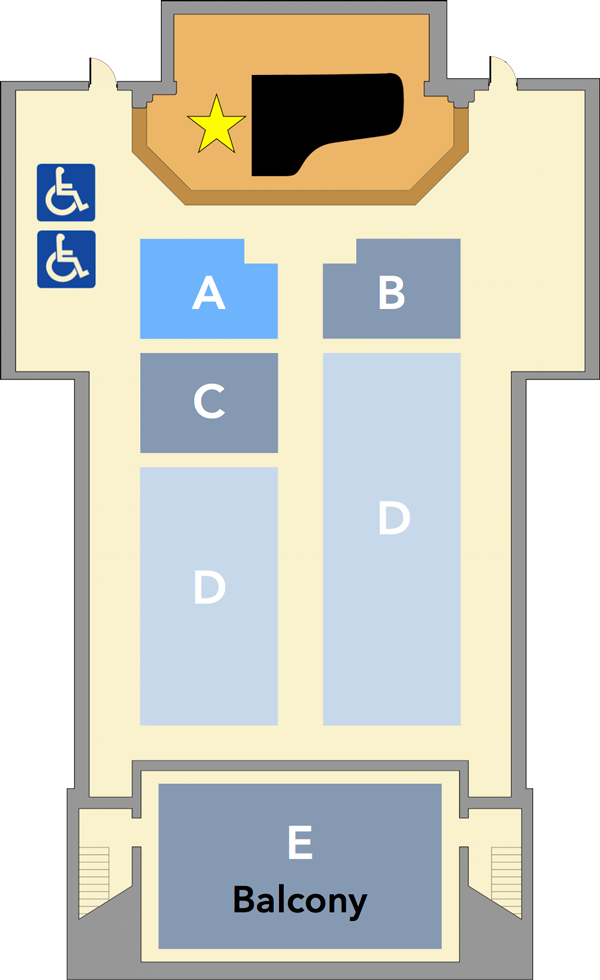 Section Descriptions
Section A – An unobstructed view of the performer; house left (keyboard side), rows 1-5. Limit 40, general seating within section. $50/$45/$20
Section B – Front-row seating; house right, rows 1-5. Limit 40, general seating within section. $40/$35/$15
Section C – House left (keyboard side), rows 6-10. Limit 40, general seating within section. $40/$35/$15
Section D – The remainder of the main floor excluding sections A, B and C. General seating within section. $30/$25/$10
Section E (Balcony) – Great view, excellent sound. Limit 100, general seating within section. $40/$35/$15

---
View additional options for purchasing tickets and more information at www.mprs.ca

---
Save
Save