Description
The Master Piano Recital Series opens its 2017/18 season with Sofya Gulyak.
Russian pianist Sofya Gulyak, at only 37 years of age, has been a mainstay on the world's stage for a decade. Top prize winner of the 2009 Leeds International Piano Competition - whose past winners include Jon Kimura Parker and Murray Perahia - she has performed at Salle Pleyel in Paris, the Moscow Conservatory and the Kennedy Center in Washington among many others. Hailed "a formidable artist" (The Guardian), this talented virtuoso has performed with many of the world's greatest orchestras, including the London and Saint-Petersburg Philharmonic. A returning artist to the MPRS, Ms. Gulyak will present a program featuring music from Clementi to Ravel, including Pletnev's dazzling Nutcracker (Tchaikovsky) transcription.
After purchasing your ticket, you'll receive an email confirmation with links to printable PDF and electronic versions of your Eventbrite ticket. You can either print the ticket or present the electronic version on your mobile phone for entry to concerts.
---
Program -
"Clementi to Ravel"
Clementi – Sonata in C major, Op. 33/3
Brahms – Variations and Fugue on a theme by Handel, Op. 24
Rachmaninov – Elegie, Op. 3/1
Tchaïkovsky/Pletnev – Nutcracker Suite
Ravel – La Valse
---
Ticket Seating Options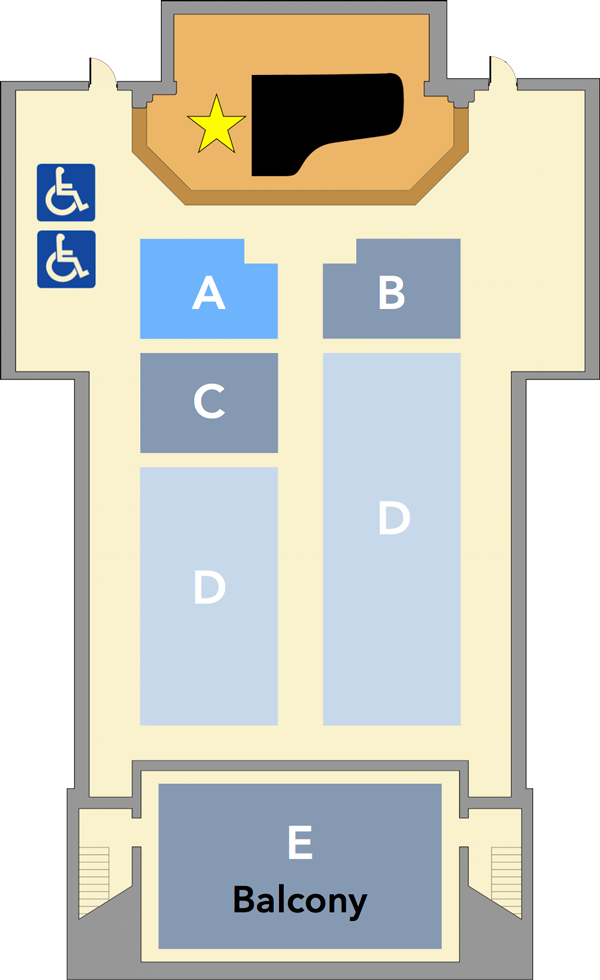 Section Descriptions
Section A – An unobstructed view of the performer; house left (keyboard side), rows 1-5. Limit 40, general seating within section. $50/$45/$20
Section B – Front-row seating; house right, rows 1-5. Limit 40, general seating within section. $40/$35/$15
Section C – House left (keyboard side), rows 6-10. Limit 40, general seating within section. $40/$35/$15
Section D – The remainder of the main floor excluding sections A, B and C. General seating within section. $30/$25/$10
Section E (Balcony) – Great view, excellent sound. Limit 100, general seating within section. $40/$35/$15

---
View additional options for purchasing tickets and more information at www.mprs.ca

---