Ms.PAN!K - LIVE STREAM CONCERT - The Medicine Talk Connector
About this event
Ms.PANIK - Creates Music to FEEL, HEAL, UPLIFT, INSPIRE & ENTERTAIN.
Award Nominated; Femme-powered & loop-pedal-driven!
Haida singer/songwriter, loop poet & multimedia artist Ms.PAN!K constructs dynamic soundscapes with her voice, guitar & loop station, rich layered vocal harmonies are stacked on looped-melodies as she blends elements of her indie folk roots with hip hop & soul. her conscious verses are shaped by a deep love of spoken word poets, hip hop philosophers, r&b and soul legends. she weaves ancestral healing wisdom with her passion and real-life experiences together into her loop-crafted melodies. her live-loop productions are often improvised and tailored for the energy of each audience.
Ms.PAN!K is a 2019 WCMA Award Nominee for "Spiritual Artist of the Year!"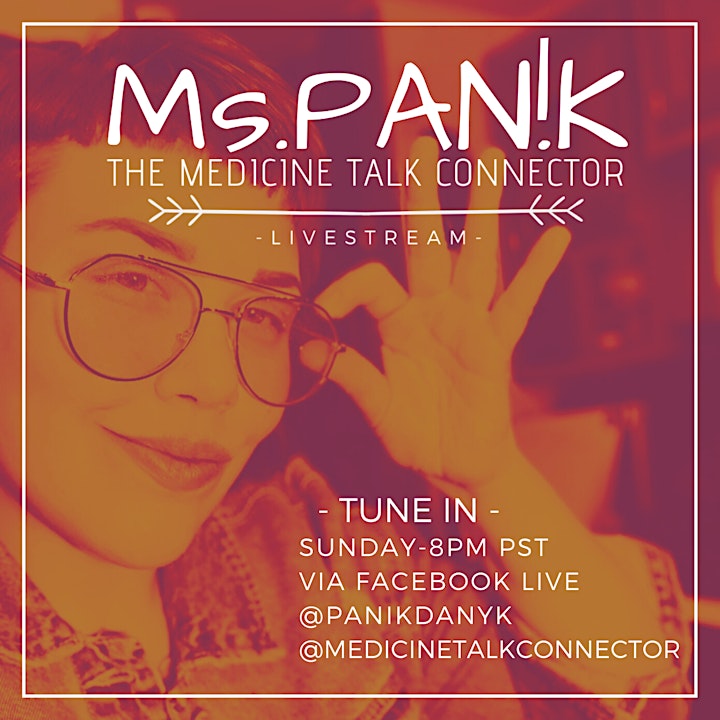 Organizer of Ms.PAN!K - Livestream - The Medicine Talk Connector
The Medicine Talk Connector is a project that was created in collaboration with various hearts and minds who honour the knowledge that music is so much more than entertainment. Music is medicine. And while we take the courageous step of caring for each other from afar through the COVID19 Crisis, we can still co-create community together, to listen, witness, feel, and dance.


We are co-creating community through music and reciprocity, and all proceeds of the Connector go towards grass roots initiatives distributing resources and assisting with emergency preparations for COVID19, with our performers, as well as in partnership with organizations working in communities with multiple barriers to access.

***
Join us for weekly "live" events, broadcasting for the foreseeable future, on The Medicine Talk Connector. 
****
In Partnership with:
Re:naissance
Naheyawin
O'Dela Arts
CHLY 101.7fm 
Medicine Talk Radio