Description
fMSPVS Collecte de fonds Communautaire ~ YOGA ~ avec Jasmine Rose
VSPCR COMMUNITY EVENT / YOGA ~ Community Fundraiser with Jasmine Rose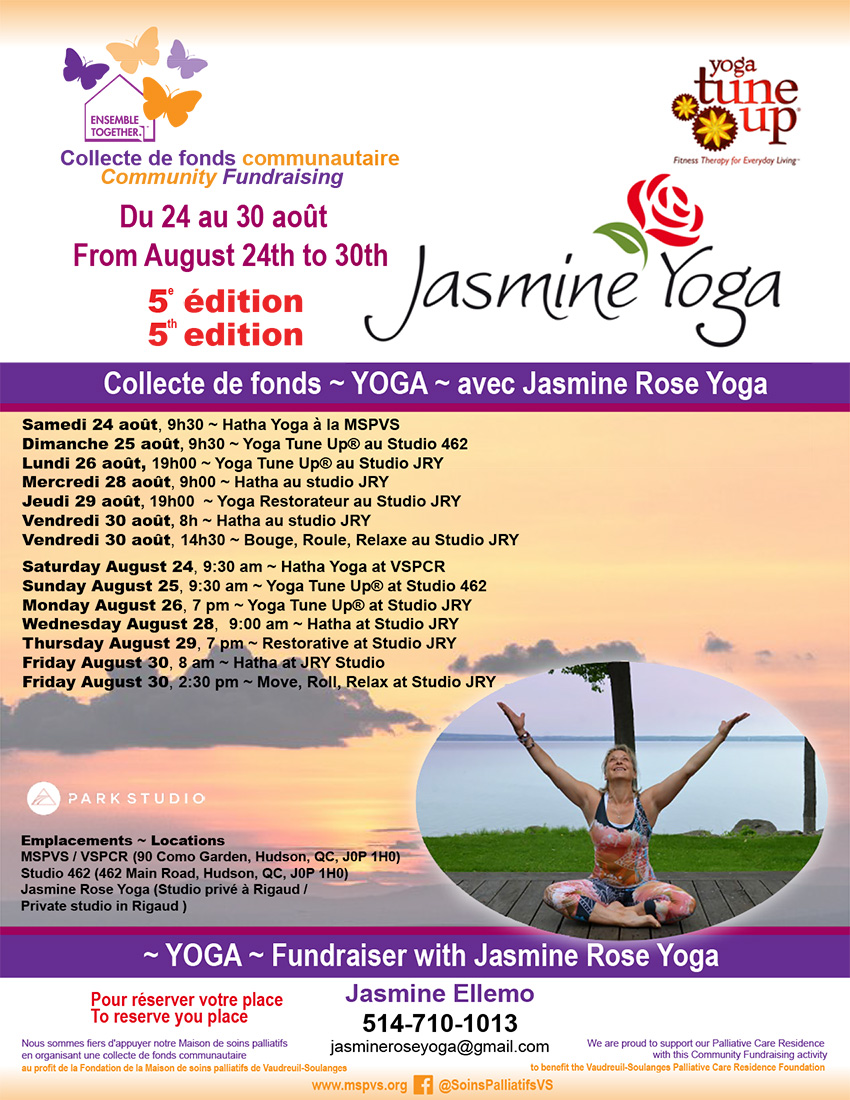 ÉVÉNEMENT COMMUNAUTAIRE MSPVS / YOGA ~ Collecte de fonds communautaire avec Jasmine Rose

Yoga pour une cause : Jasmine Ellemo, de Jasmine Rose Yoga, organise pour la cinquième année consécutive l'événement YOGA ~ Collecte de fonds communautaire avec Jasmine Rose. Offrez-vous les bienfaits du yoga, pour l'esprit, le cœur, le corps et l'âme, tout en appuyant une grande cause communautaire. Participez aux cours de yoga d'une semaine tout en contribuant à la mission de la Maison de soins palliatifs de Vaudreuil-Soulanges. Inscrivez-vous à un ou plusieurs cours https://www.mspvs.org/evenements/autres/


Venez vous soulager du poids du stress et accroissez votre bien-être. Joignez-vous à nous du 24 au 30 août pour cette collecte de fonds qui vous permettra de vivre une expérience de régénération de l'esprit et du corps au cours de laquelle Jasmine saura vous guider selon votre niveau d'habileté en yoga.

Plusieurs d'entre vous connaissez une ou des personnes – famille, amis ou autres membres de la communauté – qui ont séjourné à la MSPVS. « Une amie chère, Penny, qui est décédée à une Maison de soins palliatifs il y a quelques années, est l'inspiration qui m'a amenée à organiser cette activité. Je pense que c'est une autre façon de donner au prochain et de dire merci, pour que la Maison puisse poursuivre sa mission dans nos communautés », souligne Jasmine Ellemo.Ensemble, nous pouvons faire la différence. Goûtons les bénéfices du yoga pour une bonne cause ; tout commence par une seule respiration…

Horaire des cours:
Samedi 24 août ~ 9h30 Hatha Yoga à la MSPVS
Dimanche 25 août ~ 9h30 Yoga Tune Up® au Studio 462
Lundi 26 août ~ 19h00 Yoga Tune Up® au Studio JRY
Mercredi 28 août ~ 9h00 Hatha au Studio JRY
Jeudi 29 août ~ 19h00 Yoga Restorateur au Studio JRY
Vendredi 30 août ~ 8h Hatha au Studio JRY
Vendredi 30 août ~ 14h30 Bouge, Roule, Relaxe au Studio JRY

Pour plus d'informations et pour vous inscrire, contactez:
Jasmine Ellemo
514-710-1013
jasmineroseyoga@gmail.com
Vous pouvez vous inscrire en ligne à l'adresse suivante: https://www.mspvs.org/evenements/autres/
~~~~~~~~~~~~~~~~~~~~~~~~~~~~~~~~~~~~~~~~~~~~~~~
Yoga for a cause; for the fifth year in a row YOGA ~ Community Fundraiser with Jasmine Rose with and organized by Jasmine Ellemo of Jasmine Rose Yoga. Offer yourself the benefits of yoga, for the mind, heart, body and Soul, while supporting a great community cause. Take part in the week long yoga classes while contributing to the mission of the Vaudreuil-Soulanges Palliative Care Residence. Sign up for one or more classes. https://www.mspvs.org/en/our-events/community-events/
Come de-stress and improve your well-being. Join us for from August 24th to August 30th for this mind and body-restoring experience Fundraiser event guided by Jasmine for all ability levels.
By now we all know someone who has journeyed at the VSPCR, family members, friends, or community members. I was inspired to do the Yoga fundraisers In memory of a dear friend Penny who passed on at a Palliative Care Residence a few years ago. "I think it is another way of paying it forward and saying thank you in order for the Residence to keep their mission going for our communities", Jasmine Ellemo.
Together we can make a difference, let's raise our vibrations for a good cause; it all begins with a single breath.
Event classes schedule:
Saturday August 24 ~ 9:30 am Hatha Yoga at VSPCR
Sunday August 25 ~ 9:30 am Yoga Tune Up® at Studio 462
Monday August 26 ~ 7 pm Yoga Tune Up® at Studio JRY
Wednesday August 28 ~ 28th 9:00 am Hatha at Studio JRY
Thursday August 29 ~ 7 pm Restorative at Studio JRY
Friday August 30 ~ 8 am Hatha at Studio JRY
Friday August 30 ~ 2:30 pm Move, Roll, Relax at Studio JRY

For more information and to register contact:
Jasmine Ellemo
514-710-1013
jasmineroseyoga@gmail.com