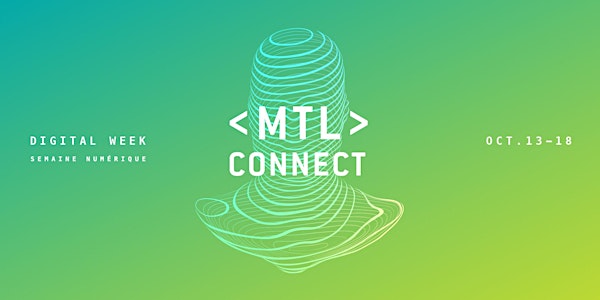 MTL connect: Digital Week • Online | MTL connecte : La Semaine numérique • En ligne
BE PART OF THE LEADING EVENT ON DIGITAL TRANSFORMATION / FAITES PARTIE DE L'ÉVÉNEMENT MAJEUR SUR LA TRANSFORMATION NUMÉRIQUE
About this event
(En français plus bas)
MTL CONNECT 2020: DIGITAL WEEK / ISEA2020 — ONLINE EDITION
UPDATE: Any purchases already made will be automatically transferred to the new dates: October 13-18, 2020.
Bringing together digital minds, digitally - From October 13 to 18, 2020.
Get ready for the most forward-thinking and innovative event you've ever participated in, online!
6 DAYS OF PROGRAMMING • 600 SPEAKERS • 50 COUNTRIES REPRESENTED • +10,000 ATTENDEES • THOUSANDS OF OPPORTUNITIES FOR INTERACTION

WHAT TOPICS WILL BE DISCUSSED?
Cybersecurity and Digital Identity / AI, IoT and 4.0 / FinTech / City of the Future / Employment / Future of Work / Creativity / Health / Education / Digital Transformation / Technology / Digital Globalization / Sustainable Development / Ecology / Ethic / Data Security and more!



WHAT'S IN IT FOR ME?
– Get insights research and new trends about digital transformation.
– Participate to the international meeting place for game changers.
– Meet new people and expand your network and ecosystem.
– Discover the latest technological innovations in the Tech ZONE
– Meet new talents, or get your dream job at the e-Job Fair
– And more!





TICKETS
 Full Pass, including the 9 Theme Pavilions and exclusive content.

Thematic Pass, giving access to one of the Theme Pavilions, and also including the themes Future of Work and Sustainable Development.

Discovery Pass, giving access to the contents of the main stage, the Job e-Fair and the Tech Zone. The Discovery Pass is free!
REFUND POLICY
If you purchased your pass before June 10, 2020 to attend MTL connect, there are several options available to you to compensate for the change in price. Please refer to the form if you wish to request an exchange or refund, or a donation to Printemps numérique.Note: the deadline for requesting an exchange or refund is July 27, 2020.
If you have any questions about the event or ticketing, please consult the Frequently Asked Questions.
INFORMATION
More information about MTL connect here mtlconnecte.ca/en/
More information about ISEA2020 here http://isea2020.isea-international.org/
More information about Montreal Digital Spring here www.printempsnumerique.ca/en/
MTL CONNECTE 2020 : LA SEMAINE NUMÉRIQUE / ISEA2020 — ÉDITION EN LIGNE
MISE À JOUR : Tout achat déjà effectué sera automatiquement transféré aux nouvelles dates : du 13 au 18 octobre 2020.
Les grands du numérique se rencontrent, numériquement - Du 13 au 18 octobre 2020.
Soyez prêts pour l'événement le plus avant-gardiste et le plus innovant auquel vous n'ayez jamais encore participé, en ligne !
6 JOURS DE PROGRAMMATION • 600 CONFÉRENCIERS • 50 PAYS REPRÉSENTÉS • +10 000 PARTICIPANTS • DES MILLIERS D'OPPORTUNITÉS D'INTERACTION

QUELS SERONT LES THÈMES ABORDÉS ?
Cybersécurité et identité numérique / IA, IoT et 4.0 / FinTech / Ville du futur / Recrutement / Travail de demain / Créativité / Santé / Éducation / Transformation numérique / Technologie / Mondialisation numérique / Développement durable / Écologie / Éthique / Protection des données et plus !



QUE VAIS-JE Y GAGNER EN PARTICIPANT ?
– Découvrez les recherches et les nouvelles tendances en matière de transformation numérique
– Soyez présents à la rencontre internationale des game-changers
– Rencontrez de nouvelles personnes, agrandissez votre réseau et votre écosystème
– Découvrez les dernières innovations technologiques dans la ZONE Tech
– Recrutez de nouveaux talents, ou décrochez votre job de rêve dans le e-Salon de l'emploi
– Et plus encore !





BILLETTERIE
La Passe Intégrale, incluant les 9 Pavillons thématiques et des contenus exclusifs.

La Passe Thématique, donnant accès à l'un des pavillons thématiques, et incluant également les thématiques Travail de demain et Développement durable.

La Passe Découverte, donnant accès aux contenus de la scène principale, au e-Salon de l'emploi et à la Zone Tech. La Passe Découverte est gratuite !
POLITIQUE DE REMBOURSEMENT
Si vous aviez acheté votre passe avant le 10 juin 2020 pour assister à MTL connecte, plusieurs options s'offrent à vous afin de compenser le changement de tarifs. Veuillez vous référer au formulaire si vous souhaitez faire une demande d'échange ou de remboursement, ou une donation au Printemps numérique.Note : la date limite pour une demande d'échange ou de remboursement est fixée au 27 juillet 2020.Pour toute question concernant l'événement ou la billetterie, consultez la Foire aux questions.
INFORMATIONS
Pour plus d'informations sur MTL connecte, veuillez consulter le site www.mtlconnecte.ca
Pour plus d'informations sur ISEA2020, veuillez consulter le site http://isea2020.isea-international.org/fr/
Pour plus d'informations sur Printemps numérique, veuillez consulter le site www.printempsnumerique.ca