MTL NewTech DemoNight | Back to School Edition

Tuesday, 20 September 2016 from 6:00 PM to 8:30 PM (EDT)
Event Details
After a very intense summer, with a lot of changes on our team, MTL NewTech is back!! Right on time for back to school! We are delighted to highlight a number of startups started by or for students :)
Come hear some stellar pitches and celebrate student's leaps in innovation and entrepeurship. 
// Meet Startups & Talent
The evening will both start and finish with a networking time to meet co-founders for new startups projects: programmers, mobile & web entrepreneurs as well as tech professionals are part of the attendees. If you're looking for engineers, journalists or investors to take your startup to the next level, this is your chance!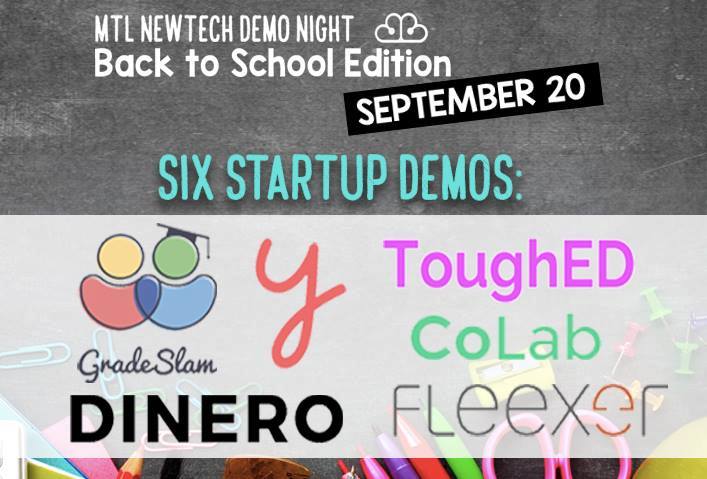 // 6 Inspiring Startups
Startups will then pitch to the crowd. Presentations will be exactly 5 minutes each including the demo, followed by a Q&A. We will select 5 startups that are in one way or another innovating for (or by) students. We aim to benefit, challenge and inspire the community by featuring these startups.
// Meet your communities!
We realized lately that while we have amazing communities helping entrepreneurs or exploring new technologies and innovations, many current or aspiring Montreal entrepreneurs are still unaware of all the awesome groups that exist. So let's change that! If you know or are a community who wanna increase awareness of what you're up to, reach out to us and we will give you the time to shine! :) (limited to 10 though)
// Schedule
5:30pm Doors open. Meet fellow entrepreneurs, cofounders and talent
6.30pm Startup demos + Q&A
7.30pm Stay for networking!
// Event Supporter
Thank you EY Montréal for supporting our mission to learn, network, and help launch the next kickass newtech startup! Don't forget to reach out to them during the event whether you're just incorprating or having questions on the best way to take advantage of the government helps regarding research and developement!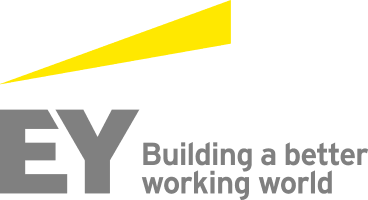 // (yummy!) Feeding Partner 
While discussing with Yuma who's presenting this month, they realized that what better way to make you feel their services than to make you taste it! We can't wait to try the yumminess of Yuma!

// Hosting partner
Huge thanks to Mouvement Desjardins's #DesjardinsLab for hosting us. Join their mailing list and don't miss their next events! http://desjardinslab.com

// Community Collective
At MTL Newtech, we are always trying to build bridges with others communities. We would like to thank the members of our Community Collective that are helping make every event a success, and supporting all those who are helping build a thriving ecosystem of startup entrepreneurs in Montréal and beyond! We have some beautiful projects coming up together, stay in touch :)
- Pitonneux.com if your budget is tight and you wanna learn how to code at your pace in a peer to peer setting with awesome mentors.
- Free Code Camp Montreal if your budget is really super tight but you still wanna secure your future (and present! ;)
- MTL DATA if you wanna start breathing data science

- Osmos Academy if you wanna explore and learn about wearables, IoT tech, and data science use for good!
/ / Community Partners 
We would like to also thank our community partners that are supporting us and who are helping build our vibrant Montreal community every single day!
- MTL + Ecommerce
- Hacking Health
- Startup Drinks Montreal
- Maison Notman House
- District 3 Innovation Center
- NeurotechX
- WearHacks
- Montreal Girl Geeks
- Défi Technovation / Technovation Challenge Montréal
- McGill Entrepreneurs Society
/ / Don't miss out

Want to apply to demo? Head here: mtlnewtech.com/apply-to-demo

Want to stay updated on what's going on in Montreal startups? Join our mailing list: http://go.mtlnewtech.com/mailchimp - previous examples:http://eepurl.com/bRzR2j

Want to know all the events happening in Montreal? Add this calendar in your phone: http://go.mtlnewtech.com/events

Want to join the conversation? Join us
on facebook: http://go.mtlnewtech.com/group 
or linkedin: https://www.linkedin.com/groups/164811

And of course, stay in touch on facebook: fb.com/mtlnewtech and twitter.com/mtlnewtech :)
When & Where

Desjardins Lab
175 Boulevard René-Lévesque O
Montréal, Quebec H2X 3Y2
Canada

Tuesday, 20 September 2016 from 6:00 PM to 8:30 PM (EDT)
Add to my calendar
Organizer
MTL NewTech is a non-profit organization dedicated to the success of Montréal startup entrepreneurs. Every month 4-6 startups present in front of an audience of programmers, engineers, entrepreneurs, investors, students etc. Our community is enthusiastic about technological innovation and eager to discuss new trends, see new products and services and connect with global startup ecosystems. These monthly meetups feature demos which are recorded and the videos also showcased via social media and press coverage after the event.
In addition to the startup demos, we also aim to educate and bring successful entrepreneurs to the community through keynotes or panels. Of course, the event is an incredible opportunity to meet potential co-founders for your next startup, or find valuable talent.
Thanks to key partners such as SDEVM, or EY, we are able to offer working sessions and mentorship to startups to ensure they benefit from preparation for demonstrations and pitches, making NewTech a key event in a startup launch. 
We prioritize working with groups within the Montreal Startup community, including MTL + eCommerce, MTLGirlGeeks, HackingHealth, Notman House, Startup Grind Montréal, Francogénie, Montreal Tech Watch, International Startup Festival with a focus on facilitating greater integration between groups and within the rest of Montréal. MTL NewTech is inclusive and community oriented, creating or supporting many well-known initiatives such as the #hackmtl hackathons, the MTLStartupTalent job fairs, the Montreal Startup Guide, WeAreMTLTech, the Montreal + Startups facebook group and many other leading initiatives.
- See more at: http://mtlnewtech.com/about