Description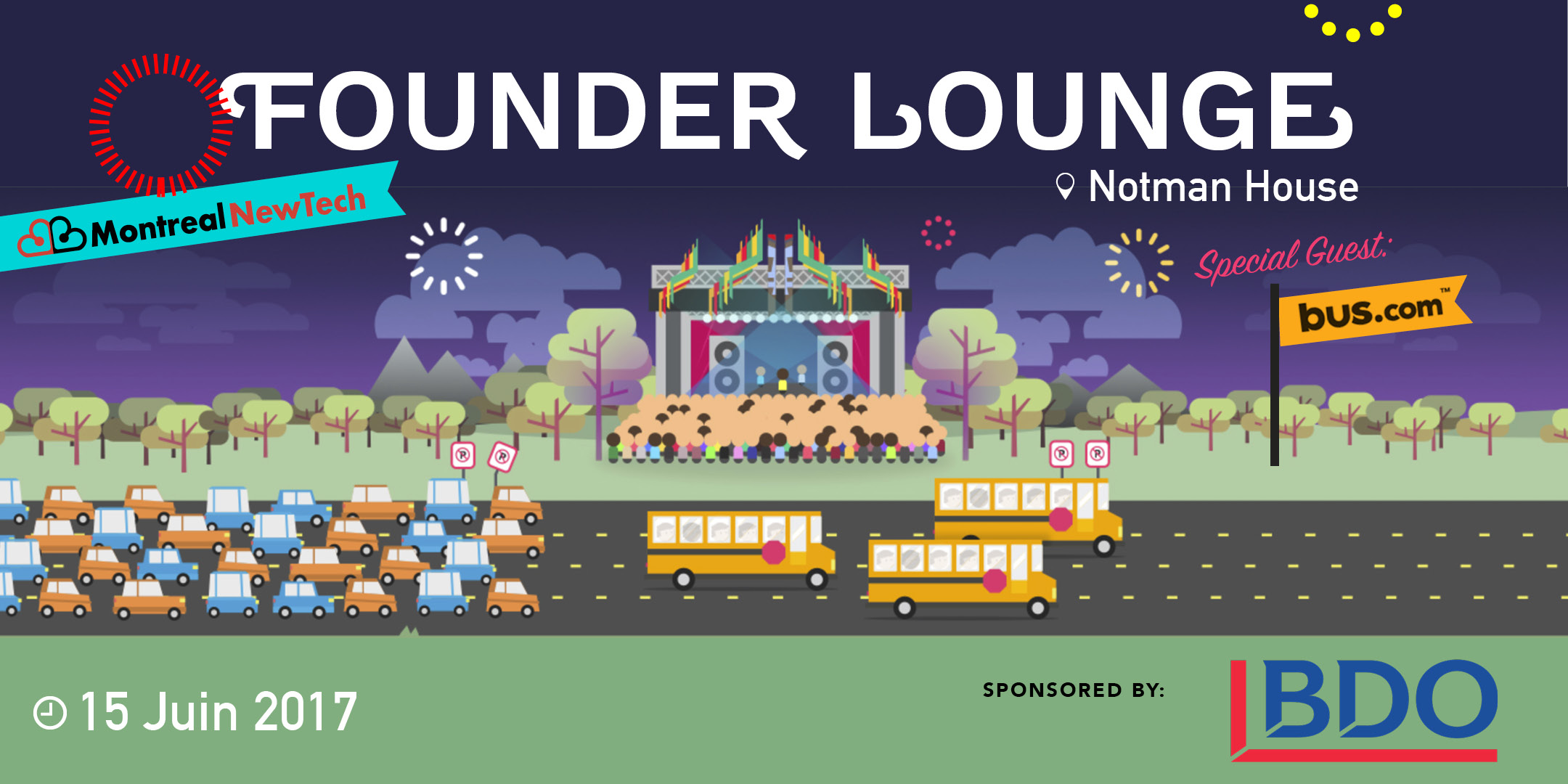 Summer has finally arrived in Montreal, and it's time for us to start acting like it! On June 15th, help us welcome summer in style - join us for a fireside chat with Kyle Boulay and Wolf Kohlberg from bus.com, part of our Founder Lounge series of events, after an outside BBQ meet-and-mingle networking session. BBQ and drinks on us!
These rockstar local entrepreneurs will tell us how they went from trying to make it easier for kids from Toronto to get to Osheaga, to raising millions from Jackson Square Ventures, BMW's i Ventures, Real Ventures, Y Combinator, and others… all in just 2 years!
Another great Montreal success story, plus complimentary BBQ and drinks! Can you afford not to be there?
//About Bus.com
Sharethebus was created back in 2015, by two friends on a mission to change bus transportation. In April 2017, the company raised a $5 million Series A round and officially became bus.com. What were the main factors that had contributed to the rapid success of this venture? What does 2018 look like for the founders of this dynamic enterprise?
//About Founder Lounge
MTL NewTech Founder Lounge series are fireside chats that showcase startup founders with incredible stories to tell. These events provide an opportunity to get a deeper understanding of the forces behind some of the most renown Montreal companies, all while interacting with fellow co-founders and business leaders. We are limiting attendance to 60 guests to stay true to the spirit of open discussions amongst friends, so get your tickets while they last!
// Schedule
6:00 pm Doors open | BBQ and networking
7.00pm Fireside chat with Kyle Boulay & Wolf Kohlberg from bus.com
8.00pm Stay for networking!
//Location
Notman House
51 Sherbrooke St W
Montreal (QC) H2X 1X2
// Event Sponsor
A special thank you goes to BDO for sponsoring the Founder Lounge series of events.
// Hosting Partner
We also thank Notman House for generously opening their doors to us and hosting us for the evening.
=============
// Don't miss out
Want to apply to demo? Head here: mtlnewtech.com/apply-to-demo
Want to stay updated on what's going on in Montreal startups? Join our mailing list: http://go.mtlnewtech.com/mailchimp - previous examples:http://eepurl.com/bRzR2j
Want to know all the events happening in Montreal? Add this calendar in your phone: http://go.mtlnewtech.com/events
Want to join the conversation? Join us
us at Montreal & Startups
or Linkedin: https://www.linkedin.com/groups/164811
And of course, stay in touch on Facebook and Twitter :)
***