Description
Journey to Belong features the drag performance Sarap by Patrick Salvani aka Ms. Nookie Galore, the short film The Sunflower Man by Monica Gutierrez, and the visual exhibit My Journey on the "Pathway" by Kara Manso, aka Kristina Torres. These bold and beautiful works are brought together for their common thread of migrant activism, their shared investigation of the power of art to empower, express, and create change, and their connection to our deep desire to belong.
Following the presentations is a panel discussion facilitated by Monica Gutierrez, featuring Patrick Salvani, Heryka Miranda, Juan Luis Mendoza de la Cruz, and Kara Manso.
Co-presented with Shameless Magazine, Inside Out: Toronto LGBT Film Festival, Workers' Action Centre, Alliance Française de Toronto, Caregivers' Action Centre, Liaison of Independent Filmmakers of Toronto, Migrant Workers Alliance for Change
Co-sponsored by CUPE Ontario
For full program and other announcements, please visit our website:
WWW.MAYWORKS.CA
Mayworks Festival acknowledges the pivotal role public funding bodies play in maintaining a living, thriving culture for everyone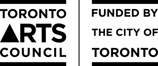 Proud to a Union Shop: CUPE 1281
Organizer of Multi-Art Presentations: Journey to Belong
MAYWORKS FESTIVAL OF WORKING PEOPLE AND THE ARTS is an annual multidisciplinary arts festival that celebrates the culture of all working peoples. Founded by the Toronto and York Region Labour Council, Mayworks has been uniting art and labour since 1986 by showcasing the cultural production of workers and their artist allies. Mayworks' goal is to support the compelling and vital work of both workers-as-artists and artists-as-workers. Mayworks' artistic vision is specifically guided by our equity policy that allows for representation of First Nations people, people of colour, queer and trans people, people with disabilities and young people as audiences and artists.