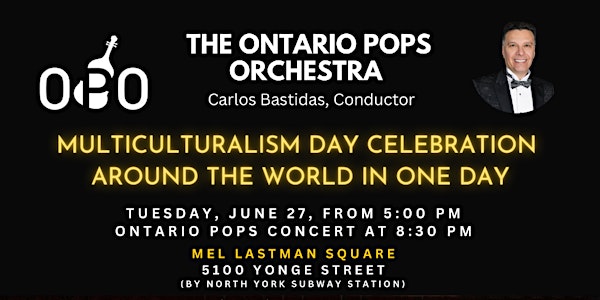 Multiculturalism day - Celebration around the world in one day
Multiculturalism day - Celebration around the world in one day
By Ontario Pops Orchestra
Date and time
Tuesday, June 27 · 5 - 10pm EDT
Location
Mel Lastman Square Rink 5100 Yonge Street Toronto, ON M2N 5V7 Canada
About this event
Live Music|DJ|Foodtrucks| Arts & CraftsONTARIO POPS ORCHESTRA PERFORMANCE FOR CANADA'S MULTICULTURAL DAY CELEBRATION
Toronto, ON –Ontario Pop's eighth season continues June 27 at 8:30 pm in Mel Lastman Square with a concert titled "Around the World in One Day" to celebrate Multicultural Day in Canada on Tuesday June 27. Led by Music Director Carlos Bastidas, the concert will feature a commissioned arrangement of El Condor Pasa by renowned Canadian composer Felipe Tellez with the brilliant soloist Giovanni Ruiz.
The performance will also feature works from countries around the world such as Argentina, France, USA, Spain, Peru, Ireland, Czech Republic, Italy, Korea, South Africa, and Canada.
The Multicultural Day Celebration will start at 5 pm and activities will include a DJ, food trucks, arts and crafts for kids. The Ontario Pops will perform on the main stage of Mel Lastman Square at 8:30 pm. It will be a fun day with diverse entertainment. Bring your lawn chair and have a picnic at Mel Lastman Square!
Over the past eight seasons, Ontario Pops has received glowing reviews in Canada and the USA. It has released a debut CDs, breaking barriers with great reviews: "there's much to appreciate about this generous double CD collections" -Textura (USA)
"OPO's renditions of these crowd pleasers are splendid." -Textura (USA)
Ontario Pops extensive repertoire includes all the major classical music hits, Broadway, and film music. Under the baton of maestro Carlos Bastidas, the orchestra's performances present outstanding diverse guest artists and prominent BIPOC Canadian musicians.
Maestro Carlos Bastidas continues as Music Director of The Ontario Pops Orchestra in Toronto and conductor emeritus of the Durham Chamber Orchestra in Durham region. His upcoming engagements will include concerts in Canada and Cuba. Critics and the media in Canada and the USA have been unanimous in their praise: has hailed Maestro Bastidas with the following comments: "Carlos is a leader on and off the podium. Not only does he program and conduct multiple orchestras, but creatively, he pushes the performance envelope with a vision of how to cultivate the next generation of classical music lovers." Leanne Wright, VP Communications, The New Classical 96.3 FM (Canada)
"Beyond the impeccable musicianship and care given to the music by [Bastidas], his commitment to provide opportunities to deserving minority musicians serves as an example we could learn to follow on this side of the border." - All About the Arts (USA)
Multicultural Day Celebration -Around the World in One Day is a Free outdoor event open to the public.
Book your free ticket at Eventbrite
Thank you to The Ontario Cultural Attraction Funds (OCAF), Dolphin Bingo and the Hispanic Canadian Arts and Cultural Association for their generous support as well as media and community partners. ~~~~~~~~~~~~~
For more information please contact:
Francisca Figueroa, Marketing Manager.
tickets@ontariopops.com
About the organizer
Ontario Pops Orchestra - The Ontario Pops Orchestra (OPO) is a Toronto-based professional classical and popular music orchestra that provides musicians with performance and professional development opportunities. OPO is invested in fostering musicianship in a positive, inclusive and supportive environment by highlighting the work of women and BIPOC (Black, Indigenous and People of Colour) composers and instrumentalists.
he Ontario Pops seeks to enrich the lives of local musicians through professional leadership, performance opportunities and carefully-selected repertoire, fostering musicianship in a positive and supportive environment. By sharing popular, light classical, Broadway, film, and other symphonic music with Ontario communities, we hope to engage a large and diverse audience with high-quality music of broad, inspirational appeal, and educational value.
Vision and Goals
Mission: The mission of the Ontario Pops Orchestra is to enrich the lives
of musicians and to connect to new audiences through the performance of light classical and
popular music.
Vision: Meaningful experience for musicians. Engaging music for all.