Multiple Dates
Multiculturalism Under the Mid-Autumn Moon - Alberta Culture Days 2020
About this Event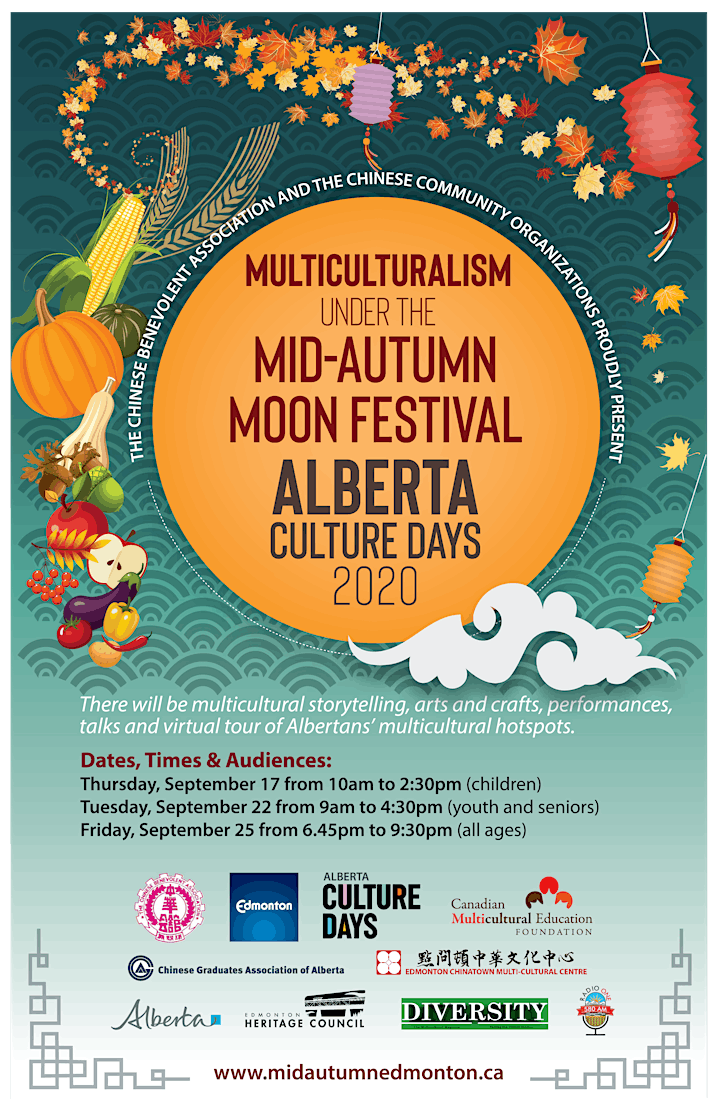 Please join the Chinese Benevolent Association of Edmonton online this year for our annual Autumn public event on September 17, 22 and 25, 2020 in celebration of the Mid-Autumn moon, harvest festivals, and Fall traditions of various cultural groups in the Edmonton area and Alberta.
Multiculturalism Under the Mid-Autumn Moon creates a great opportunity for community members to share and learn about harvest celebrations and mid-autumn moon stories from different cultures during Alberta Culture Days in September through arts and crafts, dancing, singing, music, and workshops by artists, performers and cultural experts of diverse ages, genders and backgrounds.
Learn to make mooncake, lanterns, dreamcatchers and then get physical by doing Zumba, martial arts, and much more. Watch cultural performance from around the world and a puppet show. https://www.midautumnedmonton.ca/schedule
Enter a photo of something representing multiculturalism or mid-autumn/harvest traditions to you. The submissions will be used to create a video to be presented as part of our September 22, 2020 afternoon program. https://www.midautumnedmonton.ca/alberta-virtual-hotspots
We are proud to have been selected as one of five Feature Sites this year in Alberta. Alberta Culture Days is an opportunity to discover, experience and celebrate arts and culture through local events and activities, in person and online across the province.We hope you enjoy this virual festival!