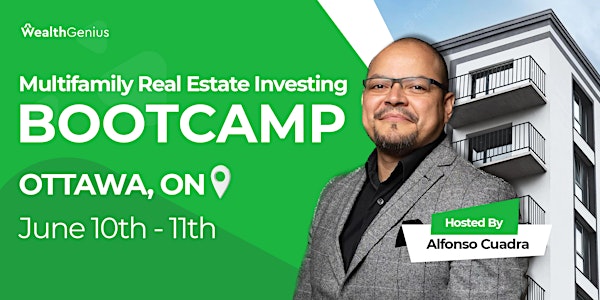 Multifamily Real Estate Investing Bootcamp (Ottawa, ON) - [061023]
An intensive two-day real estate investment bootcamp for those who are serious about building wealth through multifamily properties.
Date and time
Sat, Jun 10, 2023 9:00 AM - Sun, Jun 11, 2023 5:00 PM EDT
Location
Ottawa Conference and Event Centre 200 Coventry Road Ottawa, ON K1K 4S3 Canada
Refund Policy
Contact the organizer to request a refund.
Eventbrite's fee is nonrefundable.
About this event
1 day 8 hours

Mobile eTicket
High-Impact Multifamily Real Estate Investing Bootcamp
Multifamily properties represent the greatest investment potential for real estate market players. This easily scalable model promises steady cash flow, tax benefits, and is easier to finance than other investment alternatives.
This is exactly why skilled investors pursue opportunities in multifamily real estate.
To succeed as a high-impact multifamily real estate investor, you need to identify key market opportunities, apply keen investment strategies, secure financing, and negotiate with the confidence of a tycoon.
Don't chase the competition – become the competition.
Taking place over two days, the Multifamily Real Estate Investing Bootcamp provides proven, insightful, and up-to-the-minute strategies – including an actionable workbook – to help you make sound investments and see a generous return for years to come.
Meet Your Bootcamp Presenter: Alfonso Cuadra
Alfonso Cuadra, one of Canada's most successful real estate investors - aka "The Godfather of Real Estate".
"I wasn't born with millions of dollars. At 15 years old, I was homeless after escaping a tyrannical government and living hand to mouth on the streets of Ottawa.
I grew my wealth against all odds through hard work, perseverance, and a wealth-based mindset. Now, I'm a serial entrepreneur, real estate investor, speaker, and author with a passion for education and helping people to reach their full potential.
I was a fighter and I never gave up. In my 25-plus year career, I have learned how to truly thrive. WealthGenius is the culmination of my life's work that I want to share with you."
The Multi-Family Bootcamp Experience
The bootcamp specializes in Multifamily investing. But throughout the two days that we're together, the term multi-family takes on a different meaning.
While there's a strong emphasis on opportunities, strategies, and building wealth, we do it in a context of lifting one another up. That's why for every ticket purchased, you can bring one guest for FREE.
Come expecting to be challenged, stretched, encouraged – and ready to achieve multifamily real estate success.
Bootcamp Schedule
Doors open at 8:15 am daily - Come early to network!
Saturday June 10, 2023 - 9am to 5pm
Sunday June 11, 2023 - 9am to 5pm
Invite a friend!
With each ticket, you can bring one guest for free!
>> Understand the power of Multifamily Real Estate Investing
Multifamily Real Estate investing is a low risk option for investors that provides tax benefits, greater cash flow, and more. We begin by exploring the full power of multifamily real estate and the opportunities it presents for you.
>> Why now is the best time to invest in multifamily
An influx of talent, trends towards renting over buying, and a steady market even when faced with economic downturns means that now is an excellent time to invest in multifamily properties. At this stage of the bootcamp, we'll discuss each of these reasons and more in detail.
>> How to examine the present market and identify profitable multifamily opportunities
Being able to read the market is a vital skill that all real estate investors must perfect. Here, we'll discuss tips and strategies to accurately identify opportunities that are low risk and profitable.
>> How to use other people's money (OPM) in order to create and broker real estate deals
Higher market entry costs and ongoing expense is a characteristic of multifamily properties. Most investors rely on multiple forms of financing using other people's money, such as seller financing, subject to existing financing, private money, and more. We'll discuss your options and explore the pros and cons in creating and brokering deals.
>> How to define and identify Value Add Multifamily (BRRRR) opportunities
Buy, rehab, rent, refinance, and repeat – this proven strategic framework allows you to build your portfolio quickly with as few expenses as possible. However, this strategy is complex, particularly at the refinancing stage, and it's important to understand how to properly define and identify the best opportunities.
>> Learn the fundamentals of underwriting multifamily properties
Successful underwriting involves gathering data about a property, making key assumptions about how it will perform, creating a projected cash flow, and assigning a valuation. It's an art form that you must understand to succeed as a multifamily investor.
>> Learn about various million-dollar investing strategies
The strategy you follow will determine the success of your investment. But there's no one way to invest in multifamily properties. We'll explore various million-dollar strategies and help you decide which is right for you.
>> How to raise millions of dollars for your deals
The act of raising enough money to finance your deals is a vital part of the multifamily investment process. We discuss proven approaches to cultivate your network and pitch your offer in a way that entices people to invest.
>> How to negotiate hundreds and even millions of dollars off the asking price
Expert negotiation comes from an in-depth understanding of properties and market trends. By underwriting the property thoroughly, you will be able to identify the potential – and the risks involved. This knowledge will provide you with leverage that you can use to lower the asking price.
>> How to capitalize on rising interest rates
Rising interest rates, which threaten other property investment types, can benefit multifamily investors. Not only does a strong labour market ensure a healthy market but many renters are being priced out of the buying market, further contributing to this demand. We'll discuss the opportunities for capitalizing on rising interest rates for multifamily investors.
>> How to develop and buy new-build apartment buildings
With older buildings, there's always a certain amount of risk that unforeseen problems will arise. As a general rule, new builds mean fewer headaches – which makes them prime opportunities for development and purchase. To round off the bootcamp, we'll discuss your options in this space.
About WealthGenius
WealthGenius is an invite-only community that specializes in helping multifamily investors to maximize their impact in the real estate market. Co-Founded by Alfonso Cuadra and Ed Hervias, WealthGenius is a community of supportive real estate investors who seek to build each other up while also solidifying their place in the market.
FAQs
How much does each ticket cost?
Each ticket costs $387, which includes full admission to the 2-day bootcamp for the ticket holder and one additional guest. Each ticket also includes a workbook.
Does the extra guest get access to all the same benefits?
Yes, the guest receives all the benefits as the original ticket holder, including full, in-person access to the content, the workbook, and more.
How long does each day last?
Each day of the bootcamp will last from 9 am to 5 pm, with an hour set aside for lunch. Doors open at 8:15 am each day.
Will there be networking opportunities?
Yes! The doors open at 8:15 am so attendees can have some time to network before each day begins. You will also have the opportunity to stay behind afterwards for an hour or two. We also encourage attendees to connect on the Facebook group to arrange potential after-event meet ups, such as dinner, drinks, etc.
Do you recommend this bootcamp for someone who has never invested in multifamily before?
While you don't need to have experience in multifamily investing, this bootcamp is for individuals who are serious about getting started or leveling up their investment efforts. We don't recommend the bootcamp for those who are casually interested in finding out more about multifamily investment.
Do I need to bring a laptop computer?
There is no official technology requirement to attend this bootcamp. That said, you are welcome to bring your laptop to keep notes, etc., if you wish.
Is lunch included in the ticket price?
No, lunch is not included in the price. We recommend bringing a packed lunch or purchasing your lunch on the day. There are a number of healthy options close to the event space.
Is there any kind of certification upon completion of the bootcamp?
There is no official certification. This bootcamp is designed to be actionable, based on proven strategies developed from firsthand experience.