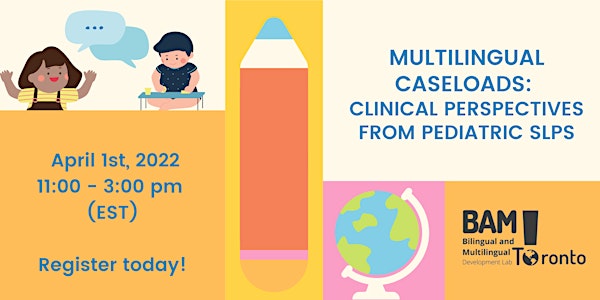 Multilingual Caseloads: Clinical Perspectives from Pediatric SLPs
BAMTO lab presents an online workshop on SLP perspectives on providing services for multilingual children & future areas of research
About this event
Join us online on Friday, April 1st from 11:00 am-3:00 pm (EDT) at our workshop on the topic of providing assessment and intervention for multilingual children from the clinical perspectives of speech-language pathologists and future areas of research in the provision of multilingual pediatric SLP services.
Featured speakers include Diane Dacquay, RSLP, S-LP(C), and Rachel Lévesque, RSLP, S-LP(C), with experience providing bilingual services at the Division Scolaire Franco-Manitobaine; as well as, Fern Westernoff, Ed.D., M.H.Sc. Reg. CASLPO from the Toronto District School Board, co-chair of the OSLA Multicultural and Multilingual Interest Group.
The talks will be followed by a panel discussion, taking questions from the audience. Moderated by Emily Wood, SLP Reg. CASLPO-C and graduate student at BAM!TO.
All clinicians, students and faculty are welcome!
Access & Recording Details:
A link will be sent to registrants to access the workshop in the upcoming weeks, as we finalize platform details.
If you are logged in to Eventbrite, you will see the option to "Access the Event" (on rightside of the page).
Please note the workshop will be recorded and registrants will have access to these recordings the week after the event
Schedule of Events
11:00-11:10 - Welcome and Introduction
11:10-11:50 - Guest speaker: Diane Dacquay & Rachel Lévesque
Talk title: Perspectives of Two Speech Language Pathologists Working With The Multilingual Population in the School Setting
Diane Dacquay, M. Sc., RSLP, S-LP (C)
Diane is a Franco-Manitoban from St. Boniface, Manitoba. She completed a post-baccalaureate year which was followed by a Master of Science degree in Speech and Language Pathology at the University of North Dakota in Grand Forks, North Dakota, USA. Proud of her heritage, she was very pleased to begin her career in 1989 at the St. Boniface School Division. She worked in French language, French immersion, and English language schools. In 1994 she accepted a new employment as the sole SLP of the newly established Division Scolaire Franco-Manitobaine that had 23 schools in various regions of the province. In 2006, Diane began providing speech and language services to the preschool population in the central region of Manitoba through the school division's partnership with the Children's Therapy Initiative provincial program. She gratefully received the SAC Mentorship Award in 2020. She decided to retire from the Division Scolaire Franco-Manitobaine in June 2021 after many years of collaborative work with families, school teams, and divisional as well as provincial projects.
Rachel Levésque, Orthophoniste MSc (O) (C) Reg CASLPM
Rachel is a proud franco-manitobain who resides in Winnipeg with her husband and two children. Rachel obtained a Maîtrise des Sciences de la Santé, Orthophonie from the Université d'Ottawa in 2002. Rachel has worked at the Division scolaire franco-manitobaine for nearly 20 years where she has gained valuable experience working with preschool children and students in a bilingual setting. Areas of professional interest are bilingual language development in children, AAC implementation in the school setting, motor-speech planning and fluency. Over the course of her career as an SLP, Rachel has presented a number of times at school and divisional assemblies and to parents at community events regarding AAC implementation, bilingual language development and Autism Spectrum Disorder. Rachel currently represents the interest of the divisional team of specialist at the Association des éducateurs/éducatrices franco-manitobains.
12:00 - 12:10 - BREAK
12:10 -12:40 - Fern Westernoff
Talk title: Culturally and Linguistically Informed Practices in SLP Services: The Past, The Present, The Potential
Fern Westernoff, Ed.D., M.H.Sc., Reg. CASLPO, Speech-Language Pathologist
Fern is a speech-language pathologist at the culturally and linguistically diverse Toronto District School Board. She served on the Immigrant Assessment Team, which prompted her to pursue doctoral studies on bilingualism and second language learning at The Ontario Institute for Studies in Education/University of Toronto. Fern is co-founder and co-leader of the OSLA Multicultural, Multilingual Professional Interest Group. She has contributed to professional committees focussing on diversity, equity, and inclusion, and has published and presented widely in Canada, and the U.S. regarding cultural and linguistic diversity and communication disorders in education.
12:40-12:50 - BREAK
12:50 - 2:50 - Roundtable Discussion featuring our speakers and moderated by Emily Wood, SLP Reg. CASLPO-C
2:50 - 3:00 - Closing Remarks
Many people around the world, including Canadians, grow up learning more than one language. Research in the BAM!TO Development Lab focuses on those who began learning two or more languages from the time they were born and on those who began learning a second or third language upon starting school.
Our research is focused on spoken language processing (also known as speech processing) in these populations. Specifically, we are interested in the typical and atypical behavioural, brain, and physiological patterns associated with the processing of rhythmic, phonetic, and voice-related information in speech.
We are also interested in whether bilinguals/multilinguals and monolinguals rely on contextual cues for language acquisition differently when communicating with familiar vs. unfamiliar speakers, and with monolingual vs. bilingual individuals.
Why are we doing this? While research on bilingual/multilingual development is definitely expanding, little is known about what is typical of bilingual or multilingual acquisition. In the short-term, our findings contribute to existing theories of multilingual language and cognitive development and, in the long-run, will help to develop appropriate clinical diagnostic and intervention tools for a wider range of populations, including bilinguals and multilinguals.